Description
Designed for ultra-modern looks
The eccentric shape of the earrings together with their exquisite details and bright colors makes this geometric pair an effortless way to get a cherry-picked look.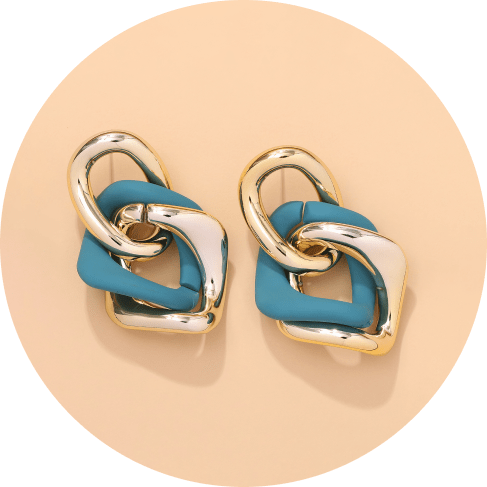 Be glamorous!
Earrings details
Color: gold/turquoise. Material: metal alloy. Size: 2.05 in.*1.3 in. Weight: 0.35 oz.
Easy to take care of
Store the earrings in a flat box to avoid accidental scratches. If stained, wash in soapy water. Wipe with a soft cloth after every use.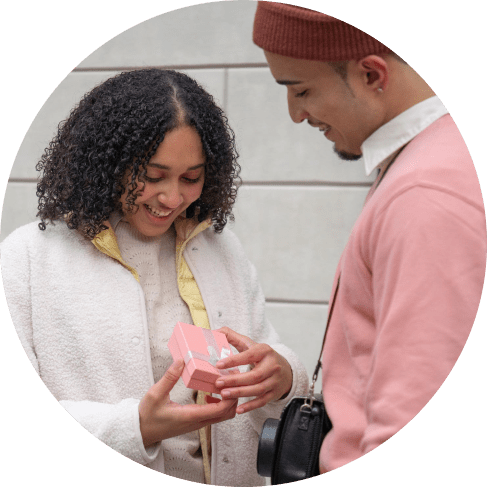 An excellent gift
Smooth metal is molded into sharp geometric shapes, resulting in a swinging design that conveys quiet confidence. It is a great present that won't leave any woman indifferent! Make your loved one feel bold and desired. She'll be turning heads as she walks by!
Wore these as a bridesmaid in a wedding and wore them for 8+ hours. They are so chic! I got a million compliments and was told they look like something Meghan Markle would wear. *so honored*. I really recommend these

These are definitely statement earrings and that is exactly what I wanted. They are pretty, they are modern, classy and just really cool looking. Different and not like everyone else's.

I'm going on vacation next month and wanted a few pairs of statement earrings for my trip - and these are everything I wanted and more! They are so chic and unique, I absolutely love them.

I loved them so much I had to buy a pair for my girlfriend and her daughter! Now I will be getting for a few more gals! They are so beautiful!!! And honestly not heavy!

LOOOOOVE THESE EARRINGS!!! These feel very lightweight, comfortable to wear. I especially like the color, very pretty.

I wore them for my maternity pictures and I got compliments all day I love them they not heavy but it makes you look elegant and sexy

These earrings are GORGEOUS!! If you're looking for a statement earring - this is a winner.

Super cute earrings, so glam. They are lightweight and look very expensive! Can't go wrong!

I am so pleased with them! The look, the feel, everything. Fun and glam at the same time.

These are huge, gorgeous, and heavy. Great for special occasions.

These are very lightweight for their substantial size - fantastic - and I love the modern/edgy look. But the backs they come with are too loose to hold the earrings in place. I put them on and they fell off within about 5 minutes, so I had those little rubber snub backs I put on as well and it was fine. But don't plan to wear these in any real sense without different backs or added rubber backs.

These earrings are on the bulky side but still very beautiful. Definitely fashionable.
Payment & Security
Your payment information is processed securely. We do not store credit card details nor have access to your credit card information.