Description
Jacob's Musical Car Charm Chime: Spiral Sun Eclipse
Are you wondering how to release tension while being permanently stuck in traffic jams? If so, pay attention to the Spiral Sun Eclipse Musical Charm as it will change your mood about this issue!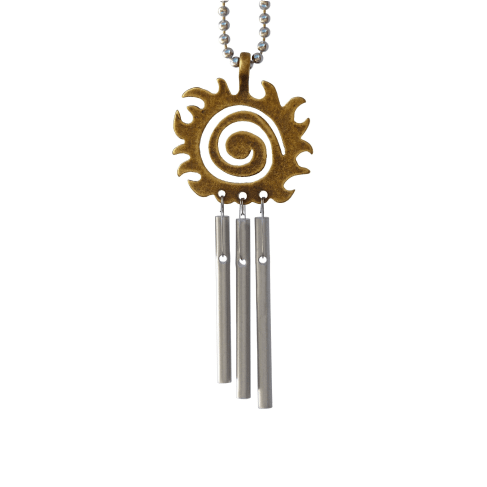 Spiral Sun Eclipse Car Charm
Always perfectly tuned!
Impress your passengers & delight yourself
This car accessory helps you style up whatever you want: you can hang it on the rearview mirror, decorate your spice cupboard, place it on a door knob, or use it as a holiday ornament or as a ceiling fan pull.
Create a soothing climate
Are you looking for ways to create a pleasant & musical effect? The blending of the charm's three notes, all tuned in the pentatonic scale, will help you with this!
Made by Jacob Sokoloff, musical instrument maker
Made by musical instrument maker Jacob Sokoloff. Approximate measurements: 3-in tall x 3/4-in wide, on a 9-in ball chain. The longest pipe is 1-1/4″. USA-made.
Bring it as a gift
Please note that Jacob's Musical Car Charm Chime is packaged nicely, so you can give it as a gift or enlighten yourself. Plus, a 9" ball chain is included.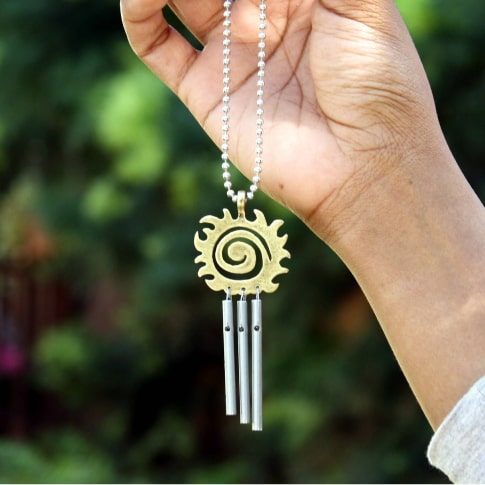 Keep calm & drive on!
Simply hit your musical car charm and chill down all down the road. Remember: Jacob's car charm contains three musical notes: F#, A and B. Guess what they spell? FAB… So just be FAB and enjoy the peace and relaxation of pleasant chime music in your car!
About Jacob's Musical Chimes
Musical instrument maker Jacob Sokoloff has been making tuned wind chimes for over 30 years. Jacob first found success with his magical sounding steel pipe chimes. Later on, he found a way to capture the magic in a series of affordable, miniature, tuned chimes (led by the "car charms" series), which he now offers to the wholesale market. Every product comes smartly packaged, and POP displays are available for most lines. The company is proud to make 100% of its products in the U.S.A.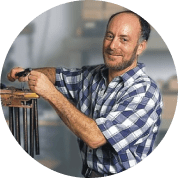 Designed In
Long Beach, California
The product is really nice but you have to be very careful I thought not to break the chain or bend the product I do not think it is durable enough. It is very nice detail and sound of chimes. I bought two but to interchange them risk of breaking them is very possible. Thank you

These are the cutest things. I hung mine in my car and no distraction at all.

I love wind chimes and so happy to find one for my car

This charm is too cute!!! Well made. And perfect for hanging on the rear view mirror!

Adorable, well made. I love this little chime. And its sound is so soothing.

Very well made, and what a beautiful light sound! Would buy again!

A friend admired my Jacob's Charm. So I bought this perfect charm fir her car in Florida.

Daughter loves it for her Jeep! Will continue to buy, beautiful product with beautiful sound!

I seriously love this charm. It's the little things that bring me joy. And it also hangs at the perfect length and isn't in the way ever!

Love, love, love. It calms me as I am driving to hear the gentle sound of chimes. I absolutely love it. The sound is not annoying either. It isn't too pingy.

So cute and perfect for the car. Sound is quiet enough to tune out but you can definitely hear it gently when you turn or hit bumps. Makes me feel at peace while driving.

I love chimes. These musical car chimes have a light beautiful sound to them. Keeps you in the present moment... important when driving. They are a great gift giving idea as well.

Turn the corner and a beautiful sound comes from this little chime! Definitely keeps you in the Now while you're driving! Thank you! 💜💜💜👏👏👏

I love my car wind chime. I thought it might be very noisy but it wasn't. The chimes give off a sounds that's soft and pretty. It's not constant or loud either. Just when you make a turn or hit a bump in the road.

The chime was really soft, not loud enough for what I wanted it for... cute item
Payment & Security
Your payment information is processed securely. We do not store credit card details nor have access to your credit card information.