Description
Kata Spiral
Natural Coasters
Set your table in style and elegance!
This beautiful set of four durable coasters is perfect for any table setting! Use on any table to not only protect it by absorbing water, but also to add a visual accent. Handmade from start to finish by fair trade artisans in remote, rural communities of Bangladesh, each one is assembled by plaiting long threads of jute; coiling them into shape; then stitching the layers together using needle and thread. Durable, absorbent, and neutral enough to go with any decor style.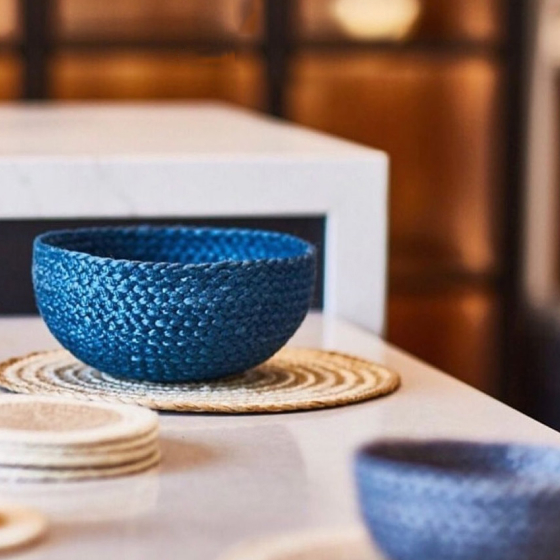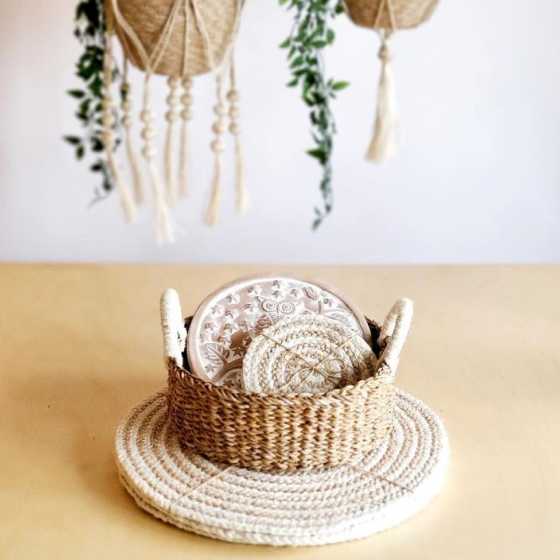 What makes these Kata Spiral Natural Coasters special?
Details and highlights
All natural
The coasters are made with 100% natural raw jute, boasting the refined skills of our fair trade artisans, which have been acquired through many generations. Due to the handcrafted nature, slight variation will occur in design, color, and size.
A decoration to your dining room
Measuring approximately 6" round, the circular coaster in soft neutral tones will complement every tabletop. The lightweight material has an almost rope-like quality and sits beautifully against crisp white tableware and accessories, creating a rustic aesthetic.
Care guide
Wipe clean with a damp cloth. Do not rub stains or spills from your product as this may spread the stain and loosen the jute fibers. Be sure to dry properly after water damage. Keep out of direct sunlight, or jute fabric color can change and fade.
Protects your table
Jute has a low thermal conductivity making it the perfect material to protect surfaces from hot objects. Whether holding coffee, tea, cocktails, or cushioning a lemonade, this nautical-themed coaster handily does the trick.
Handmade by Fair Trade artisans in Bangladesh
By purchasing these beautiful handwoven Kata Spiral Neutral Coasters, you support artisans in low-income communities and make education and health care more accessible to them.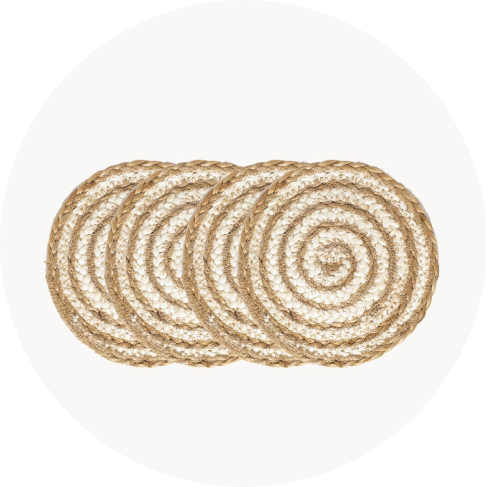 About KORISSA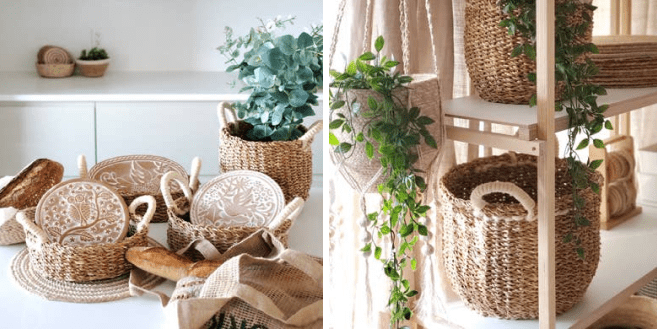 Nora and Angela, two designer moms from New York City, created Korissa to inspire consumers to shop consciously. They wanted to provide high-quality products that are socially and environmentally responsible. Purchasing any of the unique amazing handcrafted products supports and benefits artisans in low-income communities. Fair wages ensure that education and health care are available.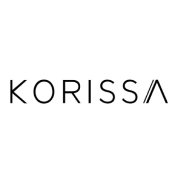 Well made and durable and pretty too!

Coasters work great! Very absorbent. No rims left around here.

Exactly what I Ordered! Love them!

Perfect for larger cups, pots, and serving dishes

Nice looking coasters. Seems to work well

Love how large these are! Perfect for all cups!

I really like these. Beautiful to look at and so far so good!

These coasters are so pretty! They are sturdy, adsorbent, and don't stick to glasses/cups.

I absolutely love these! They are kid proof and elegant in my kitchen. So glad I got these.

Is a pleasantly surprised with the good quality of these coasters. Perfect size and look very nice.

Love these coasters for a cream coffee table. Love the softness and thickness of the material. Just what I was looking for!

These are AWESOME! Huge, lays flat, really nice braided design and the light pink is a really great color. I can even use these with my 64oz water:)

I have struggled finding the perfect coasters, half the time they lift up with the glass, or are unattractive. These are perfect, and they actually accent my style. They absorb well and don't come up with the glass. I really like them.

Love these. Have them all over the house. Purchased to protect new nightstands with expensive woods. They have heft, flexible enough, just ever so soft. They soak up every drip but don't get funky. The bee's knees

Beautiful quality and colour is perfect, exactly as photographed. Slightly larger than expected which is a plus as it will also suit bowl bases.

These coasters are great. They are thick and maintain their shape. They are flat so drinks sit evenly on them. I love the pop of color they add and we plan to buy more.

Exactly what I wanted. These are coasters, nice and thick. Bunched together they'd work for hot dishes or pans. But that's not what I wanted and was afraid these would be large like potholders. But they're perfect for me!

They are good quality,but very bulky and bigger than expected.

Lovely coasters nice quality

Just want I was looking for
Payment & Security
Your payment information is processed securely. We do not store credit card details nor have access to your credit card information.