Description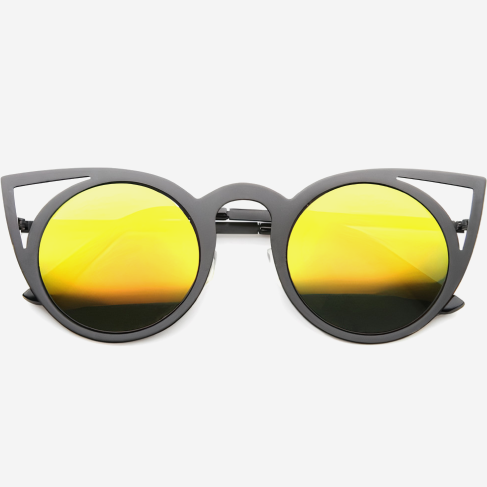 Laser Cut Round Metal Mirrored Sunglasses
Express your cattiness with these super adorable cutout metal accent cat-eye sunglasses featuring a thin metal frame and round lenses. The open metal frame and modern angles offer a very chic look to this season's collection.
Accessorize in style!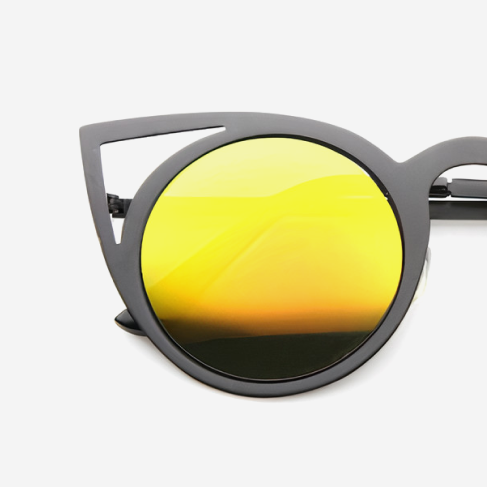 High quality & durable
Round sunglasses are manufactured with high quality metal frames and polycarbonate mirrored lenses. Both durable and strong, these sunglasses will withstand wear and tear from daily use.
Trendy mirrored lens
Both scratch and impact resistant, these mirror lens mirrored sunglasses offer 100% UV protection while providing safe, perfect clarity of vision.
Details & features
These sunglasses bring a touch of vintage chic to your look. Wear them year-round with tailored looks and off-duty denim alike. Lens Width: 60mm. Nose Bridge: 22mm. Lens Height: 54mm. Total Width: 141mm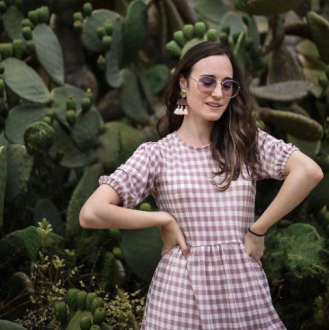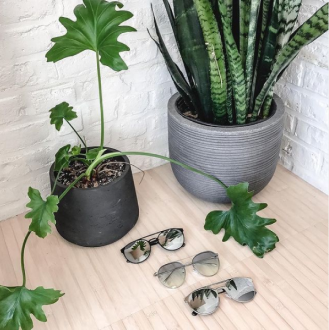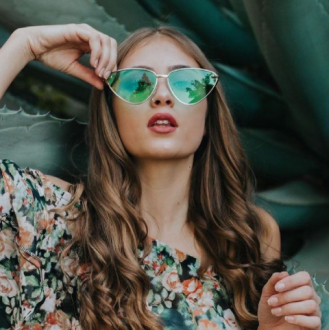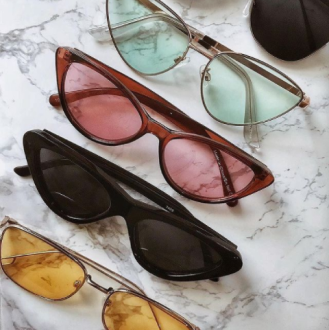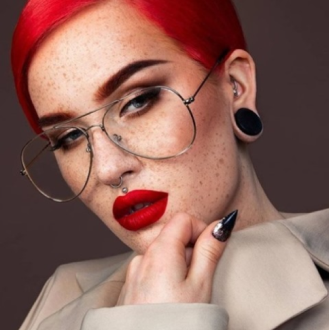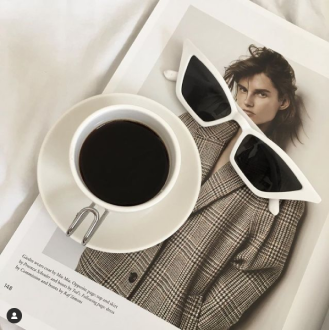 About zeroUV
Founded in 2001 by eyewear enthusiasts, zeroUV has become a prodigiously curated eyewear boutique for the fashion savvy individual. At zeroUV we strive to bring our customers the latest in eyewear fashion for a fraction of high retail prices. We at zeroUV view ourselves as lifestyle advocates. We seek to inspire others to chase who they truly see themselves as. Founded by individuals who grew up during the California indie movement, we aim to share our journey with our fans. We pride ourselves on bringing people together through our brand, and we encourage others to follow us along this amazing adventure. Not only are sunglasses a staple in fashion and appearance, zeroUV Sunglasses offer full eye protection against harmful UVA & UVB rays. In addition all eye wear meets the United States ANSI z80.3 Standard, as well as satisfies European CE Safety Compliance Standards.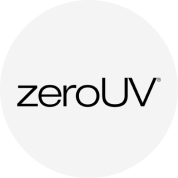 Designed In
Huntington Beach, California
Top quality sunglasses! The wing on the corners look so awesome framed in black. They arrived in time. Will purchase more!

I love these so much, and I get tons of compliments on them. They seem to be well built and the price is very reasonable. This is not my only pair of these and I'll continue to buy them until I die. 😁

I have extension lashes I can't wear most sunglasses due to the lashes it will touch the lens. This pair is perfect. It won't get to the lashes and light weight. So fit and comfortable. I love it.

I loved these so much I purchased two more pair! I have been wanting a pair of mirrored sunglasses but prices have stopped me. With a busy work/life schedule I'm someone who puts my sunglasses on top of my head and even in my purse something.. they get scratched up so when I saw these for the price I said why not try! Well, they are light in weight, sturdy and so cute! I like how clear I can see out of them, as some sunglasses can be way to dark. As I said, I've purchased two more pair, one has arrived and I'm happy to say they are just as sturdy, lightweight and cute. They also come with a microfiber cleaning cloth and a storage bag! Buy them! You won't be disappointed.

I was hoping for oversized enough to cover my eyebrows because I have one that sets up a tad higher then the other. It was hard to tell by some pictures if they would but I thought I'd try them anyway. So glad I did!! I really like them. If I set them like I normally would they cover, if I pull them down a bit they still look ok to me showing my eyebrows but honestly I'd never wear them that way.
Payment & Security
Your payment information is processed securely. We do not store credit card details nor have access to your credit card information.