Description
Turn the pages without squinting in the dark or needing to light up the entire room when you have our stealthy LED Book Reader Light. Catch up on a good read when and where you want with a convenient light source. Just pop in three AAA batteries (not included) to get going.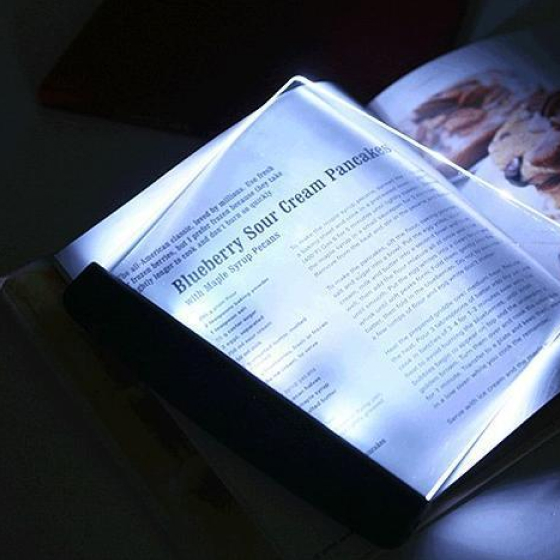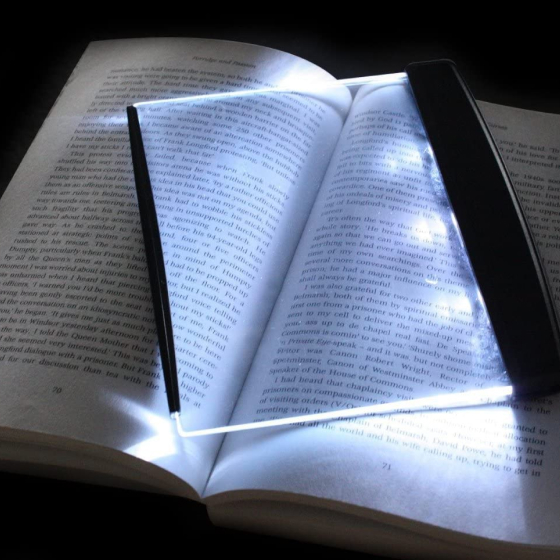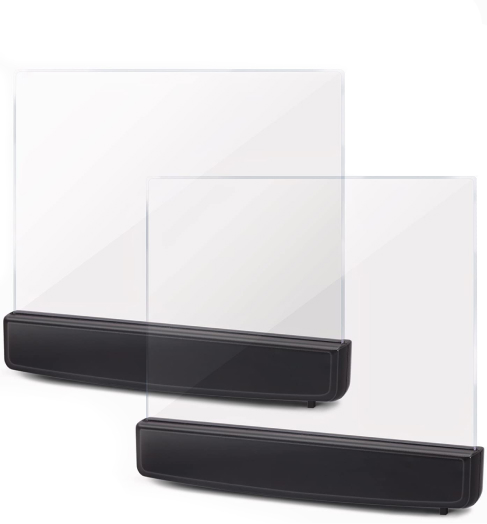 Clips right in
No fussy lamps or overhead lights -- our light clips right on a page for on-the-page illumination. Follow sentence after sentence with great visibility.
Dial up or down
A rotating dial lets you adjust the brightness of the LED light. When you're ready to pause or call it a night, simply rotate the dial back to turn off the light.
Great for any reading material
From work documents to magazines and novels, there's nothing this LED Book Reader Light can't help with. This clip-on light accessory measures 6.7 x 5.7 x 0.5 in / 172 x 145 x 15 mm.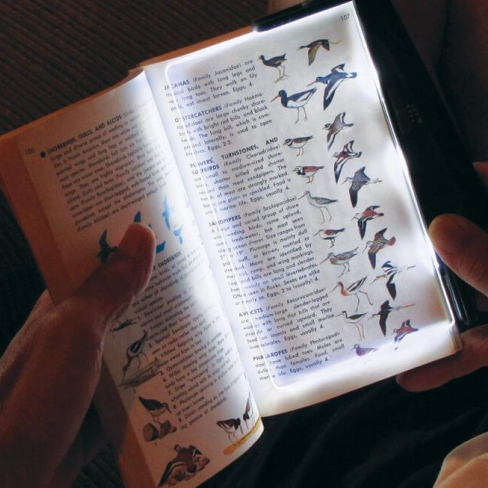 Durable construction
Made of thermoplastic polymer, our light clip and surface are sturdy without weighing down your book.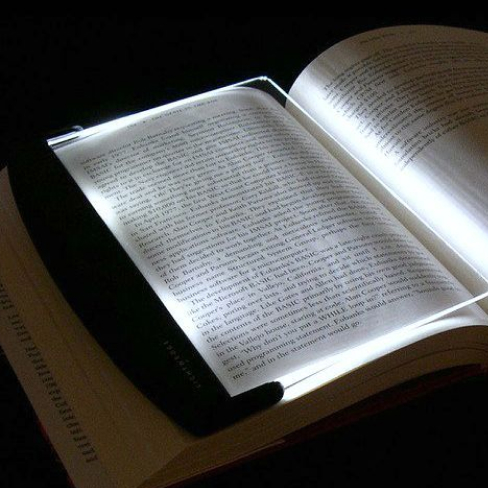 Bring it anywhere and gift to anyone
Slim yet sturdy, slip this light into your backpack or purse for daily use, on trips, or just on-the-go so you can get lost in a book anywhere, any place. Plus, the versatile nature of the LED Book Reader Light makes it a wonderful gift idea for a college student, hard-working teacher, well-versed bookworm mother, or aspiring author.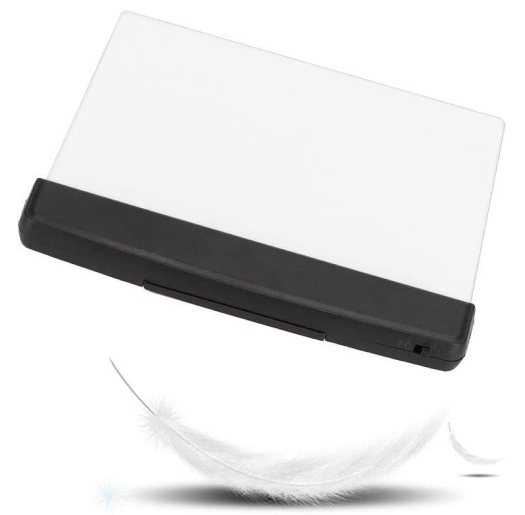 Plastic screen, odorless, batteries need to be bought separately. Convenient for reading. I`m fully satisfied with this purchase!

This is a fantastic light wedge all the little features add up a well thought out useful product for reading paperback books in low light or in bed. I sustained a neck injury in a car accident and could no longer read in bed at night. This light wedge enabled me is to sit in bed In the proper position for my neck. It's rechargeable ( I still added batteries); has a clip you more to the top of the light bar to stabilize the light on the book, has several levels of light to chose from, and a hand/ thumb holding area at the bottom of the device. It takes a little learning curve to get used to turning the pages and moving the light wedge. I hope they make a larger model for books bigger than a paperback.

I absolutely love this light. So glad I bought it. Definitely better than those clip-on lights!

Spectacular! It's going super good!!! I'm delighted!

Received. Thank You Very Much. Beautiful and not expensive .

This is really good for reading when it is dark. The packing wasn't good, so there is a little scratch but I really like it! Thanks :)

Perfect! Gives off a LITTLE bit of a glow around the edges, but otherwise, it's perfectly convenient and doesn't keep my fiancee up at all. It's easy to use, too.

This is lightweight and easy to handle. You will have to hold it in one hand, but for something being read on a table or desk, it's perfect. We bought it for my mom to use when she's working at her desk. The lights are bright and easy to dim. I like that it's not made of flimsy material. I thought the email from the manufacturer was a nice touch. It is smaller than I originally thought, but I don't think I read it carefully enough.

I love this thing. Works great, bright light, holds a charge good long time, the choice of brightness settings is pretty nice, as is the little sleeve/bag it comes with. Fits mass-market paperbacks just about perfectly, my only complaint is that I can't find a bigger version for my bigger books. I can still use this one on them, but not nearly as comfortable. Apart from that, great purchase.

Shines well, the idea is cool, very nice to read in the dark.

A good lamp, comfortable and bright. Everything corresponds to the description

Good illumination. Delivery was fast. Thank you!

I got this for my husband who likes to read if he wakes up in the night, but doesn't want to turn on the light and disturb me. He uses it often and is very pleased with it.

Excellent! Arrived on time as promised. Better than the book light it replaced. Recommend it to everyone. Don't wait, get one now!

I like how it makes the page glow instead of having a hanging light above your book which is more noticeable in a room you wish to keep dark where others might be sleeping. A couple of things I was curious about... First, off I thought I might be able to place the panel behind the page I was reading so that it would glow thru essentially, but that did not work the best. You really need to place the panel ON TOP of the page you're reading. But the good thing is you really don't need to flip the panel from left to the right page, I found that keeping the panel on the right side it would still provide sufficient lighting to the left side. So you don't have to move the panel as much. And for larger books, the panel may not cover the entire page but the lighting fans out so it will adequately illuminate the entire page so I found the size of the panel to be just fine. I really like this light :)

The parcel came well packed and in perfect condition. Thank you. It`s a gift for my sister, she loves reading!

Need to buy 3 AAA batteries. The frame is made of plastic, not glass, illuminates the page well, but does not increase. Those who read at night, without interfering with others-the very thing.

I like it. You can adjust the light level; it lasts a long time before needing to charge it. It took a little getting used to as far as moving it from page to page, but I like it better than any I've used.

It arrived in good condition, I was hoping it would be a little bigger by the image, but its size is fine and enough to illuminate the whole sheet. Its light is powerful, so it will be perfect for reading at night. It arrived quickly. Recommended.

My favorite book light! Three brightness settings, easy to hold with a thumb grip. Very neat that it comes in its own soft bag - I keep the charging cable in their as well as the light so my cats won't step on it during the day. It I a smaller light, which I knew based on product dimensions, but I read a large paperback edition of War and Peace and the book light definitely illuminates enough for large books. The clip that attaches to the top helps make it more hands-free if needed.

Reader arrived ahead of time. Quality is excellent!

Very cool gadget for the night reading. Light is quite strong, but it doesn`t blind my eyes. Very convenient to use! Highly recommend!

it can be very useful for people who likes evening and night reading. You can take it and read everywhere, even during a trip on communication like train or bus. It don't fit to every size of books, but it's not a big problem.

Perfect replacement for my old one that got scratched up with use. This one is better and provides choices.

Good product, a little small for the size of books I read, but perfectly functional

It looks great! Delighted to finally be able to use this LED plate, works perfectly

I just got my order, have it between my paperback book, and love it! Plus only three AAA batteries! They also threw in a cloth case for free!

Adore this led reader. Thanks to the store!

I used this during evening services in Christian Orthodox Lent when everything is dark except for a few candles near the icons at the front. It seemed to compare in output to the several Kindles I saw near me. I love how the whole page is lit rather than having to adjust a clip-on. Much less distracting to others than a standard book light. Also, easier to handle when turning pages than unclipping a book light. (I've dropped many a book light.)

Great for reading at night - even if the hubby doesn't love the extra light in the room :) 3 brightness settings are nice.

Nice size, works great. I take it in my purse everywhere and need to get a second to keep by my bedside.

This perfectly met the needs of my husband who prefers to hold a book rather than a e-book!

I thought the panel would be bigger, but I'm happy it's on the smaller side and handy. I had to insert batteries. Works perfectly!

I`m this fan of reading, it`s a gadget for me! I love this device, now I can read lying in bed and not spoil my eyes!

I had one of those reading light that fliped up like a lamp and used the button batteries. Well, that was a pain to get the page illuminated correctly and to install the batteries when they went dead. But this one illuminates the pages uniformly and you don't have to worry about changing the batteries because you can charge it with its micro USB socket.

The light is good. One can adjust it to be very bright or low light. The magnifying is minimal when holding the device near the page, or great when holding it farther above the print. The only negative is that one must hold the magnifier. Holding the book, magazine or newspaper with one hand and the magnifier with the other makes ones' hand, arm and even shoulder tired. But I can think of no way to remedy this. I read sitting in an easy chair or in bed. If sitting at a table perhaps one could prop the magnifier above the page, but sitting at a table is not a comfortable, restful place to relax and read. All considerations, the device is wonderful!

The item works perfectly, but the plastic is really scratched
Payment & Security
Your payment information is processed securely. We do not store credit card details nor have access to your credit card information.