Description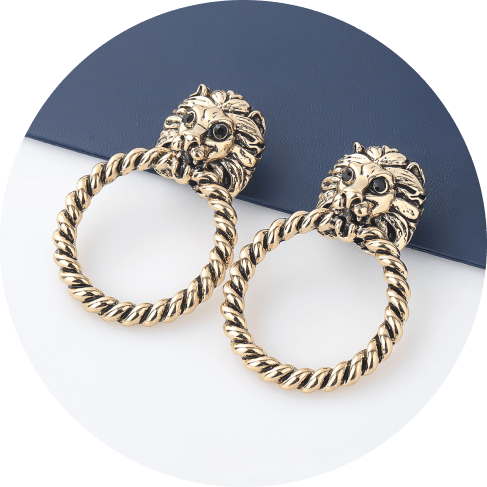 Designed for ultra-modern looks
One in a mil-lion
The eccentric shape of the earrings together with their exquisite details will add the ultimate modern touch to your regular looks. Be brave as a lion!
Roarsome accessory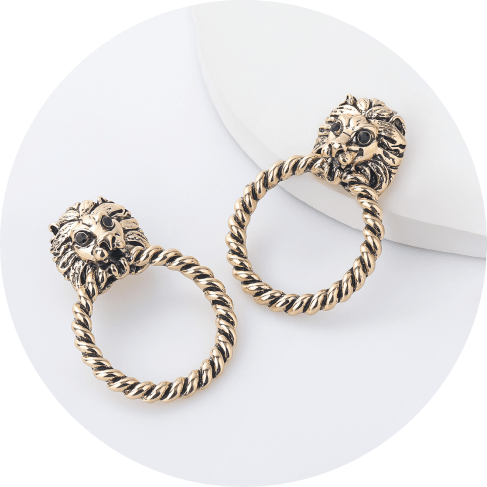 Earrings details
The earrings are crafted in the shape of a lion's head with a twisted hoop suspended from its jaws.
Care tips
Keep it in a cool, dry place. If needed, wash the earrings in soapy water and dry with a soft cloth.
A thoughtful present
Whether it's an anniversary, birthday or any other significant date, these gold Lion Stud Earrings are a great choice for a gift. The lion symbolizes strength, majesty, and power. Let your loved one feel bold and wildly beautiful!
These lions look cool, a little bit vintage. They are comfortable to wear, not heavy but I feel them sometimes. I'm very happy with them, much better than i've been expecting looking at the photos.

They look good, not flimsy, they look nice in the ears, they sit well, and do not fall out. The size is quite small

Earrings are very beautiful. They look the same as in the picture. The fastening is comfortable.

Earrings are a little smaller than they seem in the photos, but I'm satisfied. Delighted!

Earrings are very beautiful and bright. There are no defects.

They're smaller than they look in the pictures, but they're pretty and bright. I like them a lot.

Look interesting, not sure I'm gonna wear it, but it's a nice addition to my collection.

The product is as described, they are very cute.

Beautifully detailed and for multiple purposes.

They are super pretty and not heavy

Excellent quality, all as in the photo!

They are so small and cute
Payment & Security
Your payment information is processed securely. We do not store credit card details nor have access to your credit card information.