Description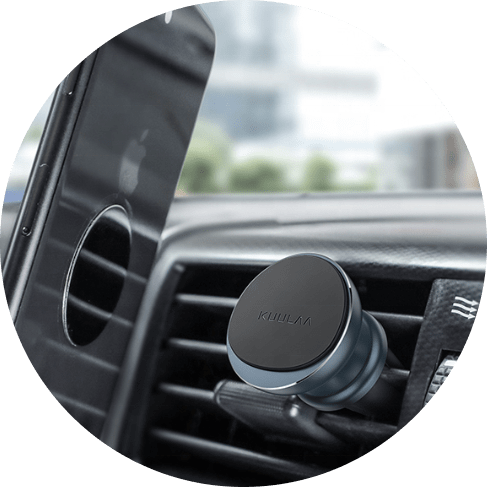 Simple, reliable performance
Minimize bulk from traditional clamp phone holders and size down with this Magnetic Circle Car Air Vent Phone Holder. Non-scratch silicone padding on the clips ensure a smooth, solid hold for a helpful helping hand while on the road (all without damaging your air vents).
Easy + adjustable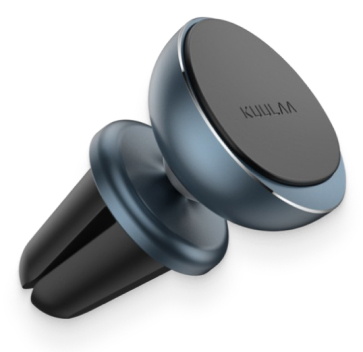 360 degrees of movement
The magnetic base of this holder moves all around, 360 degrees, so you can angle your phone in any way for visibility and reach.
Magnetic sticker included
Your purchase includes a sticker-backed magnetic that can adhere to your phone for effortless attachment to the magnetic phone holder ring.
Clip it on and stress no more
Rattling, unstable phone holders that take up a ton of space are a thing of the past when you upgrade to this slim Magnetic Circle Car Air Vent Phone Holder that ensures a solid hold.
Love this! So useful and easy. Makes using my gps so much easier. And it doesn't require suction which loses grip after a while for others I've tried.

So easy to install. Very sturdy and hangs into your cell great while traveling. Has a safe grip for the vents so as to not destroy or bend them. Highly recommend it! Great seller!

Great Phone Holder! The only reason I gave it 4 stars instead of 5 is b/c the magnet is so strong, I have a hard time getting if OFF!

This is the second similar purchase I did. Few months back I bought one that just did not work right so I was afraid of trying again. Anyway, I went for it and happily I did. Highly recommend it.

Strong magnet and tight vent clip keeps the phone in place. The swivel is firm and hard to move, which is good as it guarantees the phone won't be flopping around like my previous phone clip holder. Love being able to quickly plop my phone on and pull it off without the hassle of a clip.

I got a new car so this was the perfect addition to it. I have always used other phone holders but never a magnetic one and I can honestly say I will not be going back. This product works so well and the magnet is very strong. My phone hasn't fallen off from it and the holder stays put in the air vent.

It was easy to install and the magnet installation to my phone back or case was not needed because I had a metal ring on my existing phone case, and it held perfectly! The rubber back to the vent is perfect so it doesn't scratch anything and nothing plastic to break either. I am very likely to buy another one for my daughter's car. Great product for the price!

This magnetic circle car air vent phone holder is absolutely fabulous! It was super easy to just stick in the vent and it does not fall out. It is also easy to just pull it out if you want to transfer it to a different vehicle. I have a pretty heavy phone and it holds absolutely no problem! I love how it matches the color on my vent so that you can't even tell it's there if my phone isn't hooked to it. It is also small enough that it does not block the airflow when it does not have a phone on it. Easy, convenient, and holds your phone perfectly! I absolutely recommend this awesome magnetic air vent phone mount… Easy and the price is awesome! HIGHLY RECOMMENDED 👍👍👍👍👍
Payment & Security
Your payment information is processed securely. We do not store credit card details nor have access to your credit card information.