Description
Get glam and packed in a flash
Bulky makeup trains. Pouch after pouch of toiletries. Tired of all the bulk (but still need all your essentials)? Ladies, say hello to a storage-friendly solution with our drawstring-design Makeup Organizer Pouch!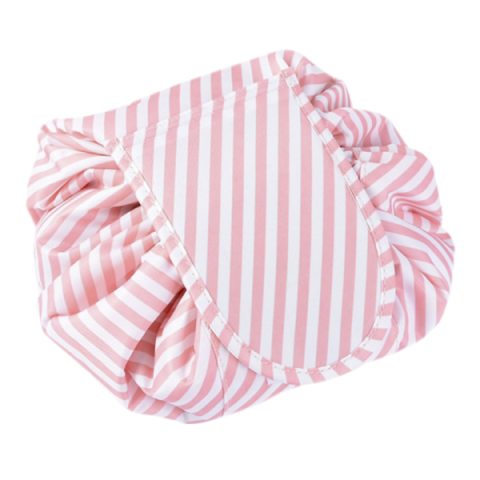 All your must-haves go in the circle
When open and spread out, our makeup bag is a large circle (18.5 inches, to be exact), so you can store your serums, mascaras, lipsticks, fragrance, and more in a large space. Once you're done, simply pull the drawstring up and watch everything hold closed in one swift move. A velcro strap folds over to secure the bag (literally).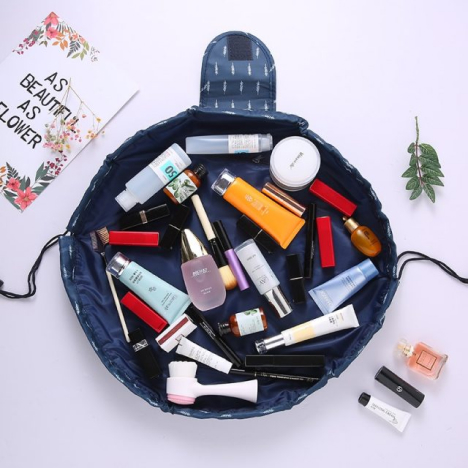 Two storage pockets
Whether bobby pins, tweezers, or Q-tips, they can stay seperate (but sound) with two zippered storage pockets in the interior of the bag.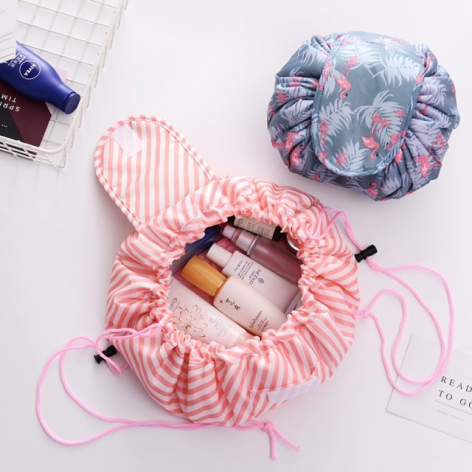 Three beautiful patterns to choose from
Our space-saving makeup bag comes in three patterns: fun pink flamingos, cool blue leaves, and a simple pink-and-white stripe.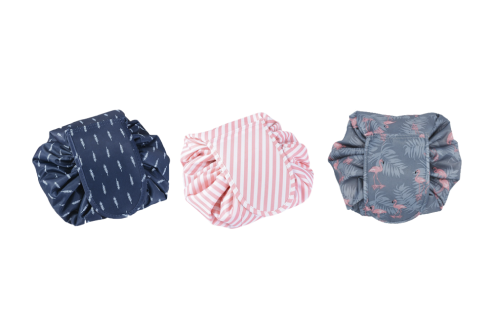 A great travel solution
From girls' getaways to Vegas to date weekends by the lake, minimize your beauty train (without sacrificing glam). Our ultra-compact Makeup Organizer Pouch will save so much space. It's a great on-the-go essential -- and makes just great a gift for a sister, best friend, or makeup hoarder/beauty guru you have in mind!
I love this little bag. If you are like me and tend to overpack or like to be super organized when you travel, you will like this bag. I saw a youtube video on how to pack using packing cubes and the woman in the video had one of these bags. I don't bring a lot of makeup with me - just the basics, but this bag will fit your makeup, skin care items, even hair care items nicely. You cannot bring full size products with you obviously, but you don't need them if traveling for two weeks.

Really cute but very useful make-up bag. Easy to see all your make-up and useful compartments for pencils etc that you don't want loose, you can have it as open as you want just use the drawstring and then tighten it all up and close the flap over and voila all done !

Why have I not bought this years ago, it looks smart and saves me having to tidy my make up all the time. When it is opened you can easily see everything and don't have to go rummaging. It opens up flat, last photo is not fully open.

I love this make up bag!!!! Hubby bought it for me as he was sick to death of my make up being spread out all over the bathroom shelf lol. It's great because I can just lay everything out, wrap it and then tighten with the drawstrings - perfect!! I'll definitely be taking it on holiday with me!! I reckon it'd be great for a night out too as it looks like a clutch bag. Really happy, thank you!!

Perfect cosmetic bag. When traveling, usually the last thing you pack is your make up bag. My previous bags were boxy and took up way too much space in my carry on suit case. Everything had to be rearranged. This handy bag holds everything and can be squished into most any space. When using, it opens up nicely, thus avoiding digging through bag. Highly recommend!

Perfect for transporting all your makeup and toiletries. Fits everything in and easily closes. Small pocket for keeping your small things safely tucked away and easy to find (eg jewels / contact lenses). Waterproof and wipe-clean so keeps all your stuff safe and dry. I use it on a daily basis to keep my dressing table organised. Bought one for an admiring friend. Something every girl would benefit from (especially usually messy ones!)

LOVE this bag! I used to keep all my make up and brushes in a cosmetic bag, and then dump them all out on the table when I sat down to do my make up. But I've always been concerned about how clean the table surface was. I was afraid that I was getting bacteria on my brushes from the table. I even bought plastic mats to use, but they required being sanitized after every use. With this bag I just open it up and all of my make up is right there – no dumping it out onto unclean surfaces.

Really nice item. Very spacious when opened and can hold a lot of things easily. Only thing is the drawstring is exceptionally long! I cut mine down with a pair of scissors and tied a few knots in either side. Also, the bag is quite big so may be an issue if you plan on carrying it around, unless you have a larger handbag. Nice design and overall pleased with the purchase.

I have a work locker I wanted to organize and needed something for all my important necessities. This was perfect!! It fit in my locker perfectly and held so much including my mints, toothpicks, chapstick, and lotion. Definitely a great purchase!

Purchased as a gift. However it seems to be a great size for travel or daily in a larger handbag

Great little toiletry bag for travel. Enough space for all my products. Nice quality - looks more expensive than it is.

It's a great cosmetics case. Big enough to hold bulkier items but still small enough not to take up too much room in a suitcase. It's also seems very durable.

Nice design, perfect size, good quality. Very happy with the purchase.

This bag is just what I needed. I'm putting together an "emergency kit" for formal events at work. It's just the right size to hold all the things one could possibly need

I love the bag! It's not too small and not too big. It's super easy to clean! I'm so glad I bought this

Quality make up organizer that will clean up easily if a spill should happen.

Bought this to replace my old bag from a different brand that didn't zip anymore. This bag is exactly what you get when you order it. Nice size, color and material. And no zipper problems ever)) Will definitely buy again

Great size bag for traveling or in a larger purse. It has inside pockets to help keep small things organized and holds a sufficient amount of product. In mine I have: foundation, concealer, mascara, blush, eyeshadow, 2 lipsticks, lipgloss, eyeliner, lash curler, two brushes and a makeup blender

I love this particular makeup organizer bag so much that, overtime, I have purchased three same ones for my sisters...The cosmetic bag opens up wide enough to see everything, and it easily organizes all my essentials. I'm thinking it would also make a great first aid kit as well.

This make up organizer fits nicely in a travel bag and I was so impressed with all that it holds. My favorite part is that there is no annoying zippers which tends to be broken really fast for me. This is by far the best makeup bag I've seen, and may be buying more in the future for gifts.

I love this bag and have gotten tons of compliments on it! It is durable and is perfect for organizing the makeup I keep in my bag (as I do prefer larger handbags). The material is good quality and I really like the look of the fabric.

I bought this to keep a little first aid kit and other sundries in my desk at work. It's perfect. Keeps things organized and tidy.

I love this! I travel a lot for work, so I use it in my travel bag so when I switch bags I can just take my basics out very easily. Inside pockets are super helpful for small toiletteries.

This is a cute travel bag. I bought it as a gift. It seems to be made well.

Perfect size if you love to travel, or even if you wear light makeup. Exactly what I wanted and is very durable.

It's a great little travel bag. Color is great, it is compact but holds more than you'd think.

Just what I needed to keep makeup type items together to move from purse to purse

Wife loves it. Bigger than her last bag, keeps it all together.

Perfect for on the go and bigger than expected but still fits everywhere!

A very nice makeup bag. Use it everyday and travel. My roommate purchased the same)

I love this makeup pouch. I needed something to hold all the "loose" stuff in my purse like chapstick, keys, etc. and this bag is perfect.

This bag is super cute and shipped really fast! Fits all of my makeup.

What a super make-up/toiletries bag. Holds so much and all visible when the bag is opened to almost its fullest extend with just enough of the sides up so that everything is contained yet visible.

I love how this looks, and it fits all my makeup great!

I personally used this for an emergency kit and I don't regret it !

I travel a lot, and like a lot of women I tend to have my make up in different bags that I try to organize, but it never seems to stay organized! And there are make-up, usually powder, spills everywhere, and it's kind of a disaster...so I was really excited about this product because I wanted a place that I could just put everything, lay it flat, use it as a catch-all, and then just swoop it up when I'm ready to leave. This does the job. Easy to clean, too. It's true that even after you gather it up and cinch it there's a gap/opening, but you could put it into another bigger bag, use a smaller case for smaller items and brushes and/or put a piece of tape on powder canisters to prevent spills. In the future it would be nice if they could create a bit more zippered compartments, that way smaller items and messy stuff could be isolated before closing with drawstring. Still, overall a great product!

Fabulous item ! Do not know how I have survived before it !!! Great seeing all my makeup so much more clearly! Have just bought another for a friends birthday .

I don't consider myself a huge makeup guru but i do have my base of products. my original one that i had was larger and fit my make up perfectly. this one is a little bit smaller, so if you don't travel with much then i recommend this product. makes it so easy to just grab it all and go - and no more digging through narrow bags.

I absolutely LOVE this makeup bag! I have several other makeup bags but this one is just so great! I love being able to see everything at once and not having to dig through things to find what I want at the bottom of the bag! I have purchased 2 as gifts!

I do like it but I think it's a bit too big. I am using it as my everyday day make up bag, it's a big too big for packing unless if you okay leaving it in your luggage instead of carryons.

This worked very well for me on my recent trip overseas. It's so much less bulky than a cosmetic bag! I liked that, because it is not a cosmetic bag, I was forced to only pack what I really needed instead of all the "just in case" stuff. It's nice that it's all in one place and easily packed if you are on the go...which I was! I will say, it doesn't came as neatly as in the picture.... but really, who cares? It's a nice little package that easily fits into your suitcase. I am very happy with this purchase.

Love the concept of this cosmetic bag. It eliminates the frustration of having to dig through my cosmetic bag to find an item. The only issue I have with this bag is the drawstring. After the bag is cinched up, the drawstring is very long and leaves a gaping hole at the top. I'm not sure if this is the correct method, but what I have found to work the best is to pull the drawstring through the loop and then make a bow with the excess drawstring. This seems to work the best to secure the items in the bag. Overall, very happy with the purchase:)

At first I thought it was too small but it fits all my stuff. And I didn't have to dig through to find what I needed- it was all already spread out when you open the pouch. Love it!

THIS HAS CHANGED MY LIFE! Oh my god not having to lug everything around is such a time saver. I just close it, throw it in my tote, and Im done! I just need a bigger one!
Payment & Security
Your payment information is processed securely. We do not store credit card details nor have access to your credit card information.