Description
Simple and elegant men's fashion watch
A classic design! The watch is made with high-quality materials, with elements of simplicity and business distinctiveness along with a casual feel that gives you this elegant watch.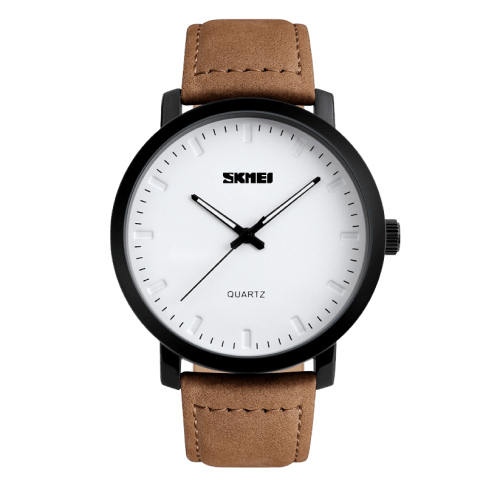 Watch specifications
Extraordinary quality with a noble personality
Watch details
Dial diameter: 1.8". Case thickness: 0.4". Band width: 0.87". Band length: 9.7".
Watch materials
Case: black plating zinc alloy. Mirror: glass mirror. Watchband: high-quality leather. Watchband color: brown. Movement: quartz. Glass material: high hardness glass. Clasp: stainless steel.
Water-resistant
Resistant to hand washing, rain, sweat and water. Resistant to splashes or brief immersion in water, perfect for all types of business, casual, indoor activities or daily use.
Distinctive design
The watch that can meet your daily use! A soft, breathable and comfortable leather strap. Minimalist: metal scale, clean lines, three-needle design. Dial color: white. Case shape: round.
Perfect choice for a gentleman
This timepiece provides the ideal solution for daily precise time keeping. Designed to combine business and casual styles with a classic brown leather bracelet, it is perfect for daily use.
I've been into watches for a long time now and whenever I don't have one on it feels almost weird to me. I'm going to college for the first time and right before moving in the day my old watch broke, I needed a new one fast. This watch caught my eye due to its appearance and price tag, but unfortunately low price and gorgeous looks can often mean lower quality. I decided to give it a go and I can tell you it is truly an amazing watch. Everything looks stunning and it feels very smooth. I would highly recommend this watch to anyone who is looking for something stylish without breaking the bank.

This is a great watch for the price. It is very nice looking, and keeps time extremely well. The leather band is nice quality, and feels much better than some metal bands that I've had. I bought this as a "beater" watch for everyday use at work, and although it does have a small scratch on the face from me being reckless and hitting the desk, it held up very well. The only real con I have, is that the second hand never actually lines up with the lines on the face exactly, but this is a cheap watch, so as long as you don't expect high dollar watch details, you will be very pleased like I am with the watch.

I have acquired quite a diverse collection of watches as I appreciate their beauty in addition to their function. I have elaborate costly watches with well known designer names and I have unknown inexpensive watches whose design appeals to me. I ADORE this piece not only for its size but for its simplicity and beauty. I am thrilled with its magnificence and will enjoy it for many years to come. That it receives compliments is due to its size as it is an attention getter particularly on my petite frame but that is only part of what gives me such joy. It is thin, graceful and elegant, as well. I am delighted and its affordability is an additional surprise. I could not be more enthusiastic about this selection.

The watch is keeping great time, and the face is clear and easy to read. For the price, the watch retains a more expensive look and feel. The leather band is softer on the inside, making wearing it more comfortable. The watch has a good weight to it and feels solid in your hand, not hollow like other watches in this price range. I've already gotten a few compliments on it, and have had a couple of people think it was a very pricey watch. Highly recommend this watch if you want something with a classic, minimalist, even expensive look without the hefty price tag.

Honest review. This watch is great for the price, the only negative thing I have to say is that the face is not actually white but more of a light silver. Another thing to pay attention to is the length of the strap, I have a small wrist so it's not a problem for me but if you have a thick wrist pay attention to the length. The watch is comfortable to wear however the strap takes some time to break in, it's very stiff at first, not soft. Again for the price this watch is a great deal I recommend it, it doesn't look cheap.

I really like this watch. It is stylish, lightweight and versatile. This wrist watch is a style hack for any man who is looking to upgrade their style game. It draws attention and makes you look more stylish and someone who values time. You can wear this watch with pretty much any outfit, in my opinion. I have been wearing it for over three weeks now and it works perfectly fine. I'd recommend this watch.

I love the look of this minimalist style watch, it makes for a great gift and honestly goes well with so many outfits. I got this as a gift for my dad but I also previously got an identical one for myself a few months ago. I wear it casually but it fits right in place with a suit as well. The band is very soft and flexible right out of the box, there's no break in required like some of the other high quality leather ones. However, it still gives off a look of quality leather.

I absolutely love the design of this watch and it holds up to the sweat and beating I put it through. I love that nothing about the product or its packaging seems cheap, but it's so reasonably priced. A++

First impression, awesome. Looks great, keeps accurate time, and fits quite nicely out of the box. I have smaller wrists and have 3 additional slots on the leather strap.

Value for money, very stylish, and amazingly light. So far so good. Product arrived on time and the packaging was good.

I love it. It is a nice minimalist watch for those of us that like things simple but elegant. It's a great everyday watch so far.

Such a nice watch, the style is very simple and suits boys. It is fashionable. Got it for my boyfriend and he loved it

I wear this watch every day. The value for money is excellent. I'd recommend this watch to anyone.
Payment & Security
Your payment information is processed securely. We do not store credit card details nor have access to your credit card information.