Description
A timeless classic wrist watch
The best timepiece available for gentlemen. Showcase your exquisite sense of style, confidence, and temperament with a uniquely designed wrist watch.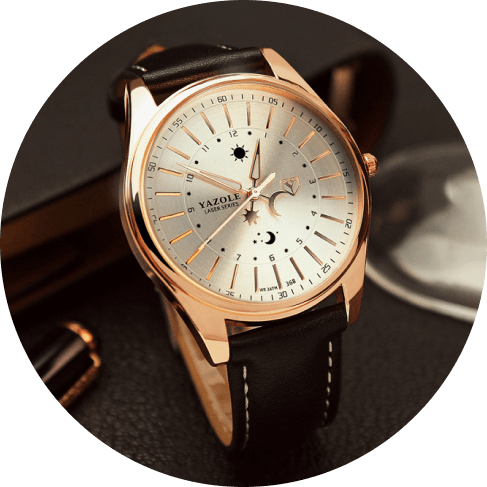 Refined men's watch
Watch parameters
Movement: quartz. Dial diameter: 1.6". Dial thickness: 0.4". Band width: 0.8". Band length: 8.7". Case thickness: 0.43". Weight: 1.5 ounces.
Water-resistant
The waterproof features of this beautiful watch allow you to safely wear them on a daily basis, ignoring any water splashing when you wash your hands, walk in the rain, or take a cold shower.
Watch materials
Glass materials: mineral glass. Case materials: alloy. An elegant and comfortable black leather strap.
A great gift
This wrist watch is a great birthday, Christmas, or New Year gift for yourself, your family and friends.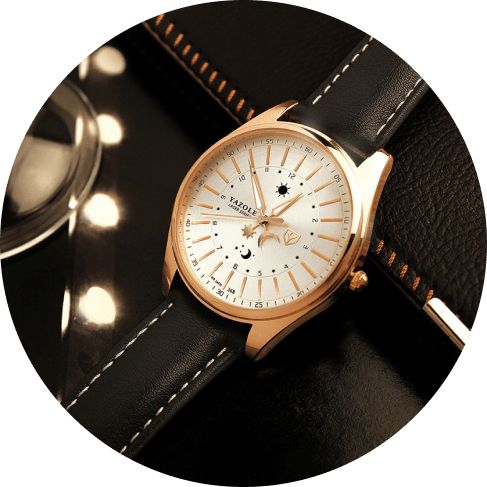 Great for business and life
A timepiece with a fashionable and gentle design that shows the charming and gentler side of the men. Perfectly fits the wrist, soft and comfortable - perfect to wear on any occasion!
Was worried that the hands weren't readable enough with the dials, but the watch hands are so reflective, it has been very easy to read. At least for me. Watch band looks better in person than in the picture. From the picture, I was thinking of replacing it cause it looked too warm for my taste, but now that i see it in hand, the color is a slightly darker, cooler brown and I'm sold on the look. The biggest flaw for me is that there's no glow in the dark function. It would be really handy to see time while driving.

This is an awesome looking watch for the most part. I do have two complaints though: a) The metal bracket on the strap had sharper edges that kind of dug into my wrist. I solved this by using a diamond dremel bit to curve the edges that touched my wrist better so it doesn't dig in. b) The hands seem slightly off centered. So sometimes they don't seem quite right.

I personally like the watch and for the price I would say it is a great deal. Looks good and it's comfortable. I wore it a couple of times and I have gotten a few compliments on it so I am happy with it. I would recommend it to anyone.

The band is a little sharp on a few edges, not a big deal as I want to get a magnet band. The watch face is amazing; it has so many details to look at. High quality good warranty. I would love to get this as a gift!

This is an awesome watch for the price. I really don't think you can do any better for that price. One thing I did was to change the strap to a better one as it was uncomfortable

Best watch I've ever had. Near perfect precision timing. Looks exactly like it did in the promotional images. Classy and beautiful.

I've only had it for a day, and so far so good. Exceptional value for the cost. Feels great/looks great.

The fit, finish, workmanship, and weight far exceed my expectation for a watch at this price point.

Wow what a watch, i was surprised by the quality of the watch, it feels heavy in my hands.

I was very skeptical. But the watch is beautiful and accurate so far.

I am happy I made the order. It is everything I expected and more.

Excellent watch, it measures accurate time and draws a lot of attention with its shiny gold background and unique hands. It looks fantastic!
Payment & Security
Your payment information is processed securely. We do not store credit card details nor have access to your credit card information.