Description
Your fashion statements
Add a sleek detail to your outfits
This belt has a smooth faux leather finish with a metal trapezoid buckle. This would be perfect to wear with your shift dress for an improved silhouette, or with your denim jeans for added style.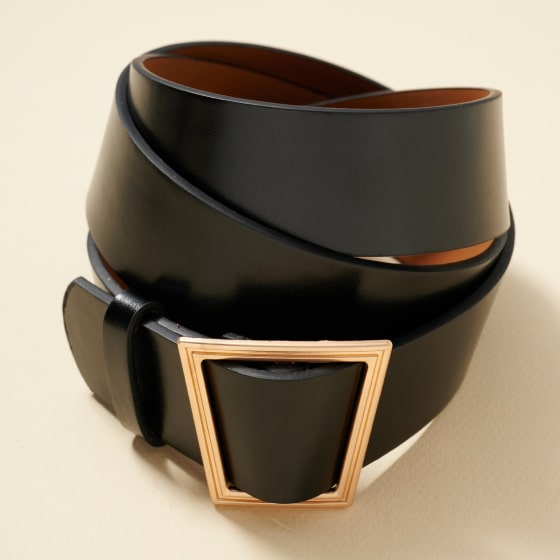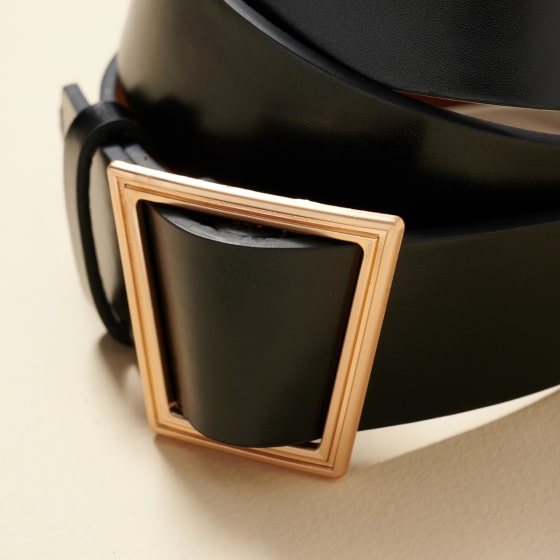 Works great for any clothing layer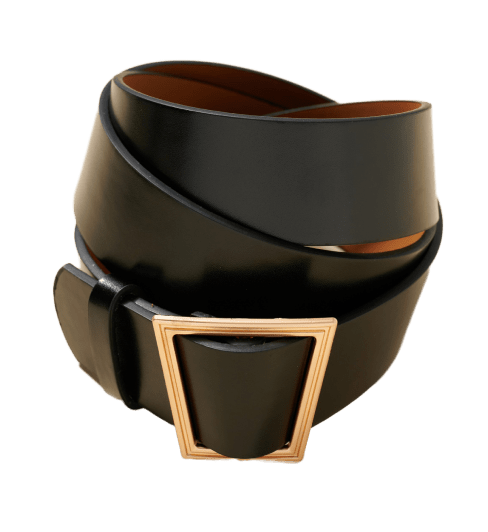 A versatile accessory
This belt is a multifunctional accessory that can fit any size. Flexible leather with adjustable length is versatile and convenient. The belt is soft and durable.
Wear it in your own style
It's a beautiful and practical belt that suits most blouses, jeans, and dresses. Perfect for daily wear as well as special occasions. Build your own style with it!
For your unforgettable looks
Exquisite leather elevates a simply styled belt with gold-tone fittings, giving shoutouts to denim, occasion-wear, and jumpsuits. Nail your new season fashion goals with need-right-now dresses, outerwear, shoes, and denim in the coolest shapes and fits! Suitable as a gift for your colleagues or friends.
About Avenue Zoe
Avenue Zoe is a women's contemporary fashion brand dedicated to providing affordable and high-quality fashion that's never out of style. As a people-oriented brand, we strive to fill your wardrobes and closets with effortless and chic styles that you'll love forever. From clothing to accessories, Avenue Zoe has everything to help you look your best from head to toe. Our collections meld classic tailoring with an edgy, yet subtle New York City aesthetic. We want to help you express your individuality without compromising comfort or budget. Our pieces transform your look to help you be the best you.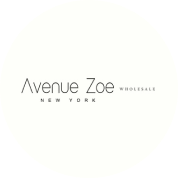 Designed In
Ridgefield, New Jersey
No frills, tough leather. Seems good quality. I work a lot and need a durable belt and this one is it, it looks nice too so it's no big deal to go out with it. Looks equally stylish with jeans and office trousers.

I'm not really a belt guy, but recently I lost a lot of weight and old pants are kinda big for me. Picked this belt for its stylish brass buckle with unusual shape. I've had it for a month now and the leather is still intact. The buckle is attractive and very sturdy. I expect many years of use from this belt.

This belt is really a quality item. Got it for my boyfriend for Christmas. has a nice sturdy heavy belt buckle and the belt seems to be made well, hoping this will last quite a while for him. this belt is 41,5 inches long and its true to size, but i guess there might be some other lengths too.

Most of the time I have a lot of stuff in my pockets, keys, phone, wallet, and maybe some change. I can tighten this belt up really tight, so It's not sagging with all this weight in my pockets. It was delivered the next day, so props to the delivery guys!

This belt really catches your eye, the buckle is really cool. I don't usually write reviews until I have had the time to test the item. This belt has exceeded my expectations. It was far stronger than I thought, there is no fraying, no weak points that I can see and after months of use, it still looks as black as the day I got it delivered. Money well spent.

I have an impressive collection of belts and this is a fine addition. Bought mostly for the buckle shape, but was pleasantly surprised by quality. The metal is solid and doesn't scratch easily, the construction is overall sturdy and the leather is soft. Get this belt now and your office buddies will burst with envy!

About two months ago I purchased this belt and now I'm gonna get another one. Nice quality, fast delivery, looks stylish and businesslike. The spot where the buckle touches the leather doesn't wear out and has no damage to the leather. A good purchase overall!

It's really hard to find a nice-looking leather belt these days. Most faux leather belts look cheap and age poorly, but I've had this one for six months already and it looks brand new. It is in the same league as the real thing. Feels comfortable and the unique buckle shape adds more flare to it. It's worth it!

Real quality stuff, got black leather one, but got bored with it rather quickly, so i'd like to buy it in different color
Payment & Security
Your payment information is processed securely. We do not store credit card details nor have access to your credit card information.