Description
An accessory that complements your style
If you'd like to put on some charm and elegance to elevate your outfit, then consider adding this gold Dagger Pendant necklace to your accessory collection.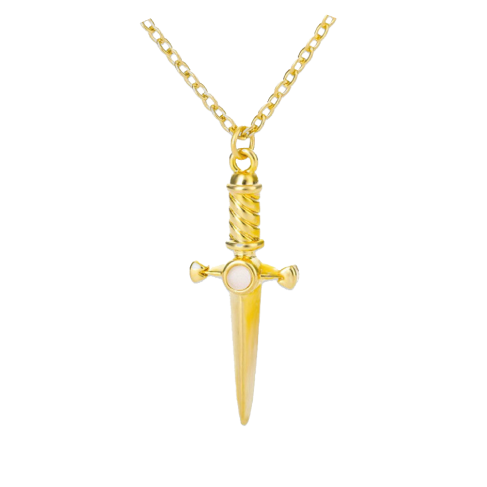 Create a trendy look
An exquisite piece of jewelry
Necklace details
This fashionable gold-toned necklace is made of brass. Length: 16 in. Type of chain: cable.
Easy to take care of
Keep the necklace in a cool, dry place. If needed, dry with a slightly wet soft cloth.
Little details for irresistible glam
Inspired by classic jewelry, this stunning necklace can add a dignified touch to your daily looks. Wear it with both classic and casual outfits.
High quality
Brass jewelry possesses high corrosion resistance. It's a strong, durable, and long-lasting metal. So, feel free to wear this necklace every day!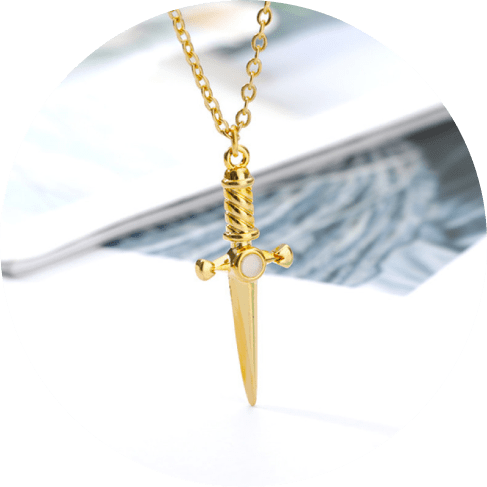 A thoughtful gift
An appealing and unusual design of the Dagger Pendant Necklace is suitable for many occasions. The dagger is a symbol of sacrifice and bravery. By giving your loved one the Dagger Pendant Necklace, you offer them protection. This symbol is believed to guard from harm and negative energies around.
It was a perfect gift for my friend who works in maintenance.

I loved it!! Super punk rock fits with all of my other chains!! Will buy it again if it gets rusty or anything because I love it too much!!

Looks good, I do wish it looked a little more realistic. But it's a nice addition to when I'm stacking necklaces.

Not too flashy but still cool to look at. Got it as a Christmas gift, but I was tempted to take it for myself. Love the detail of the knife.

It's a great necklace, it has a nice weight to it. Only reason I'm giving it 4 stars is the knife itself is not big enough than I expected but still awesome!

The knife is well-crafted and it's beautiful. I love the length of the chain and the pendant is the perfect size. Came in a perfect package for the necklace.

Ordered this knife pendant necklace for my daughter's Halloween party costume. It's shiny and pretty, very well made, so it won't be only for Halloween!

My son loved this necklace. It is actually made very well, which I was surprised by, since it was so cheap. The length is great, and it is good for everyday wear.

This necklace is amazing quality, made out of nice solid metal that feels well made when holding it, both the pendant and the chain are made of this material and the knife has the details pictured and this is one of the most solid necklaces I own, and I have many.

This was a birthday purchase for my grandson, who is 18. He loved it! The quality was very good. It looks like an expensive piece. It turned out to be a very special gift that he'll have for a long time. I am very pleased and will be shopping for other pieces. Oh, and delivery came very fast. A win all the way!

This is a nice pendant. It has a nice substantial weight and the material felt very solid and substantial. I got it to replace a similar pendant my nephew lost that belonged to his dad. We engraved his initials on one side and his dad's on the other. When he opened it at Christmas he was very emotional and loved it.
Payment & Security
Your payment information is processed securely. We do not store credit card details nor have access to your credit card information.