Description
Have fashion & functionality on the go
You can securely store your phone, lipstick, credit cards & keys while sporting a chic wristlet for when you reach your destination – the zip closure is just ideal for quickly accessing your essentials. It is lightweight yet durable & comes with a cute, fun, and bright banana pattern.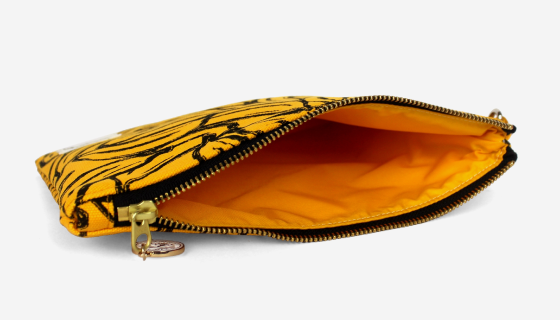 It is an elegant must-have
This wristlet is sure to become a beloved accessory
Super chic and fun design
When the situation calls for something more stylish than a basic wallet, the wristlet with a banana pattern comes in.
Top workmanship you deserve
This wristlet is padded with eco felt. Features water repellent lining, YKK zipper closure, and logo pull charm. Also, a keyring is included.
100% cotton & 100% nylon used
This wristlet was crafted from top-notch materials: the shell is 100% cotton and the lining is 100% nylon.
How to clean this wristlet?
Care instructions: machine wash in cold water with similar colors only; line dry; no bleach; use warm iron if needed.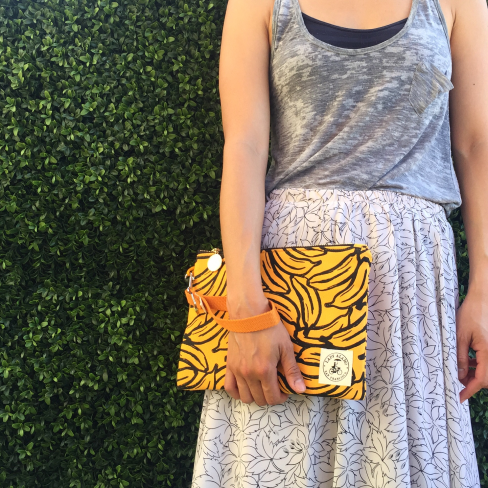 Perfect gift for that special person
Shopping for someone else? It makes a perfect gift for a variety of occasions, including Mother's Day, birthdays, Christmas, bridal showers. It's a thoughtful gift she can take anywhere.
Sized just right
The Miss Zip wristlet measures approximately 10" x 7" x 0.25" - spacious enough for private belongings like your card, cash, cell phone, etc.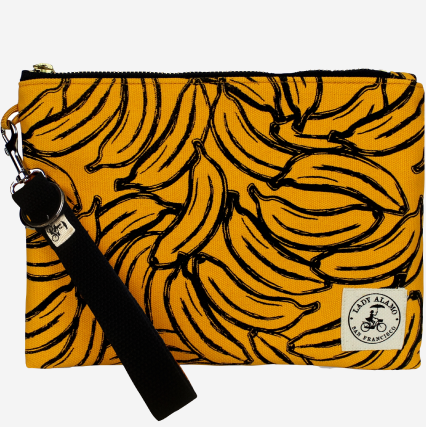 Suits your needs - whatever they may be
Slip it around your wrist when you step out for lunch or throw it in your bag as a compact organizer. No matter what occasion you are heading to, let Miss Zip Wristlet be your perfect companion.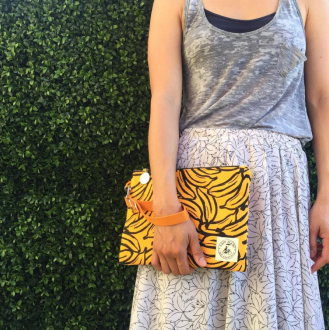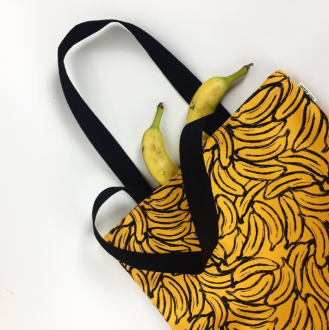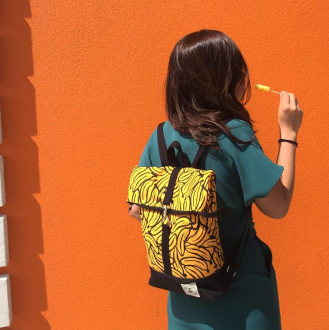 About Lady Alamo
Lady Alamo is an accessories brand based and manufactured in San Francisco. Since 2011, we have been on a mission to bring joy to people's everyday lives with original prints & vibrant colors. In 2011 wife & husband team Yiva & Bryce began printing and sewing bags out of their tiny apartment in San Francisco's Alamo Square neighborhood, home of the Painted Ladies (Alamo Square + Painted Ladies = Lady Alamo). Having since moved into the City's Mission District, the commitment to producing locally and finding happiness through design remains. At Lady Alamo we strive to create everyday items that bring joy with each use. Focusing on natural materials, versatility and of course color, we've created a variety of Zipper Pouches, Backpacks and Reversible bags that you will want to show off every chance you get.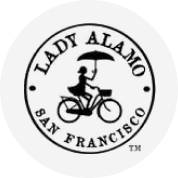 Designed In
San Francisco, California
I use this for carrying my beauty products and this wristlet is perfect for this. It has enough space for most of my make-up and it's easy to find whatever I need when I need it. With bigger bags it is always an issue, but with this one I can go to the ladies room without carrying my purse with me, which is just convenient. It opens and closes with a metal zipper and the pattern on it is just fantastic!

I take this wristlet with me when I go to the beach and it has been a pleasure to carry it around. This one has a solid band attached to it, so that it doesn't rub on my arm when I wear it and It closes tightly so no sand gets in and all my devices, keys and wallet are safe. The wristlet is covered with a water-repellent lining, but I would still keep it away from wet surfaces. I'm very happy with this purchase!

This is a perfect wristlet for my daughter! She always leaves things everywhere, so recently we had to buy her a new phone because of that. That's when I decided that we need to organize her bag better and now it's the most important thing in her school backpack. We keep her little wallet, phone and tablet in this pouch and she never lost anything since. It is also bright yellow, so it's easy to find and keep track of. Good purchase!

I have all the wristlets from Lady Alamo and this by far is the one I just LOVE the most. It had this amazing yellow banana pattern on it, which is just what I've been looking for summer weather. I think more people should know about how cool these pouches are and how conveniently you can use them for different purposes. I have one for my art class, another one for everyday use with my keys, phone and make-up essentials in it. I would recommend purchasing this wristlet if you need to store some of your stuff or just carry a lot of small things around.

The wristlet is just perfect for travelling in case you need to make sure all your most valuable items are with you at all times. Closes with a zipper so that nothing falls out and no pickpocket can get anything out of it. It is really bright and colorful, so there's no way you miss it somewhere or accidentally leave it on some counter. I take it with me when I travel and never had any issues with it. 5/5, much recommended!

I love this wristlet, though the pattern itself is rather weird. At first glanceI didn't really see any bananas lol I just thought those were lines.

This is a decent product and I'm overall happy that I purchased it. The fabric is soft and the zipper works fine too. The only thing I'm really not happy about is the synthetic lining on the inside, it'd work better for me if it was cotton too.
Payment & Security
Your payment information is processed securely. We do not store credit card details nor have access to your credit card information.