Description
Hygiene just got more hygienic
Got an aging (probably moldy) toilet brush sitting in your bathroom? Throw it out -- and upgrade to our eco-friendly, innovative Modern Hygienic Toilet Brush. With bristles made from anti-bacterial thermoplastic rubber, our hygienic toilet brush makes toilet scrubbing one less worry (and it's one less product you'll need to replace). Zero transfer of bacteria and grime equals less gross and less work, right? It's the next level of toilet scrubbing that's environmentally-conscious yet high-performing.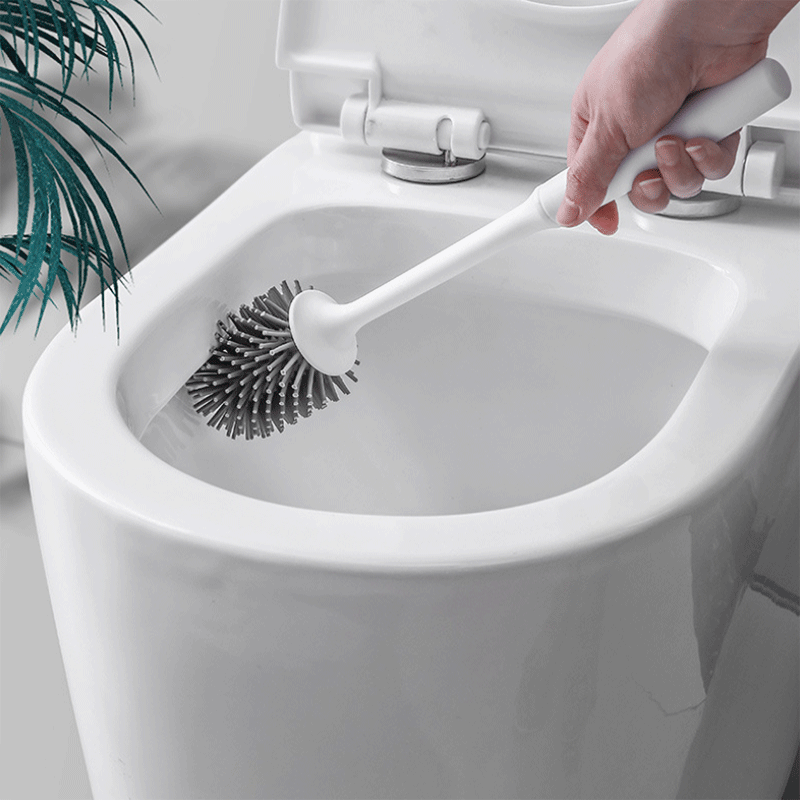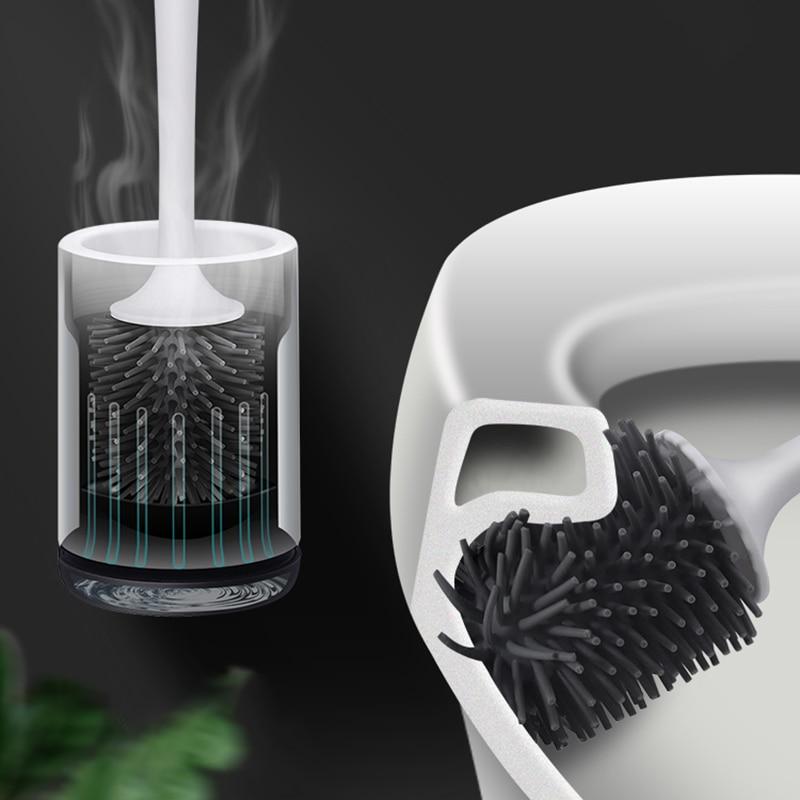 Look, Ma -- no drips or mess
Less mess, less stress, right? Our brush holder chamber features a suspended drain to allow water to drain and evaporate, eliminating moisture and mold build-up. No more funky smells or potential source of growing bacteria (at least from this item in the bathroom).
Ergonomic design
A smooth, extra-long handle ensures you reach far when it's clean-up time for the toilet. Whether you like to reach from afar with your nose pinched or zero in with a face mask on, any cleaning style works with our easy-to-grip brush handle.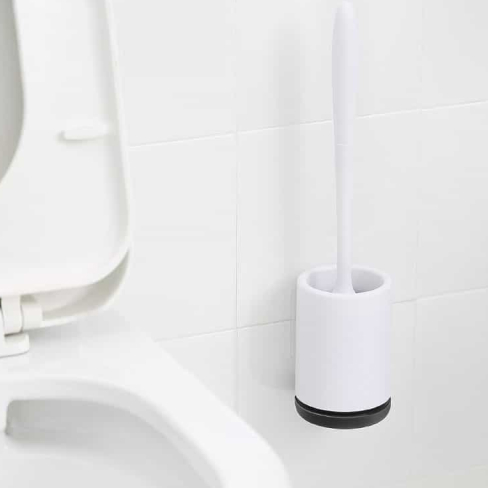 Bristles of power
Our thermoplastic rubber bristles are anti-bacterial, meaning no transfer of germs and crap (pun unintended) anywhere else as you scrub and sanitize. The rubber works well with strong cleaning agents, and its soft build means you won't need to worry about scratching porcelain or ceramic toilet bowls.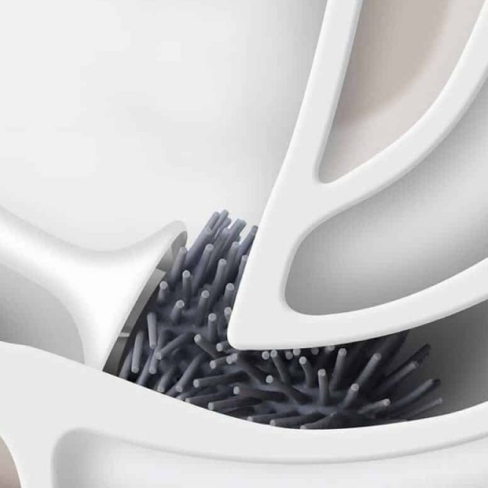 Compact-sized
Our brush in total measures 16" x 3.5" (410mm x 90mm), meaning it doesn't take up a lot of space. No bulky square holders like with traditional, ordinary toilet brushes.
Delivery is fast, all intact and safe. Nice silicone bristles, the holder is plastic.

Came very quickly, corresponds to the description, liked, in the bowl from below holes, did not understand why, will not drops on the floor flow, it is not clear. So everything is reliable and firmly at first glance, took mainly because of the silicone brush.

Very good brush, its money is worth!!!))) very satisfied, for a long time i was looking for this!!))) thank you, i advise you to advise both the store and the goods!!! sent quickly, came quickly!!)) looks very stylish and expensive, as the time will show!!! plastic and the brush itself does not smell, took with fastening To the wall

Absolutely great silicone toilet brush.I was surprised to receive a pair of gloves as a gift. Looks very stylish, designed in white mate color. Old one gone in a bin straight away. Very easy to wash under the water. I'll recommend to everyone.

This toilet brush is exactly what I needed. Nothing dirty sticks to it and the water you rinse it with evaporates so there's no odor or bacteria hanging around. It's tough and you won't have to buy a new for a long long time.

I have always used usual brushes before, water is constantly dripping from them onto the floor, onto the toilet and near the brush. I decided to try a silicone toilet brush and the result surprised me. water does not linger on it, does not spray, is dry and clean around. I advise.

We bought the second such toilet (for the second toilet), it does not pour anything on it, it is not dirty, the most hygienic thing. Washes as usual. Good thing, no complaints. It is very convenient to hang on the wall-attached to a double-sided tape in the kit (very tightly) on a separate mount, the brush with the stand can be removed if necessary.

Had mine for few weeks pleased with it does what it says on the tin

Very fast delivery, thank you! The quality is excellent.

Product complies with the description, and quality OK. Good packing. Serious store

Toilet brush is nicely designed, easy to use. Easy to clean toilet and stains does not stay on the brush itself. There is a gap on the container what allows exceed water to dry, brush does not stay wet, always keeps dry. Toilet brush you can easily wash under the water. Looks strong and durable.

Never had toilet brush like this, but was looking a long time on them and finally decided to buy. I'm using only for a few weeks, but I'm really pleased to have this brush in my toilet. Toilet brush is quite hard and cleaning perfectly toilet surface. Before I've needed to clean my toilet with old brush and chemicals 5-10 minute, but this brush just doing magic, couple of minutes and toilet look like new. I love the minimalism design, looks awesome in toilet. Comes in well packed box

Had a need for a toilet brush and made a desicion to get this silicone one which is something new for me as I use to use a normal toilet brush. In comparison with normal brush, dirt does not easily sticks to silicone bristles. It doesn't scratch the surface of the toilet, where I have noticed the normal brush was leaving scratches and also black marks. For cleaning purpose of silicone, i am using a toilet bleach and rinsing with water. Quick drying holder contains a lot of small gaps around perimeter which is good for ventilation and drying. The silicone head does not change its shape therefore will last for longer and need to be cleaned much less frequently.

It seemed more sanitary than in reality - not getting under the rim as well, as I want.

I was a bit sceptic when i was buying this silicone toilet brush! But I said why not give it a try? Cause i have a lots of silicone stuff like soup spoon and baking trays and i like them! So when it arrived and I've tried it my previous one went straight away to the bin! It's so easy to clean, all you need is water. Done! The handle is made from 2 pieces so you can buy a spare bristle and change it when you need! But I don't think you'll need one in the next 10 years :)) And excuse my language but the p*o doesn't stick to the brush!!! And cause the holder is having a clever construction the brush is always dry! Super! Is a space-saver one and it will look nice in any bathroom!!!

Good in quality, sensible. Came quickly. Just the toilet brush, nothing more.

Very cool! Looks clear and stylish!

Fast delivery. Thank you.

Recommend store and product

That said, it dries quickly and the stand doesn't collect water. It's sturdy. Just a brush itself is very small.

Came a little crumpled packaging, but everything is whole. All as described above.

Very cute brush, comfortable, copes with its task, i recommend

The brush is of excellent quality. Looks stylish and expensive. I recommend the product and the store.

I firstly use silicon toilet brush. Really to nice clean and no smell. On bottom have holes, so toilet brush always is dry. Looks good in my small toilet

Delivery is fast, everything came whole. The photo did not do, it looks like in all previous orders.

Toilet brush is excellent, looks like in the picture, there is no smell, long handle, which is very convenient.

Everything's fine. Nice brush. Everything, as in the description. Yes, it is important that it does not stick on anything :-)

Very good brush, i recommend to everyone
Payment & Security
Your payment information is processed securely. We do not store credit card details nor have access to your credit card information.