Description
A small and bougie accessory
For those who LOVE money and are not ashamed to acknowledge that
With this pendant, you can show how much you adore money and irony! It's tiny, gleaming, and super adorable. It doesn't appear to be very serious or constrained. The accessory is an ironic expression of gratitude for the materialistic part of our lives.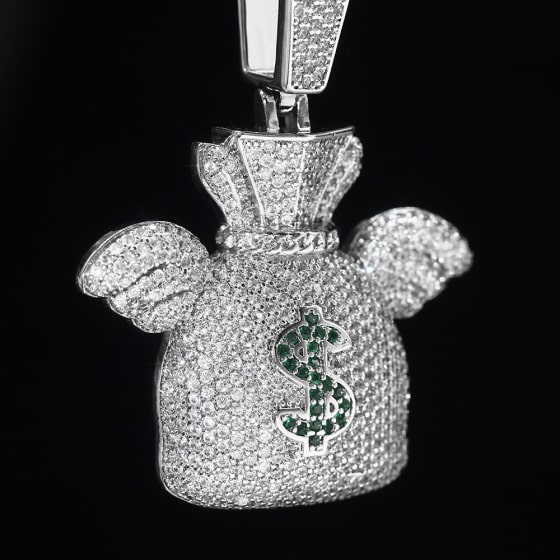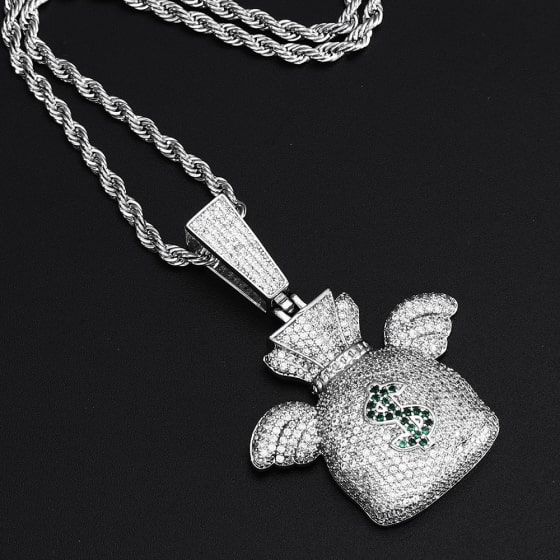 'Cause we're living in a material world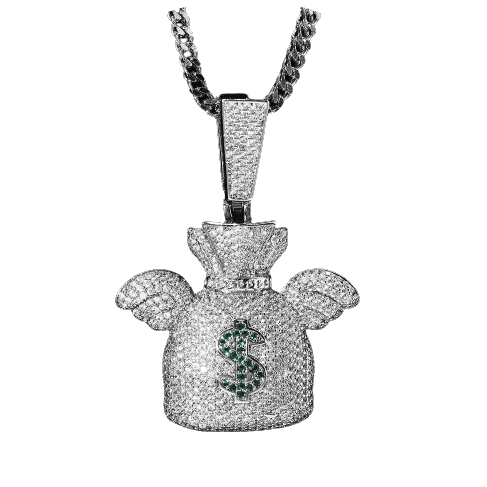 It has the perfect size
The size of the pendant is about 1.37x1.18 inches, that's why it's a perfect addition to any look. It doesn't get all the attention, but still gives a stylish kick!
What's the best approach to take care of it?
It is made of silver-toned brass and features 5A zirconia stones. When it gets dirty, it's best to keep it dry and clean it with alcohol.
Go get that bag!
This pendant is an amazing gift for anyone. Why take everything seriously? Let's have some fun and play with the message and the look of the jewelry! This pendant looks fun and cool no matter who wears it, and even though the design is ironic, the approach to the production of it is not. The quality of it will bring a lot of long lasting joy to anyone who wears it.
This item actually exceeded all my expectations. I was on the hunt for a dope piece like this and for the price and quality of that was definitely it! Also, the fact that I got it in less than a week also makes me recommend this product to everyone!

Literally stunning in person! Can't tell the difference between this and real silver.I bought this for my son and he literally hasn't taken it off. Not light and flimsy,but not too heavy.

The shipping and delivery didn't take too long. It looked exactly like the picture. I bought it for someone else so hopefully they like it just as much as I do!

High quality materials! Amazing stone placement! Never been more satisfied with the craftsmanship than this piece! I will definitely be ordering again!

I bought this for my best friend for his birthday & he loved it! He wears it every day. It's great quality & the shipping was fast.

Amazing! This is beautiful! The pictures don't do this any justice whatsoever. It shines and blings and is absolutely amazing!

Great piece with so many details! Came exactly as pictured and didn't take too long to arrive either highly recommended!

The quality was okay considering the price. It was very light in weight, I thought it would be a little bit heavier.

Amazing quality pendant, looks amazing. Even better than I expected. You can't go wrong for the price!

Great quality, my daughter absolutely loves her new "Bling"! Thank you so much!

It's pretty cool to wear from time to time, but it's definitely not for everyday wear.

I love this beautiful money bag pendant. I like the combination of two colors.

Did not know how this style would look on me, but I absolutely love it!

Great quality for the price, looks even better than the photo.

It was nice looking but my daughter wore it once and broke it!

This piece is truly outstanding for the price.

It's cheap yeah but my cat doesn't care 🤷

Gaudy costume jewelry not for everyday wear.

It was just like the picture
Payment & Security
Your payment information is processed securely. We do not store credit card details nor have access to your credit card information.