Description
Refine your fashion style with ease
Jewelry can make or break your look and selecting the right jewelry apparel to wear is a step you can't do spontaneously. You need to carefully pick and choose what accessories go with your style and what don't. Luckily, this leg-chain is a great accessory for many occasions.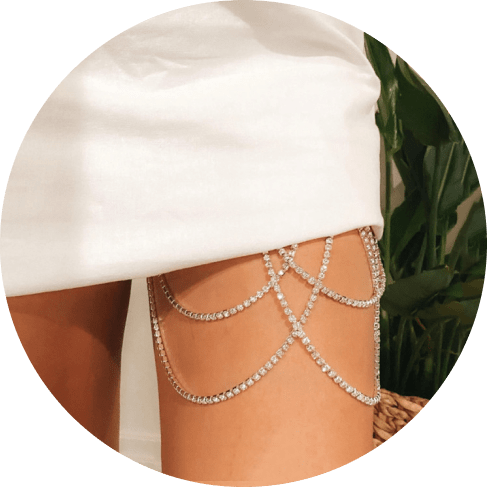 Leg chain specifications
Stylish accessory for women
Leg-chain size
The multilayered leg-chain has an adjustable size, fitting absolutely anyone.
Main jewelry materials
The leg chain is made out of zinc alloy and features the following material: rhinestone.
Great for many occasions
The perfect accessory for anniversaries, engagements, parties, and weddings. It can also be a great gift.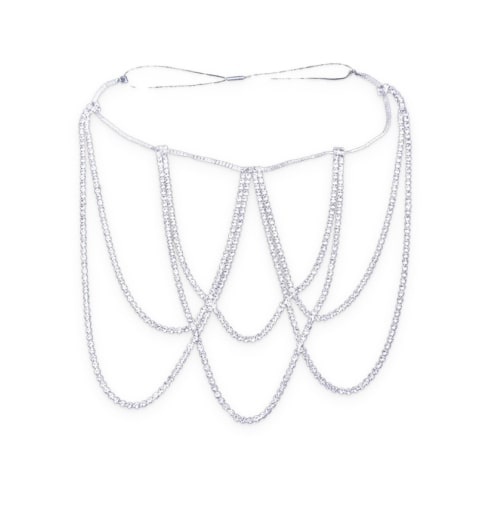 An exquisite body accessory
Get ready to catch all the attention of the party with this splendid leg-chain body accessory! The perfect piece to match with your dress and add an extra layer of elegance to your look.
Love it perfect for my bday dress 💜

Very cute and comfortable would definitely wear on a date night.

These were so stylish, everyone thought it was part of my dress. Even for thick thighs.

Used this piece for a boudoir shoot. I felt like a goddess! Great quality. Completely happy with the purchase.

You will definitely stand out wearing this thigh jewelry! The only downside is the jewelry setting do catch on slitted material when you move.

It was perfect!! The stretchy band allows you to adjust it on your thigh however you please and it isn't uncomfortable!

Beautiful product! Fast shipping! And it has such a pretty glimmer to it! You can wear this with anything that has a slit! It'll add sexiness instantly!

I wore this with a HIGH slit dress and it was so sexy to have it peep through when I walked. I got a lot of compliments on it. I also wore it at a pool party for an hour or so before I went in the water and got lots of compliments

Bought this just to try out with a shorter dress. It's very shiny and hangs in a nice way. It's by no mean a super high quality piece, but for the price I think it's decent. The elastic is a little tight once on, but that's to be expected seeing as it's elastic. Overall, for the price it's a 4 star product.

I like that this is stretchy and fits according to your thigh. This is a good fashion accessory if you're showing off a little leg. It gives a side split an extra oomph so go for it. Compliments are endless upon wearing.

Super cute for high split skirts/dresses. I have very thick thighs and was worried about this fitting but it actually fit around my thigh! I placed it at the very top near my hip to avoid circulation issues or rolling.

Wore these with Mardi Gras costume. Received so many compliments on this product. Stayed in place, no falling and it didn't bother my legs since it wraps around upper thigh. Would definitely purchase this item again!

Yasssss the stretch is amazing , I'm a thic girl and it covers the thighs which never happens with "one size fits all" but this really is for everyone ! Get it !

I got so many compliments! Such a good purchase! I loved it. I had a dress with a high side split. Every time I sat down instead of seeing just bare "leg" being exposed, Whoever was looking got a bit of eye candy and bling. This chain seriously set my outfit off. Loved it!!!!

Saw this by chance and thought it was a nice addition to my goddess custom. It is eye catching! I received many compliments and someone even asked me to take a Picture of my legs as I was sitting because of how sexy it looked (woman). Only issue is it will catch to certain fabric but not often. Definitely plan on wearing it's again.
Payment & Security
Your payment information is processed securely. We do not store credit card details nor have access to your credit card information.