Description
Dog chews for aggressive chewers
Help your dog fight boredom and problem of chewing behavior
Selected as the best dog chew toy of 2020 by People Magazine, this dog chew is designed to help you solve a number of problems you're likely to have with your dog. Meanwhile, it's made of ultra-durable nylon to withstand even the most aggressive chewers. So keep your dog always entertained and reduce other problems you can be worried about.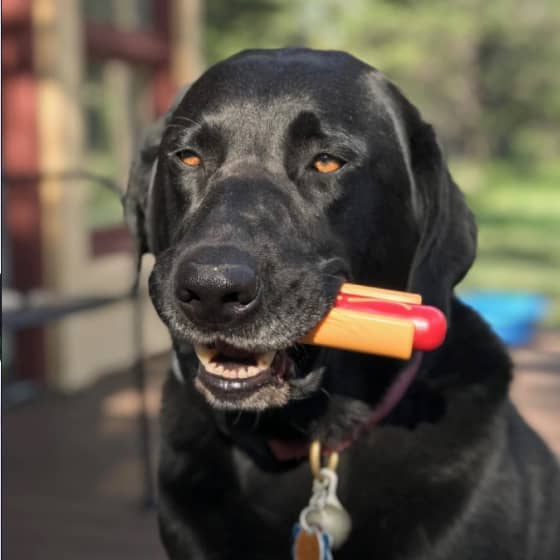 What's so special about this dog chew toy?
Make your pet feel happy with this chew toy. It's made of 100% safe materials widely accepted by veterinarians and with strict safety standards, so you can make sure it won't hurt your best friend in any way. Meantime, its size is planned wisely, which means there is no reason to worry if it suits your dog perfectly. In fact, there's more to pay attention to.
Safe: it's made of non-toxic materials
Veterinarian approved
Size: it suits dogs up to 45 pounds
Designed and manufactured in the USA
Easy to clean: dishwasher safe
Why is it a must-have for your dog?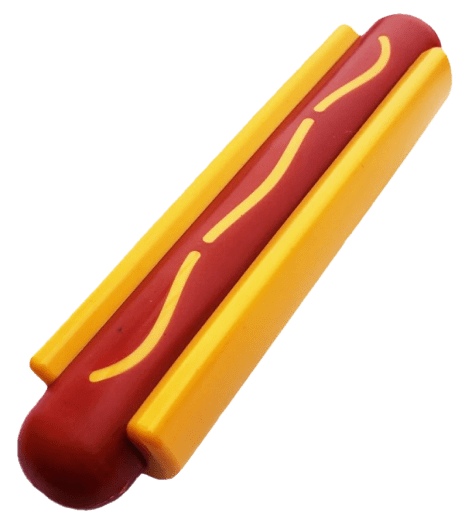 Reduces problem behaviors
This shaped hot dog toy for strong chewers features textures and angles that stimulate chewing. It helps your dog fight boredom and the problem of chewing behaviors.
Ensures dental health
Our chew toy helps your dog maintain good oral health! The contours of these strong dog toys and the chewy nature of the material helps keep your dog's teeth clean and breath smelling fresh.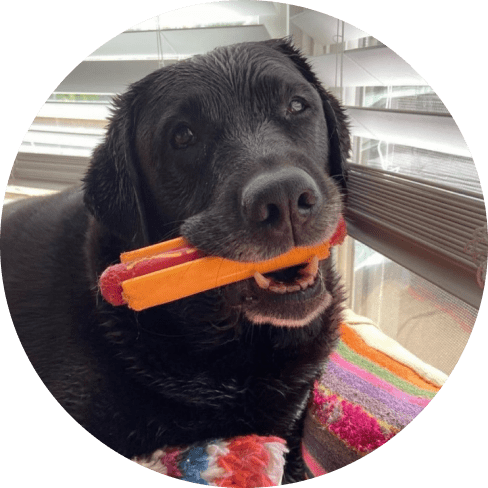 Suits medium sized dogs
Our nylon dog toy suits medium sized dogs perfectly. Its dimensions are the following: 1.4" diameter, 6.2" long, 4.8 ounces.
Replacement guarantee
We stand by our products and offer a 30 day replacement guarantee. But no dog toy is indestructible. Inspect them frequently and remove damaged ones.
About SodaPup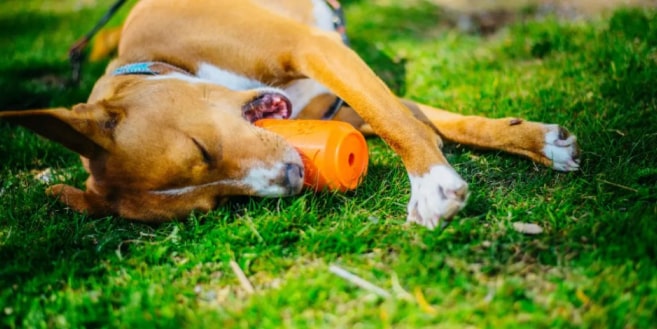 At SodaPup we specialize in creating fun and innovative dog toys for dogs that destroy everything! All of our products are made in the USA and are FDA compliant, meaning they are the safest dog toys in the market today. SodaPup has developed several brands, each with a unique theme that appeals to different consumer segments. Our brands are SodaPup, USA-K9, Industrial Dog, MuttsKickButt, Spotnik, and Harvard's Finest (our brand of grain-free dog treats). SodaPup gives back to the communities it serves, directing contributions to animal shelters as well as dog-related veterans organizations.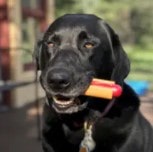 Designed In
Boulder, Colorado
My bulldog Ronny loves it! Will definitely purchase more toys from this shop!

Delivered fast and looks great as in the photo, the size is just fine for my Golden Retriever!

My boy Cooper often stays home alone cuz my husband and I work like 24/7 and this toy at least makes him a little bit happier while we are far from home

Great toy for chew monsters! ahhhah

It is not the first time we order SodaPup toys, they never let us down. My dog fell in love with this one at first sight!

My corgi Sunny is in love with this hot dog! She won't stop chewing on it. Very good toy!

My dog really liked this toy, probably because it is not monochrome, but colorful, it is rather hard, but chewable, and durable. Recommend

Has lasted with our extreme chewers, Australian Shepard & Yellow Lab

Pretty durable hot dog, and is entertaining, surprisingly, keeps my Lab busy at least for half an hour, nice for people who have to leave their pets for long

I thought this toy was adorable, but it doesn't really matter what I think. My 3month old golden retriever pup absolutely LOVES this toy. Well done Sodapup!

We thought it was such a cute toy but weren't sure at first because it was next to all the other toys with such high reviews and this one had less, but we took a chance and it completely paid off. When we are in our front yard and our dog Max is out playing with this toy we constantly get compliments about how cute it is. *****

Our dog loves this toy, every toy we buy her goes to waste. This is the perfect toy for our super chewer!

nothing to dislike at this point. My dog likes to play with it

My dog loves this! He is picky about toys so it is great when I find ones that he likes. Very durable!

Have had the SodaPup for a week now and our year-old Boykin Spaniel loves it.

My 6 old Border Collie Lab Mix can go through toys faster than Grant went through Richmond. This toy he loves and is durable

Correct information, same as the picture, quick delivery

Great chew toy! Very durable. I highly recommend.

Unfortunately, my dog was not captured with it after the first 5 minutes. He loves it!!!

Way too hard of plastic, worried my dog will break a tooth. Love all your other products though.

This handy little thing keeps my destruct-o pup occupied for hours. We've had it for a month or so and he still hasn't ruined it!! (which in itself is amazing.) definitely worth its cost!!!

It says in the description this toy is 9 inches long. It's barely 6. I bought it for my St. Bernard, but can't give it to him because he'd swallow it whole. Would be fine for a smaller breed.

Christmas present for the pup and she still has it middle of April. She is a heavy chewer so this is well made.

I have the ultimate aggressive shooter and this is the only toy that has lasted. It's lightweight durable easy to see. And my dog actually likes to take it and throw it in the air.

We have 2 German Shepherds, one being trained in bite work and narcotics detection. These are absolute destroyers of toys... these are the only toys that can stand up to them!

My bulldog is an extreme chewer. Nylon toys are the only ones that have a chance at lasting a good while. I was happy to find SodaPup as another nylon toy option. I ordered a handful and all of them have been a hit! Completely entertained!! Chew, chew, chew! Order processing and shipment were quick, which was awesome! We'll be back for more!

I ordered this hotdog because it said for tough chewers. I have a 1-year-old Lab Mix and he destroys his toys. We have had this hotdog for almost a week and it is still holding strong. There are a lot of teeth marks in it. It reminds me of a Nylon toy. I would recommend this for the extreme chewer.

My 10-month-old corgi tries to absolutely destroy every toy he gets--even ones that claim to be extremely durable. I purchased the soda can, the hot dog, and the gingerbread for him for Christmas because I felt sad he had almost no toys remaining. The toys are holding up very well, and he is obsessed with the hot dog and gingerbread man, they keep his attention for a very long time. Definitely satisfied with my purchase and will be a repeat customer.

Grandma saw a write up of this chew in a magazine (People maybe, I don't know actually which one) and absolutely made the best Christmas presents ever! We have two fussy spoiled babies and they are still chewing on them. it has been like 5 months and it is still going, so well done!!!! That's their ne FAV go-to chew! Thank you so very much for carrying this chew toy . We have forwarded many customers to your site, recommended this toy to all our friends and family who also have chewer dogs! So amazing! We will be ordering more toys from you in the future, for sure.

Too hard plastic to chew for my dog

My girl was bored eith it after a month

My GSD was too hard on it and the toy is worn out already, still I give 4 points because there hasn't ever been a toy he didn't destroy

Me and my Lab love SodaPup toys but this is unfortunately not their best one, he chewed on this hotdog like regiously as he alwaus does. All SodaPup toys have held super well, but this one is almost destroyed. Please, make it better, SodaPup, we love your products
Payment & Security
Your payment information is processed securely. We do not store credit card details nor have access to your credit card information.