Description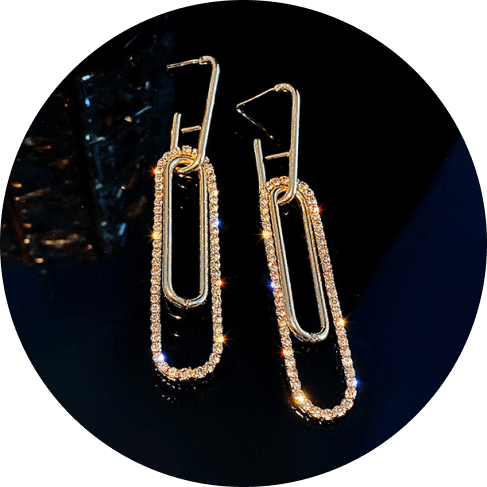 Your new favorite accessory
A graceful piece of jewelry
Sophisticated and glamorous, these oblong gold earrings will become your favourite jewel! The bizarre shape of the earrings together with their delicate details will add the ultimate modern touch to your regular look.
The accessory made to turn heads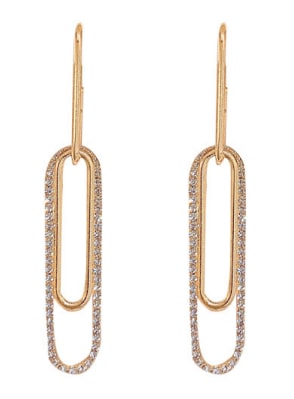 General characteristics
These gleaming earrings are made of brass and garnished with rhinestones. Weight: 0.35 oz.
Easy to take care of
Keep the earrings in a cool, dry place. If needed, dry with a slightly wet soft cloth.
A gift that lasts forever
The Oblong Shiny Earrings will make a wonderful gift for any occasion. Giving your loved one these stunning earrings will show them your love and commitment. Any woman will feel beautiful and desired wearing this accessory. Besides, it can be enjoyed for a lifetime.
Cute, fine earrings. Lovely gold shine. I like that they are very unusual so people can easily notice them. And they shine so bright and beautifully when under the sun, it's so cool.

Excellent! Very satisfied with the order. Quality at altitude. Packing is good. Look great. Recommend!

Earrings are cool, the color does not change, I wear them without removing, and my ears do not hurt!

Very beautiful, cute and minimalist. Beautiful shade of gold, strong clasp

God, they're gorgeous! I'll order more. Smooth, shiny, look like real gold.

Earrings are ideal, the quality is awesome, the color is like real gold

They don't look like golden at all, but still love it

Cute universal earrings. They look very good.

Amazing quality! Very sturdy yet lightweight.

All as in the description. Beautiful earrings!

Very cool, and the size is good

Earrings look very impressive.

Beautiful color, shines well
Payment & Security
Your payment information is processed securely. We do not store credit card details nor have access to your credit card information.