Description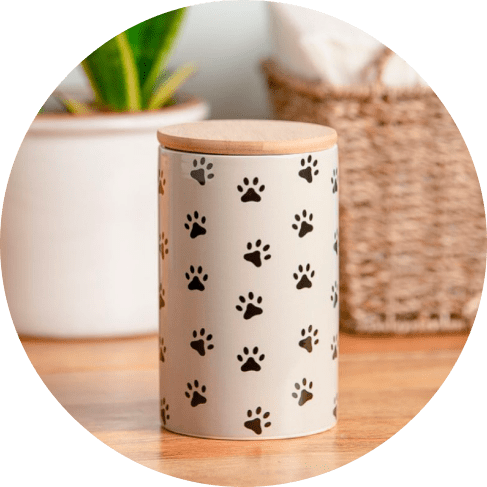 Cute & practical jar
Keep your canine's treats in this fashion fur-ward Pawz Treat Jar by Park Life Designs. Suits animal lovers who want chic, fun and playful designs and love giving their pets a little extra flair!
You'll be proud to display it in your home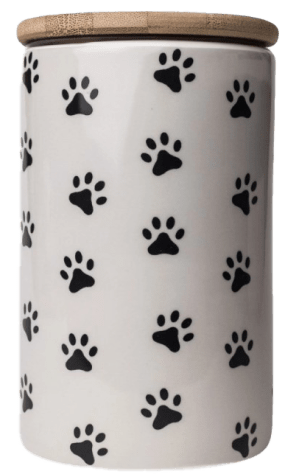 Keep the treats fresh
This chic storage jar by Park Life Designs can be used for your pet's treats or your very own snacks and other goodies like cookies, crackers, coffee, tea, and spices.
Features an airtight silicone seal
This stylish treat jar is designed with an airtight silicone seal to help preserve freshness and keep humidity, moisture, contaminants, and pests out.
A gift you'll both love
The Pawz' Treat Jar is a wonderful storage solution ideal for dog owners! The vibrant, glossy exterior and artistic design combines your dog's paw-sonality with your home's stylish decor. Crafted with 100% FDA-approved ceramic, silicon, and sustainably-sourced bamboo. This jar measures 6 ½ inches in height by 4 inches in width and holds 32 ounces.
About Park Life Designs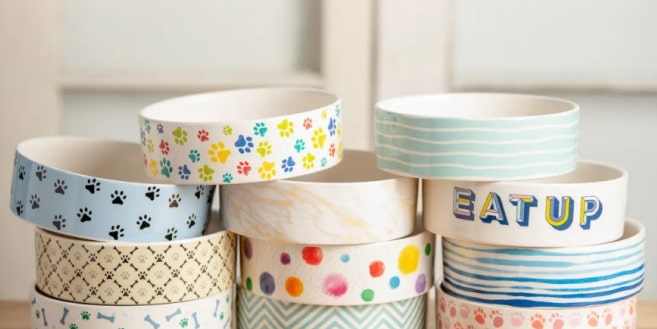 Founded in New York City by a team of innovative animal lovers frustrated with the lack of affordable, fashion-focused pet choices in the market we decided to shake things up in our own fun and vibrant way! Park Life Designs was created for stylish and fashionable pet lovers who love to express themselves with their furry ones. Animal lovers who want chic, fun and playful designs that love giving their pets a little extra flair! Park Life Designs believes every pet deserves decor reflective of their unique personality. Bring Style To Your Pets Life!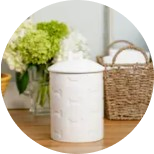 Designed In
New York, New York
Looks exactly like picture and other reviews, it's a beautiful ceramic, perfect for treats and dental chews, perfect small decorative Size, I purchased with it was on sale. I absolutely love how cute it is!

My sister broke my other one and i couldn't find it anywhere. This is the exact same. I love it!

Size is what is expected. It seems sturdy. So much better than the other brand but of course it's more expensive. Hopefully it'll last long, then it'll be worth it.

I love the way this container looks on my counter! It looks like a cute design until you get close enough to realize they're paw prints - which everyone compliments and thinks is so cute!

On the smaller side but nice. As it appears online.

Very nice, pleased with my purchase

A little smaller than I expected but then, I didn't pay attention to the dimensions so that was my fault. Quality product, very nice.

I put the pencil for people asking about the size. You won't get a whole box of treats out of it. Wish it came in a bigger size. Other than that it's a cute treat holder.

Love the design and keeps treats fresh!

This is a cute little canister to hold your puppy's treats. It seals really well to ensure freshness too.

This jar holds a sufficient amount of treats and matches my decor beautifully. As a precaution, I purchased some surface protectors and added them to the bottom of the jar to prevent my furniture from being scratched. The lid closes tightly keeping the dog treats fresh. I'm very satisfied with my purchase!
Payment & Security
Your payment information is processed securely. We do not store credit card details nor have access to your credit card information.