Description
A glamorous addition to everyday life
Are you feeling 2000s vibes? Are you a pink-lover? Or maybe you're tired of bland watches and looking for something sparkly and spicy? If your answer is yes to any of those questions, you're on the right page!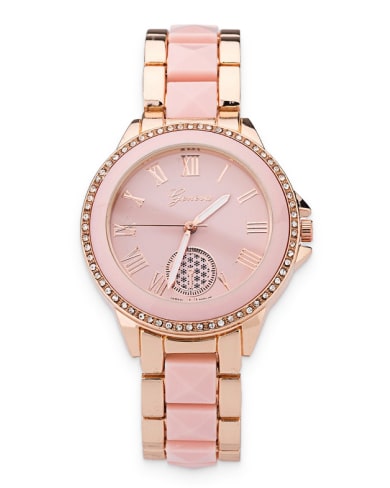 Shine bright like a diamond
Sparkle has not gone anywhere
Made to last for a long time
Produced from zinc alloy, this watch knows a lot about durability. Your bling is made to last, and it sure will. Trust us!
Product specifications
Dial diameter: 1.02'' Band Width: 0.86'' Band Length: 9.05'' Case Thickness: 0.35 Anyone can easily adjust it the way they want!
Nothing but 100% safety
The watch is finely made. No dangerous chemicals were used in the manufacturing process, which is proven by the RoHS certificate.
Good water resistance
This watch can withstand minor water impacts (splashes when it's raining, for example), but it's not made for swimming or showering.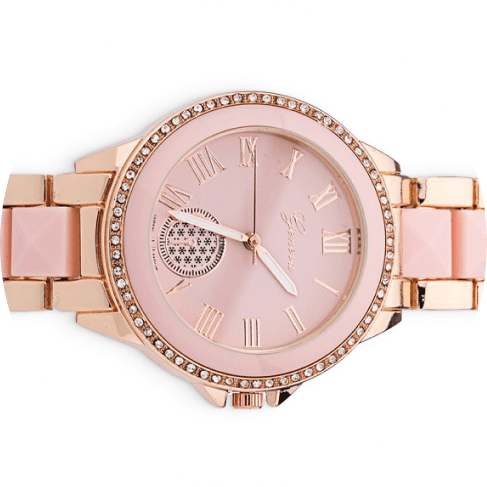 G, l, a, m, o, r, o, u, s!
Add a bit of fun to your looks and everyday life with this stylish watch. Exciting, colorful, shiny – what's better? It can enhance your mood and bring you a ton of compliments. A perfect thing for a fashionista!
I'm not a watch-wearer, but I wanted to buy one that was classy, professional, and not bulky so it wouldn't get in the way of doing work (I'm an administrative assistant and am constantly shuffling around papers, typing, etc). This is a gorgeous, thin watch! I am glad I got it. Highly recommended for anyone who wants to add that extra something to their outfit!

The look is what I expected. The diamonds on the face of the watch are tiny but noticeable. The price was decent. Bought this as a birthday present for my teenage daughter and she absolutely loved it.

I got this primarily for use at work. It's not too flashy, but subtly classy, and the huge face is one of the things I like about it because I can glance at the time, come out of the corner of my eye while working.

This watch is exactly what I was looking for. Very classic & clean looking with a beautiful rich color band & bright gold finishes.

Loved the lightweight. The band feels really good. Gifted to my fiance. She loved it. Overall, the watch is good.

Omg!! This watch is so beautiful!! I just love it. Lightweight, classy and can wear it for a lot of occasions.

I received this watch as a gift and I love it! It fits comfortably, is not heavy, the numbers are easy to read, and I get a lot of compliments.

This is my new favourite watch. The colour is a perfect, light, pink and it's super comfortable.

I got this for a steal deal! I love the colors and it fits nicely. Easy to read. Have not tested water resistance so I cannot comment on that.

Beautiful watch! Came a few days earlier than expected. Fits well and is very comfortable!

It's beautiful, just as described

I bought it as a gift to my sister. She likes it very much.

Nice watch... exactly what I expected it to be!

I like the bling bevel and the color. The watch overall seems to be very good quality and well made, however, it is larger than I anticipated and fairly heavy, almost like a man's watch. I like it and wear it yet deal with the heaviness. My main disappointment is that it is difficult to read.

Very pretty watch but too big for my taste.

Don't like the pink color. It's a weird pink. Not sure if that is due to the rose gold or what. Just not the pink I was hoping for. I'm sure it is just a matter of taste.

The watch itself seems to be fine but the box it came in was damaged from all four corners. This was supposed to be a gift so this just made it look completely unpresentable.

This watch is very elegant, sleek and sophisticated. The watch face is far too large for my small. It looked like I had a wall clock strapped to my arm.
Payment & Security
Your payment information is processed securely. We do not store credit card details nor have access to your credit card information.