Description
Plants PU Leather Hard Glasses Case – Daffodil
This folding, magnetic hard leather glasses case is the perfect companion for your eyewear. Smart, compact design uses a magnetic latch to form a firm but easy-to-open seal.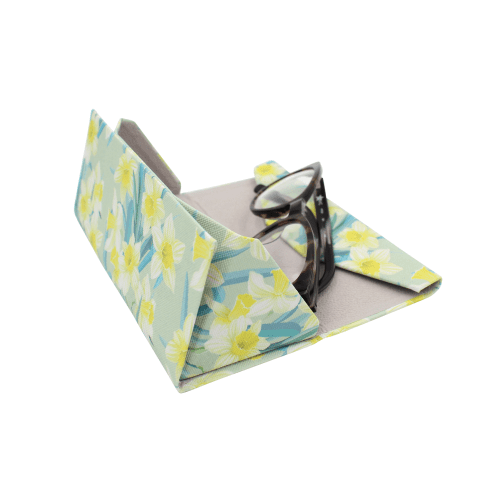 Keep sunglasses safe and enjoy the scenery
For every daffodil lover
Highlight your nature lover identity
If you are always in search of stylish accessories, look at Real Sic's production: they've designed this adorable flower glasses case for nature lovers!
Magnetic folding for the ease of use
Folds flat for easy storage. Cool, simple design that expands when needed and folds away when not in use. No buttons or clasps, just magical magnets.
Premium materials only
Compatible with glasses or sunglasses. The design is printed on leather and attached to a cardboard core, making this a lightweight case with a premium feel.
Manufactured in the USA
The case's manufacturer, Real Sic is based in Atlanta. This glasses case was designed and produced in the United States of America.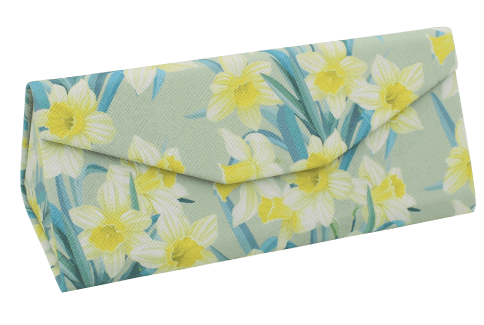 Enlighten your mood with the Daffodil glasses case
This folding, magnetic hard leather glasses case is the perfect companion for your eyewear. It fits eyeglasses and sunglasses of most sizes and includes a lens cloth. So keep your glasses secure in a cute, plant case.
Exactly as described and of great quality.

Exactly what I expected based on the pictures.

So cute and of such great value. Would definitely recommend it.

Durable, folds flat when empty, and fits my oversized sunglasses perfectly!

This case is great! I was worried about my sunglasses not fitting in them (they have a moderately large lens), but they fit really well in the case. I also love that it folds flat when not in use :)

Case is super cute and looks just like the pic. Fits my glasses perfectly. I will order more in different colors and prints. The great thing about the triangle cases with cute prints, is that you don't lose them as easily. Hehe huge plus!

I recently acquired a pair of prescription glasses. I needed a smaller case for my purse. I found this case and the price was right so I tried it. My glasses fit inside perfectly. The case is sturdy so my glasses are protected and I love that it folds flat in my purse. I bought one for a friend too. Great product with cute designs.

This is a wonderful, amazing, spectacular review of a product. I love this review so much. The sturdiness and durability of this review is off the charts. 10/10, would recommend this review to a friend of a close family member. I would never recommend it to someone I hate because I don't want them to feel the sheer joy of reading this review.

I love this! Not only are the daffodils super cute, but the case is big enough for my sunglasses. I was throwing my sunglasses in my bag for work, but I was worried they'd get broken. This case is sturdy enough that my glasses are safe, even if they get crushed between books and my tablet. I want to get more as gifts for my family. THe case stays closed, but it can also fold flat if you want.

It is beautiful but a little too big for a smaller purse. I know it is meant for big sunglasses but it takes a lot of space. Everything else about this case is very convenient.

Very cute, I like that it folds up flat! It only lost a point because I don't think it would hold up to a heavy beating.
Payment & Security
Your payment information is processed securely. We do not store credit card details nor have access to your credit card information.