Description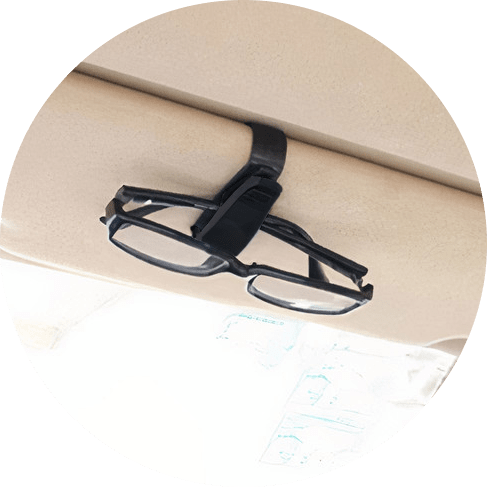 A simple solution
For stay-in-place help
Tired of hearing your sunglasses rattling in your cup holder or fearing that they'll get crushed in your center console? Then you'll love the simplicity and helping hand of our Plastic Sunglasses Holder Clip.
Effortless + compact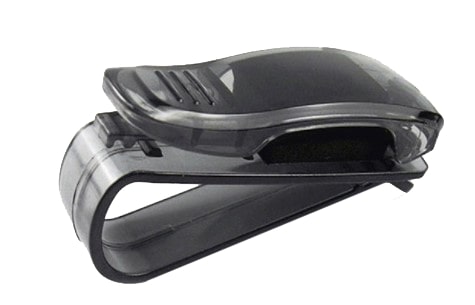 Clip on to stay on
Unlike some bulky boxes and cases that strap to the sun visor of the car, this small clip attaches to your visor and clips onto an arm of your shades for an instant hold.
From sunglasses to glasses
Have your must-haves within reach, whether for blocking the sun while driving or reading a receipt better after a shopping trip.
No rattles, no slips
Our virtually weightless clip stays snugly in place while its airborne hold means no noise as your shades hang out for within-reach convenience.
I wish I had known about these long ago. They would have saved me many pairs of sunglasses. Well made and easy to use. They keep sunglasses safe and out of the way but easy to access.

The clip is definitely sturdy and thick. It's a glasses saver for sure. The only thing I would change is that I wish it was open and shut spring action instead of chip clip type. It's hard to use when driving. I can say we love it in my husband's semi. He uses it for his glasses but also his paperwork from one load to the next, his receipts, and many other things that he needs handy.

Works nicely. I've only had it for a week so I don't know how well it will hold up but it seems sturdy enough. And at a good price

This is perfect!!!!! Was able to put my shades and eyeglasses up in the car and not have to worry about getting scratches on them.

Off road vehicle didn't have a space for sunglasses, and this worked well. Easy to use and install.

Not large and clunky looking, and it is SO nice to have some storage for driving glasses

Stays in place and hold the glasses tightly. Exactly what I was looking for.

It clipped on easily and added a convenience I needed in my new car!

I like that it securely holds my glasses as it has thin temples!

Good size, easy to use, good quality
Payment & Security
Your payment information is processed securely. We do not store credit card details nor have access to your credit card information.