Description
Polka Dot Triangle Bandana
Is your wardrobe ready for spring and summer? Add a pop of life to your outfit with this Polka Dot Triangle Bandana with a frayed edge! You'll love its versatility as it can be worn in so many different ways: as a skirt, as a top, or wrapped around the handle of a bag. It's truly a timeless accessory that won't go out of style.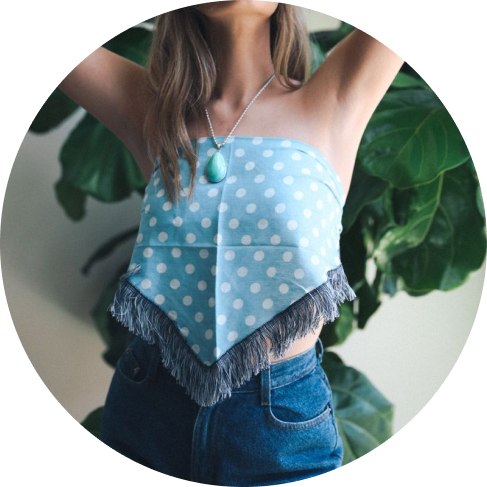 #1 Must-have in your wardrobe
How to wear the Polka Dot Triangle Bandana
As a classic neck scarf
Simply wrap your bandana around your neck, let it drape down your chest, and loosely tie the leftover strands into a delicate knot at the back. This will create a quick, casual statement.
As a top
The '00s have returned, and with them comes the scarf top. Instead of investing in a brand new item, you can create this look by wrapping a large enough bandana around your upper body.
As a waist accessory
Loop the scarf around your waist, and tie it in a knot or bow to add some texture to a simple ensemble! It is great for more relaxed, weekend wear or for covering up your bathing suit.
As a bag accent
If you feel like your outfit is missing something, try tying a bandana to your handbag. It's such a fun way to add a pop of color to an outfit without having to try too hard!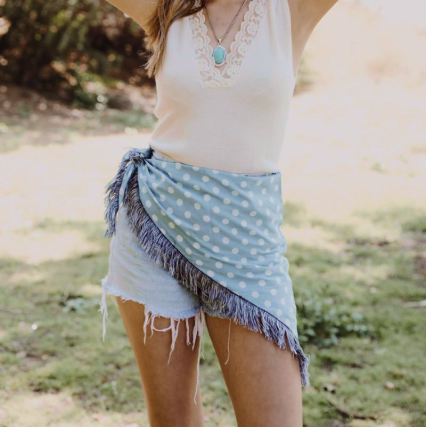 Polka Dot Triangle Bandana details
The Polka Dot Triangle Bandana is crafted with 100% organic cotton. It is breathable and friendly to your skin, offering you extreme comfort. The beautiful pattern and frayed edge tick all the boxes of elegance. The center drop measures 20". The maximum width measures at 50". The scarf is easy care for - just hand wash it and dry flat.
This bandana is just so multifunctional! It is big enough to be used as a scarf, as a headwrap or just about anything really! It's breathable so your set bandana dries really quick. The color is just what I've been looking for, not too dark, perfect for my light-wash jeans. The edges on this one are frayed and I just like how it moves around. A great idea for a beach party or just for everyday wear. Great purchase!

Lovely wrinkle-free scarf! Nice quality. I especially liked the size- a little bigger than most so I can do more with it.

Great scarf, I use it mostly as a waist accent and the little bits on the edges actually help with that a lot. An ordinary scarf without a hemming like that wouldn't be as good as this one. I washed only one time so far, it is exactly the same color and the white dots stayed white (I half-expected them to turn bluish). The fraying was intact after washing, so it seems like this scarf is really well-made. It's made with cotton too, so it's really breathable and easy to dry. Thanks!

Purchased one for my trip to Eastern European resort and wasn't disappointed. Great for wearing in warm weather, doesn't make you too hot and can be used in so many ways it made my head spin. I used it as a headcovering, a waist accent and a scarf and it was great for all of that! After my trip it got a little dirty (I took it to a beach), so I washed it for the first time and it came out just like new. Will order again when there are more colors available!

Absolutely obsessed. Good quality and shipped quickly. Easy to tie and untie and the fraying doesn't get in the way. Just Amazing! Most likely going to buy more colors!

So many options! You can wear it in so many ways… a scarf, a bandana, a headwrap, on your waist, on your back, on your crossbody. This is a 100-in-1 item that added a lot of variability to my wardrobe. Quality is really good, made of cotton, so it doesn't stretch, doesn't tear and keeps its color after multiple washes. I'm also happy that it's super easy to iron after washing up… I've made holes in my old satin scarf this way, but with a cotton bandana it's no big deal, it's resistant to heat. 5/5 star, would give more if I could.

Overall I'm really happy with the product. The shipping took a lot of time, but that's because I gave them the wrong address lol. The bandana is light blue with a white polka dot pattern, which goes well with my casual outfits. There's no issues with the scarf so far, will update if there are any.

I expected it to be a different shade of blue and it was light blue, which is not the one I was looking for. I guess I'll still find something to wear it with. The bandana itself is ok, minus 1 star for the color!
Payment & Security
Your payment information is processed securely. We do not store credit card details nor have access to your credit card information.