Description
Colorful watch for your kids
Kids' digital electronic sports wrist watch, which displays time directly with numbers, is clear and intuitive, and kids can read the time easily and precisely.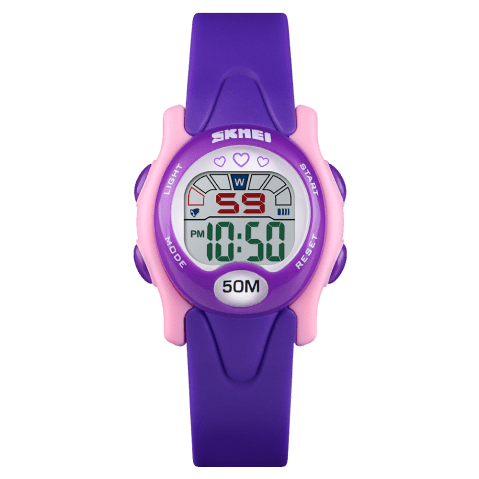 Sports watch specifications
Children's multifunctional sports watch
Water resistant
Showering, washing hands, and rain are all no problem! However, it is not recommended to soak in water for a long time.
Watch details
Dial width: 1.1". Case thickness: 0.5". Band width: 0.5". Band length: 8.5". Weight: 0.7". Case material: ABS. Buckle: stainless steel. Band: PU.
Many useful functions
Stopwatch, date, hour and minute display, calendar, alarm clock, etc. - all clearly visible on the display. Your child can not only learn and tell time but also arrange their schedule by themself in an interesting way.
Comfortable and safe for kids
Made of soft PU material for long-lasting durability while keeping your child's skin safe and healthy. In addition, the adjustable strap with stainless steel strap buckle ensures comfort. Make kids play or exercise without restraint.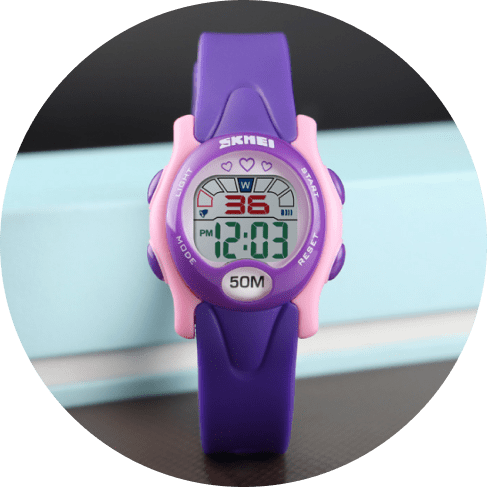 A wonderful digital electronic sports wrist watch
The soft, adjustable, non-toxic band is comfortable to wear and will not harm your child's skin. Displays time directly with numbers, clear and intuitive, and kids can read the time easily and correctly. The easy-to-fasten strap and buckle make it suitable for most children's wrist sizes.
Our 7 year old daughter recently decided she needs to be more grown up (?!) and that wearing a watch is a way to achieve that. I'm a fan of timeliness, even if not of growing up faster, so watches are good with me. This one is super cute. She really likes the color - it looks exactly as bright as the picture. It's a nice soft silicone-like material and she said it's very comfortable to wear. It was easy to set - once I read the instructions. Without the instructions it would take a little while though - there are four buttons and the combination of what you push to select the input you want to change and what you push to toggle between them and what you push to increase them was not exactly intuitive to me based on previous sport watches I've owned. With the book in hand it took seconds, I just wouldn't want to have to trial-and-error this one... I really like that it's waterproof also - since she, like most kids I know, seems to attract spills and puddles. This was a great find and she's really happy with it, so I am really happy about it.

Cute watch. I got it for my daughter and she loves it. The stopwatch feature is awesome and just what she needed. The suggested age is 3 - 10, but it would definitely fit bigger kids. I can put it on my adult wrist with notches to spare. I like that it shows the day of the week across the top. It lights up and flashes the date with a button. The directions are not super clear for kids. My daughter accidentally set the alarm and couldn't figure out how to turn it off. We were able to figure it out together. Younger kids will definitely need some help setting the date and time.

Watch generally well as described and is also one of very few that will actually fit a really small wrist. All functionality is there, including 12/24 hr capability...the instructions could be better and should be improved to describe how to do this particular function, but essentially the same function/button that adjusts AM/PM functionality also does the 24 hr function...just press the button third time and you're in 24 hr mode.

I got this watch for my four year old and I will say the band gets small enough that it will fit her. The numbers are nice and very large and she loves the light on button especially in the closet. The watch is very cute in person but not too big on the wrist to be ridiculous looking like some of these video screen watches I see other kids wearing. The watch is waterproof to 100 meters. It also comes with a stopwatch mode and keeps the date and the day of the week.

My eight year old daughter wanted a watch and was thrilled to receive this. She loves the purple color and how easy it is to read. Setting it is kind of a pain due to the fact that you have to press a lot of different buttons and it's not intuitive at all. Just don't lose the instructions, and you will be fine. You can set time, dates, day of week, as well as an alarm. This is a great gift for a child.

This has been great for my 7 year old son to keep him aware of time for his virtual classes! He wears it nonstop, in the shower, to sleep, etc. This is a really easy to read watch with enough features to be cool but not too many to be complicated!

My daughter had wanted a watch for a long time and we got her this one b/c it seemed to have just enough features without being overwhelming and confusing. Very happy with it.

I let my 7 year old pick the rating for it. He wears it everyday and sleeps with it on too. It's comfy for him and he likes that it is water resistant.

Bought it for my son as he broke his previous watch. The color is very nice, easy to set the watch and alarm and all the functions of the watch are working perfectly.

The face of the watch was much smaller than expected. The operation and functions of the watch are good.

My son loves it. It's so far very durable and easy to read. We do a ton of water stuff and it has lasted so far. Also easy to set.

This is a great watch. Easy to set time and bright visible display. My 7 year old loves it and doesn't want to stop wearing it.

I bought this watch for my 13 yrs old daughter. She said it is comfortable. She likes that it's small and not bulky at all.

Great first non-cartoon watch. My son loves it and won't take it off.
Payment & Security
Your payment information is processed securely. We do not store credit card details nor have access to your credit card information.