Description
Sleek and elegant watch for everyday use
This watch is a great addition to any man's apparel. Everything a watch should be: elegant, fashionable, sleek, capable, and long-lasting. Pamper your beloved man with this immaculacy.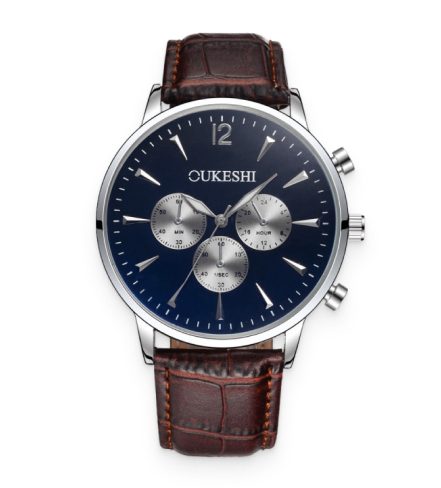 A versatile accessory for any occasion
No matter who will wear it and when
Made from premium materials
Durable faux leather and stainless steel used in the production will provide you with a pleasant user experience. With thought-out assembly, it's made to last.
Know about every second
This watch not only shows what hour it is. Get the information on the seconds and minutes of the hour. The precision of electronic watches, classical design.
Water-resistance technology
3 bar water resistance technology makes the watch endure everyday use (minor moisture, splashes). But don't wear it when swimming or showering!
Product specifications
Strap length: 3.93'' Strap width: 0.78'' Case thickness: 0.39'' Case diameter: 1.45'' Certifications: CE & RoHS Dial diameter: 0.98'' Adjust it any way you like!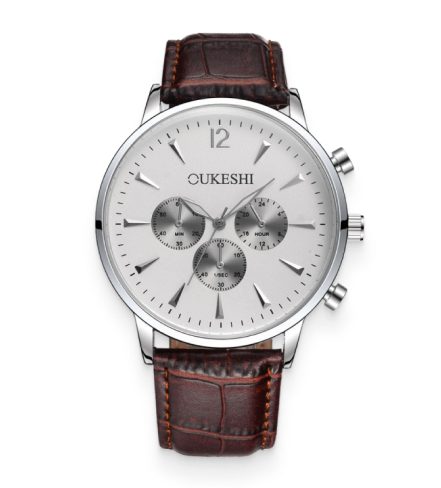 A perfect gift
This watch won't leave anyone indifferent. Great characteristics and the design create an amazing user experience that finds a way to the owner's heart. It's a definite must-have for any man's wrist.
I have been buying watches for a few years, I have had Orients, TAG, Christopher ward, patek, omega and a few vintage pieces. I'm by no means a horologist, but I can appreciate a fine timepiece. I bought this watch over the holidays for my boyfriend who is a classic timex kind of guy who knows absolutely nothing about watches, just that he likes to know the time. He is obsessed with this watch, and it's become his new daily wear. I'm hoping I can slowly introduce him and turn him into a savant LOL! I really enjoy almost everything about this watch and would totally recommend it as a budget timepiece that looks and functions well.

I'm a pretty normal guy, and I have to say that this watch looks beautiful. Keeps time well, and even though the band is a little stiff, you get used to it and it becomes comfy within 10 minutes. Setting the time is easy. I know this is a short review, but I know watches well, and I recommend it to anyone for a classy look in formal and casual attire, older or younger.

This watch is not the watch to buy if you want someone to notice or comment on your timepiece. However if you need a basic, no frills watch that is versatile enough to wear in suit or in casual attire, but isn't from a "fashion" brand, then this is your watch. I am normally wearing a gshock, but on occasion need something less casual, and this is perfect.

Could not be more pleased. Very simple and elegant, looks like a much more expensive watch, and keeps perfect time. Could not be more pleased, a steal at this price. Does not look or feel "cheap". It's a solid, accurate, dependable everyday watch that does everything you need in an attractive, affordable package.

This watch is very modestly priced for the quality and looks you get out of it. Not too big, and feels very nice in general. While it may be considered a dress watch it's clean style has made it suited to every outfit of mine I can think of as well, meaning it could certainly be a daily-driver timepiece.

A good looking watch where style trumps practicality. In other words, it is difficult to read at a glance. I shall wear it on formal occasions, strictly for looks and when I don't care what time it is.

Nice watch for the money. Looks good and keeps time very well. There is no illumination, so if you are in the dark you won't be able to read the time, unless you are a cat.

Quality is very nice. Faux leather straps are very good! Watch base is not too big that makes your wrist small and not too small to make your wrist even smaller. Just right. God bless you who has contributed to this watch! Amazing work to you all!

An excellent watch for the price. I was looking for an inexpensive watch to wear everyday and stumbled across this product. I liked the minimalistic design and so I bit the bullet and ordered it. Would very much recommend this watch to anyone!

I bought it as a birthday gift for my boyfriend. He totally loves it. If your beloved one is classic and into vintage looking stuff that it's also modern I think he would love this piece. Vintage yet quite modern and elegant.

I really enjoy this watch, it looks flashy and is comfortable to wear. It also goes with any outfit and most importantly it's accurate with the time.

My husband loved it. The size is perfect. But the leather bracelet is a little bit stiff. Hopefully in the long term it'll get better.

It's worth more than what you pay for it. It's not a Seiko, Tissot or even a lower end Lucien Piccard but it does the job.

I am a bit disappointed with the band color. The watch itself looks nice...but not the color band I was going for

I gifted this watch to my dad, and he really likes it despite his preference for digital watches.

Great watch. Love the classic look, and have received many compliments.

The product arrived on time and I am very pleased with it. No complaints.

It's a beautiful watch, perfect size for my large wrist. Love the colors.

Very good looking watch for the money! Highly recommend it.

Beautiful watch. Can't believe it's so cheap!

It's a cheap watch. You get what you pay for.

Just what I thought it would be, nice watch.

Very cool watch, love the simplicity
Payment & Security
Your payment information is processed securely. We do not store credit card details nor have access to your credit card information.