Description
Sheer chic and elegance
Do you want to enjoy a luxuriously looking accessory, but none of the offers on the market are for you? Are they too flashy? If any of those questions are true for you, then you found the right page.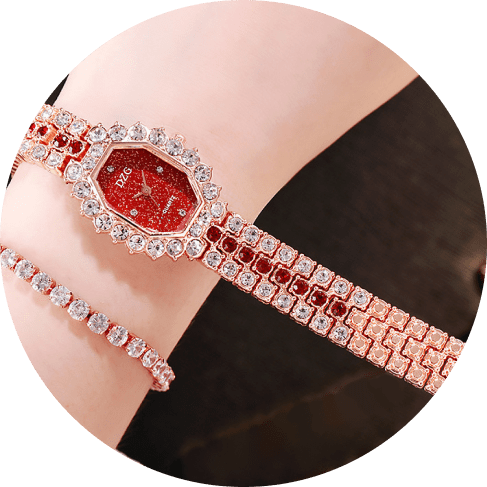 Intelligent style
Eye-catching and sophisticated
Mesmerizing look
This watch is immaculate. Looking at it is like looking at the sky: shiny and hypnotizing. Yet, the size of it perfectly compensates for its bright look.
Made from the durable material
Zinc alloy that is used in the production of the watch is a great material. It is corrosion-resistant and durable. Your joy will last long!
Responsible production
CE and RoHS certificates show that our goods are 100% safe for consumers. We used no harmful chemicals or substances in the production process.
Product specifications
Strap length: 9.05'' Dial diameter: 1.06'' Strap width: 0.74'' Case thickness: 0.31'' Water resistance: NO Finding the comfiest adjustment isn't a problem!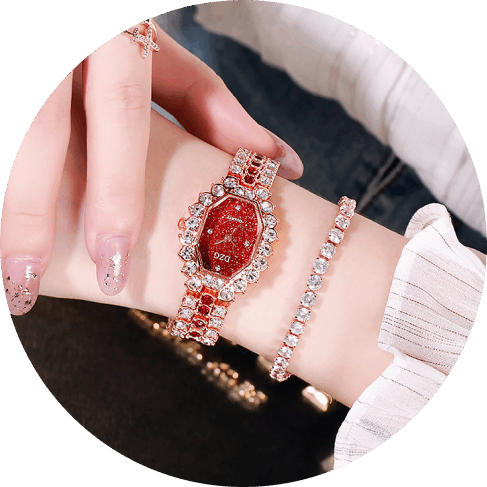 Enjoy the calmness
You won't get bored of this watch fast, which we can't say about ordinary watches. It's made to grab attention and shine, of course, but it won't scream of itself and its owner. But beauty is not for everyone – you have to wear it or be close to it to grasp it.
This is AMAZING! If I received money every time someone told me how beautiful and nice it was I would be rich. I'm not kidding. I've had it for about two weeks and guys everyone loves it. I've sent the link to so many people, airdropped(Apple thing) complete strangers, I'm writing this review which I never do because, in one day 15 people asked me about it. So here goes! If you're thinking about getting it, do it! It's well packaged, easy to resize, and BEAUTIFUL!

This watch is GORGEOUS!!! Looks so expensive!!! It fits perfectly! I love it!!!!!❤️❤️❤️ I love the way it sparkles in the light. I show it off by using the flashlight on my phone to really make it sparkle (don't laugh!) Who knew a $3.99 watch could make a girl so happy!

It's blingy. But cute. Almost reminds me of over the top costume jewelry that you find in those kid machines at the store. But with the right outfit it looks awesome.

I'm a flight attendant and a watch is a must have while working. I like to switch up watches so I have a watch collection and I absolutely love this quartz watch!!!

I loved everything about this watch, color and glitz. It is very eye-catching. If you don't want an item to be talked about this is not the watch for you.

I got this for my mom. She loved it. It's a very beautiful watch, very sparkly, and very expensive looking. Very happy with this purchase!!!

I am a watch wearer, all the time. When I have occasion to dress up I like to change to a dress up watch. This pretty watch fits the bill.

This is the coolest watch I have purchased! It looks great on my wrist and I have been receiving compliments on it already (just got it three days ago). I definitely recommend this watch to bling up your outfits!

This is such a beautiful watch. It looks elegant, not cheap! I've received several compliments on it. Perfect if you like bling!

Good fit; but only for evening wear. Too many crystals: fine at a glance, but looks cheap upon closer inspection.

Very pretty just like the picture. A little too big, had to remove a link but all in all a great and very pretty watch.

This is a beautiful watch! I wanted a dress watch with bling and that is exactly what I need!

Love this. I love flashy and this gives that flashy and bling bling look.

I absolutely love this watch! I get complimented all the time.

The watch looks amazing but it doesn't fit my wrist.

Absolutely beautiful and comfortable.

Watch is very pretty; very sparkly!

Lovely golden sparkling watch
Payment & Security
Your payment information is processed securely. We do not store credit card details nor have access to your credit card information.