Description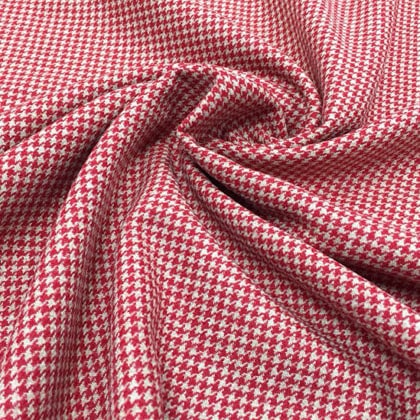 Striking classic pattern
The Red Houndstooth Nylon Ribbon Collar is a ton of fun with its fresh pattern of red and white houndstooth. This collar is the perfect fit for any stylish, trendy pup.
Made with your pet's comfort in mind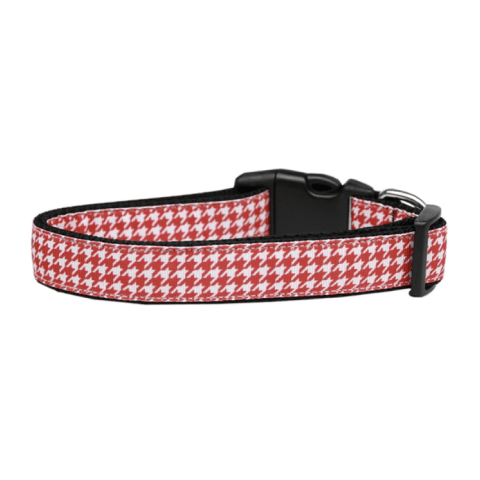 Jazz up your dog's look
This 3/8″ wide adjustable dog collar features a red and white houndstooth pattern. Made of durable nylon for your pet's comfort, it comes with a high-quality ribbon overlay design.
Safe & convenient design
This collar fits a neck size from 10" to 14" and features a quick-release buckle and a high-quality metal D-ring that seamlessly attaches to any dog leash.
Quality, care, and precision
With this collar, you can be sure that your pet is wearing a product that was made with attention, care, and precision. This creative ribbon design expresses your taste, combining function and style in a durable, long-lasting product. Please measure your dog's neck prior to purchasing to ensure you're choosing the right size.
About Mirage Pet Products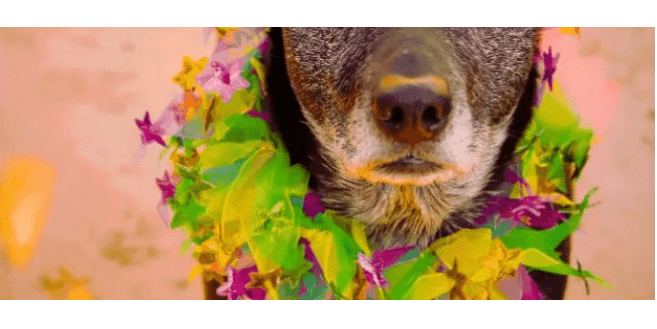 Mirage Pet Products got it's origins in El Monte, California in 1957 at a belt factory. A belt customer brought in a dog collar and requested that the belt factory add some crystals. The rest is pet industry history. Six generations of family have helped make Mirage Pet Products what it is today. Focusing on quality over quantity, we make as much as we can in our small factory in southern Missouri and we sure have a lot of fun while doing it!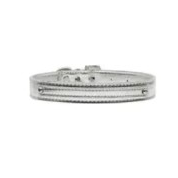 Designed In
Mount Vernon, Missouri
Make sure to measure and purchase according to sizing as listed. Very cute and decent material, it looks great on my kitten!

I love this collar. It's super durable, easy to tighten/loosen, and it's adorable. My only hesitation is the color. I expected it would be brighter.

I love this brand collar for my dogs. I had brought in the past a small, medium small, and two medium collars they all seem to work really well! I haven't replaced one on one of my dogs for about two or three years. It has held its color nicely.

Love these collars, bought 4, nice variety of colors too. Good Quality and good price

Love this collar and the color too (red houndstooth). I have a golden retriever puppy and I purchased the small. Very cute!

We just got a puppy a week and a half ago and in that time he already outgrew the collar we bought when we got him. Since he's going to be a big dog, I was looking for an inexpensive, basic collar for him that didn't cost too much since he will probably outgrow it in a month's time. But it had to be of high quality because he's strong and he and our other dog play rough. This collar fits the bill! Great quality at an unbeatable price. We will be continuing to buy him more of these as he grows.

Highly recommend. Purchased a small for our new golden retriever puppy, knowing we would eventually need a medium. I had these, very nicely done, clean lines and no damage. I had purchased a similar brand before which was WAY more expensive and I would say these are just a good, if not nicer. Our previous dog escaped our backyard and the neighbor could easily call the number. Highly recommend getting the personalization for a few extra dollars. Once our dog stops growing, I'll come back for every color!!!
Payment & Security
Your payment information is processed securely. We do not store credit card details nor have access to your credit card information.