Description
Reach-and-grab convenience
In one stylish bag
Make finding essentials while behind the wheel a tad easier (and much safer) with this Rhinestone Backseat Handbag Holder.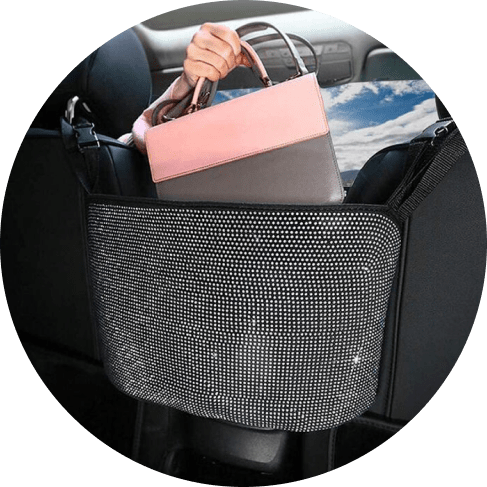 No spraining
No swerving
Straps on easily
Two adjustable buckles allow you to hang this handbag from both of your front-seat headrests.
A bedazzling look
The rich rhinestone look all over the exterior adds a touch of shine to your vehicle.
Stay in control
Be focused along the wheel and just reach where your center console is to retrieve your bag or something from inside your purse.
Hold all your stuff
Our Rhinestone Backseat Handbag Holder supports up to 50 pounds and measures 11" x 14.9" x 4.7" (L x W x D) to store just about any handbag.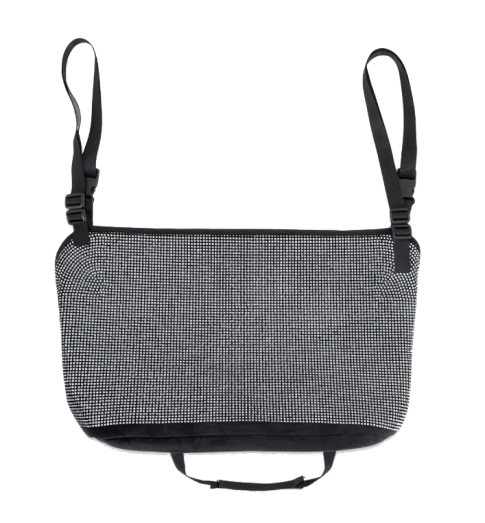 A safer way to be on the go
Reduce the risk of accidents and stop distracted driving by implementing this fuss-free Rhinestone Backseat Handbag Holder for a glamorous touch that provides essential function.
Well it is a lot bigger than I expected and doesn't quite fit in between the seats on my middle console in my car. I have a 2015 Nissan rogue select. However I still love the way it looks even though it's smooshed a bit and I use it as my trash dispenser since it's reachable by both the front and back seats.

I love this for my purse! I thought it would be a little bigger but my purse fits fine. I wish it fit two for my passengers but the rhinestones are really cute and it gets my purse out of the way! :)

This is just what I was looking for. The quality is excellent, nice and sturdy. It gives me a place to keep my bag and prevents it from falling into the back seat. I have a compact SUV and it fits nicely between the seats

Wonderful and my purse is safe and reachable at all times. Small purse or large purse, it fits and leaves a little space for my water bottle

Very easy to install in under five minutes. Looks great and keeps your handbag and sundry items stowed and safe. Love, love, love.

Easy to install and holds a lot of stuff, I really like this! Adds to my sparkle collection

Easy install and will save you from reaching to the back seat and catching a cramp😉

Tasteful bling 😍 Easy to install. Fits to perfection and holds more than I expected.

Bigger than I thought. Vey nice storage for your purse and more. Very sparkly.

I love the look, it is beautiful! It works perfectly! Would recommend it for sure!

What you see is what you get. ABSOLUTELY BEAUTIFUL!!!!!😍

Very nice. I wish the front was a bit taller so things could sit in the pocket deeper but it's really cute and does the job.

Great product, wish it was a little wider
Payment & Security
Your payment information is processed securely. We do not store credit card details nor have access to your credit card information.