Description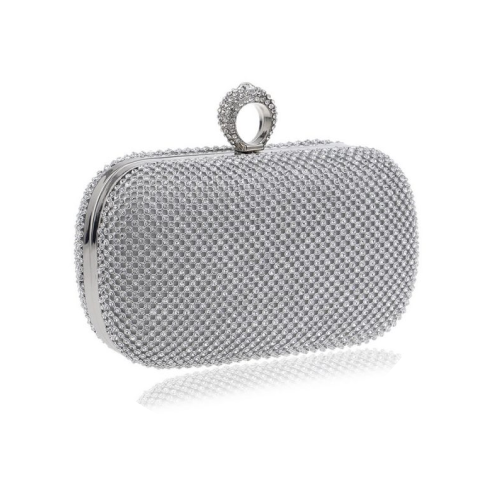 Shine bright with unmatched elegance
Dazzle and be the light of any party or special gathering with a mini bag that sparkles under any light. Bring this Rhinestone Evening Clutch with you to cocktail parties, dinners, nights out on the town, and more.
Designed to hold your mini essentials
From lipsticks to car keys and perfume atomizers, keep your absolute must-haves for the night all in this chic little bag.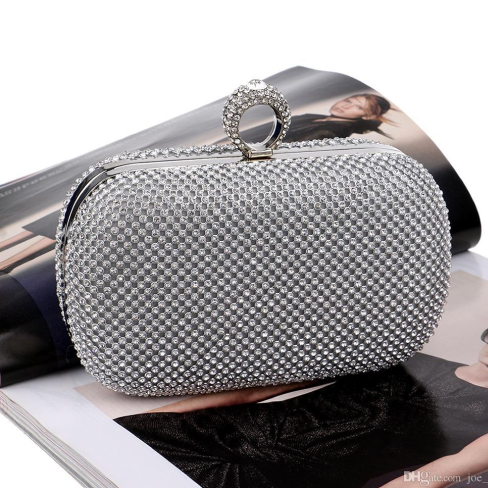 Little size. Big convenience
Our classy bag measures 3.5 x 6.3 x 1.9in (9.5 x 16 x 5cm) for zero bulk and barely-there weight. Go about the party, club, or bar-hop with ease and liberation with a cute little clutch bag.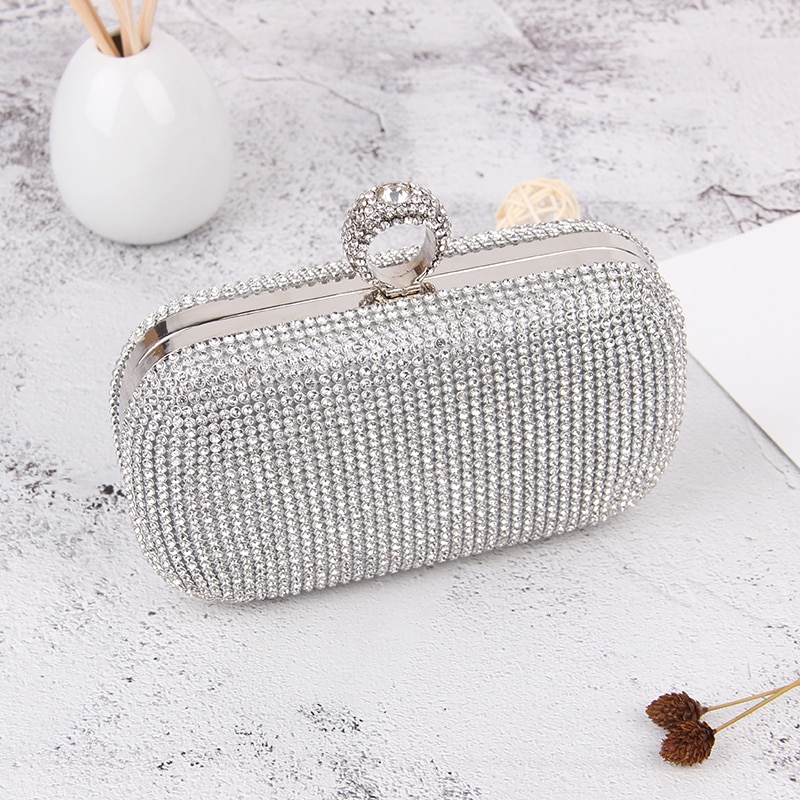 Our Rhinestone Evening Clutch is crafted from polyester and metal and is available in gold, black, or silver for a versatile piece in your collection that can go with any dress, outfit, or occasion. Each clutch comes with a matching chain that measures up to 47in (120cm); the chain is removable for full customizability (ladies, the choice is yours).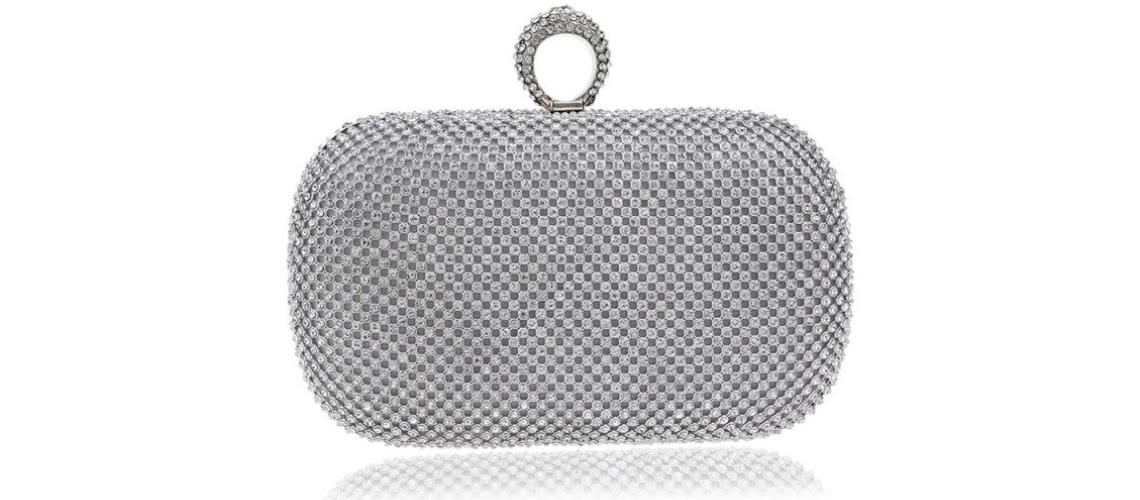 A glam gift
Plan for prom, a birthday, or Christmas with this beautifully-crafted clutch bag. Give the gift of sophisticated glamor to mom, a sister, girlfriend, or niece with our Rhinestone Evening Clutch.
I love this clutch! It is so elegant. The gold color is just right and the gold chain is just the right length. It is perfect for an evening out or a wedding.

I purchased gold n silver for up coming holiday gatherings, dates, and events. I am pleased, not for every use, but perfect for special occasion. Fyi the chain is optional, can be removed for a clutch only look.

I really appreciate customer service, thanks for answering all my questions! Item arrived as I was promised! Thanks so much!

Where do I start, the price is nothing less than value, the look is perfect for the outfit and shoes she bought, and finally the quality made her so happy. thanks for getting her in like no time flat. Love your product.

This is an inexpensive clutch that does not look that way in hand. Looks like 5x the cost! Buy if the silver works for you.

Great size for a few items. Had my phone, lipstick, lotion, debit card and ID in here comfortably. Just a cute silver bag.

I haven't used it yet but it looks exactly like the picture so that's good. The size is as expected. When you touch it a little of the glittery stuff comes off on hands but that's not an big issue for me

I bought this purse for my daughter's sr prom this year and she loves it! It is darling for this event and I am sure will be used again at similar events. Made very well. Highly recommend!

Looks even better than the pics and worked fine for the look / event I ordered it for. My phone didn't fit in when I had a few cosmetics already inside but meh... Not that big of an issue. Has a bit of a chemical scent but you can't smell it unless you put the purse literally under your nose so it wasn't a problem.

This clutch was perfect for my christmas party outfit. I hold a lot and was still small enough that it never got in the way. I had my phone, lipstick, chapstick, inhaler, and a few other random small bits and still had enough room.

Lovely clutch, as described! Daughter used for her prom day and it was perfect! Very lightweight and pretty! Very happy with purchase!

Very nice for the price. Got this to match my daughters dress for her formal. She carried small slippers in case her feet started to hurt from wearing heels.

I've owned a little black dress and silver shoes for a long time, but I've never had a matching clutch to go with it. I bought this lovely silver clutch to complete my outfit for a business event. It's a classic look with enough inside storage for the evening (lipstick, credit cards, money), but it won't hold my large iPhone. It's shiny but not overly so, which is tasteful for me. It can be carried in-hand or over the shoulder because it has a fine link chain strap that fits inside the clutch or comes outside. I like it very much. If it gets a little dirty, you can wipe if off with a mild soap solution.

I am so happy with this bag ! I'm matches my shoes to the tee . I bought the silver one . It's roomy for your phone wallet and cigarettes (yuck )

This was a perfect clutch for cocktail attire events, weddings and just a fancy night out. The chain was long enough but not too long. High quality made, the glitter/sparkle did not wear off at all and the chain is of great quality. It fit all the things I needed to bring with me including my cell phone.

Perfect for the price! It matches the shoes that I'm going to wear for a wedding. I'm not going to use the band though since it looks cheap!

I haven't used this yet but it seems like it will be the perfect size for weddings I'm attending this summer. I think for the cost, it's a very good deal and exactly what I need. I may end up with a little bit of glitter on me but I don't think that will be a problem!

The store is the most awesome place where can I buy and have no doubts over its quality or condition

This store is awesome. you won't find brand new anywhere else for such a modest price, I guess.

Perfect "small but functional" accessory for my black tie evening event. It holds my iPhone, money, cards, and makeup items. It came well packaged and in perfect condition. The gold sparkle finish doesn't rub off and it is very elegant/high quality looking for the inexpensive price tag.

Looked everywhere for something similar, prices locally were 20+ for same bag. Great deal, used it for formal night on a cruise, held cellphone, room key and lipstick no problem

Great clutch for such a good price! Totally satisfied with the order, no complaints! Thanks to the store!

I got this for my daughter to go with her gold prom dress. It is lovely. It fit her phone, lipstick, money, tissues, makeup wipes, and gum. She will definitely use this again. You can't get anything this nice for this price anywhere else.

As beautiful as pictured. Big enough for my phone, lipgloss, keys & ID. I am happy with my selection. Might order gold too.

This is so cute. I do get a cardboard vibe from it but its perfect for the night I plan to use it for. Does not shed

Can't even compare with anything else - too cool! Thanks to the seller

So pretty! Exactly as pictured and looks perfect with my dress and other accessories for my son's upcoming wedding. I don't normally like to carry a purse so this works great for carrying just the essentials. Cell phone, keys, lipstick, etc. I'm sure I'll be asked to carry husband's keys and wallet as well ;D and they will fit fine.

I recently purchased this purse for a wedding I am attending tonight. It matches my shoes perfectly (purchased at a separate time/place). The quality is very good and I look forward to many years of use with this evening bag. I would recommend this bag to anyone that is thinking about purchasing it.

This is a nice bag for an evening event. The silver is a nice match for the shoes. It is sparkly but doesn't seem to have glitter that will shed. It is a stiffer bag and it seems like it will hold everything necessary for the evening event. The snap clasp seems sturdy.

Beautiful and practical! We went on a cruise and my mom took the purse with her to dinner. Went nicely with her attire.

I purchased for my sons wedding coming up. I think it goes well with my dress and shoes.

I bought two purses for a wedding and decided to go with the dark navy. But this purse is so pretty that I'm sure I will use it for another occasion so I am definitely keeping it. The silver is very nice, not too flashy. I like that you can carry it as a clutch or over-the-shoulder. Highly recommend!

My wife ordered it for upcoming wedding. It looks nice and she says it has good amount of room for basic necessities

thanks! I ordered about 2 weeks ago and it's already arrived. Quality is as described. Will order again.

This purse is gorgeous! I am so glad I purchased this at the last minute for my daughters wedding! It held my lipstick, glasses and Iphone. I took the chain off as I didn't want it to stand out. The material was soft on the outside. I highly recommend

Like the quality and packaging. Came in excellent and protected condition. Price reasonable and high quality. Better than store bought!

It's very pretty. But smaller than i expected. Couldn't fit my iPhone 8 Plus.
Payment & Security
Your payment information is processed securely. We do not store credit card details nor have access to your credit card information.