Description
Picture time go hands-free
Our Robot Cameraman is the only help you'll need whether you're an aspiring Instagram influencer, YouTuber, or just someone with a love for photography and capturing moments with friends and family. Gain an extra hand in helping you take pictures -- without an actual cameraman required!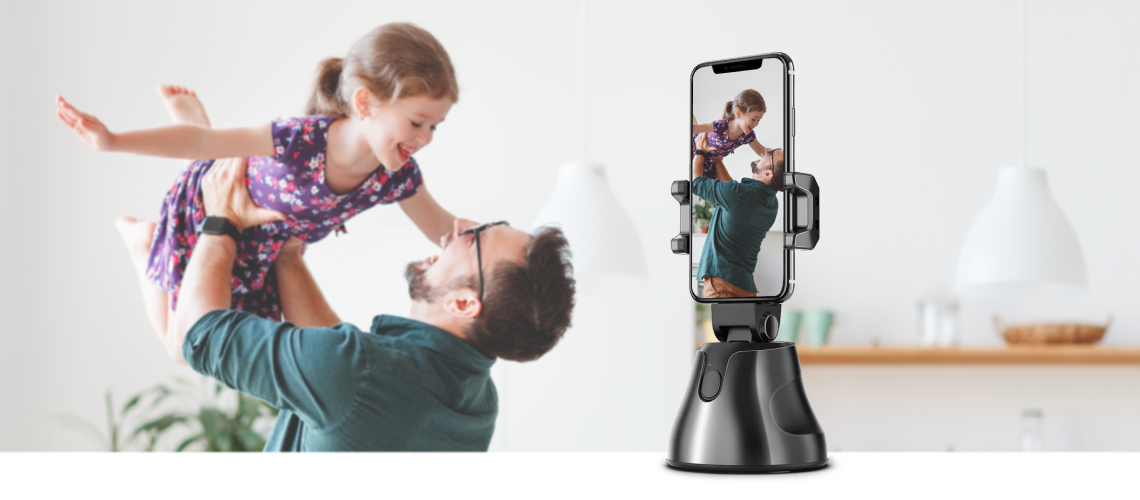 Influence (from every angle)
Shoot vertically. Shoot horizontally. And get all the angles. Thanks to a 360-degree rotating holder, our Robot Cameraman can keep up with you (or your scenery).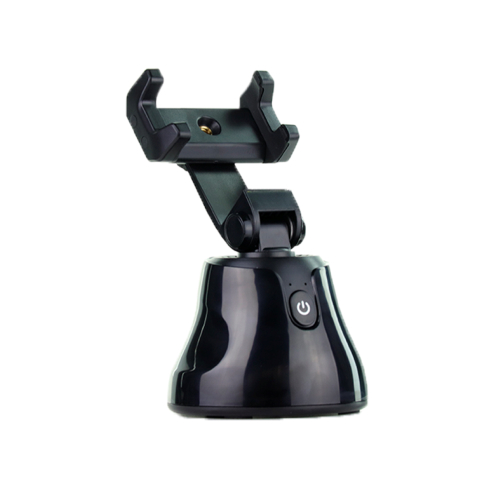 Get A.I.-smart
Discover smart face- and motion-recognition technology that follows your every move for super convenient video- and picture-taking -- exclusive to our Robot Cameraman.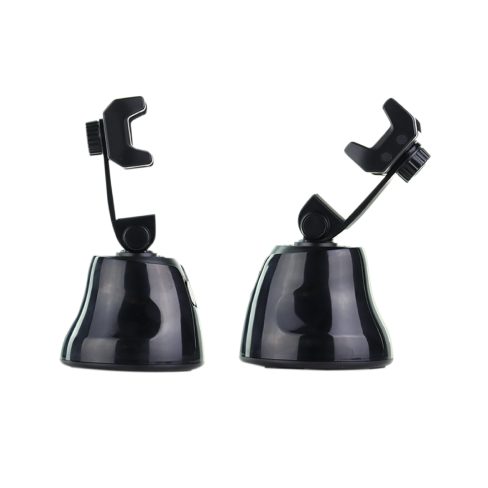 Stable and smart
No more wobbly phone holders. A seal-tight suction base on this phone holder guarantees a sturdy grip. Plus, a built-in gimbal on this phone holder ensures your device is always stabilized for smooth picture and video.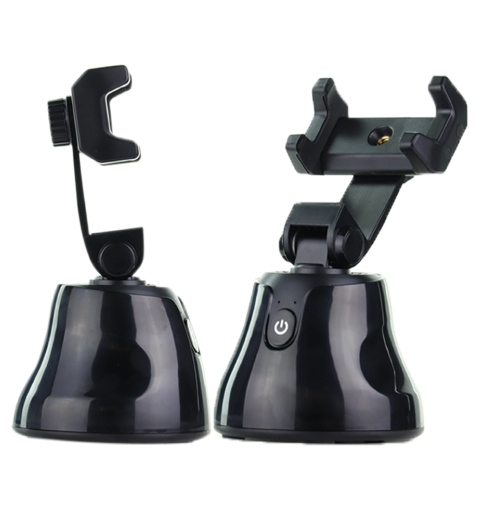 Bring it all to life
(it just takes a genie)
Download the free Apai Genie app (available for iOS and Android) to bring this magical phone holder to life. All the ultra-smart functions get to work once you connect your phone holder to your app.
Works to capture everything
Family or friend pictures
No need to oddly single someone out as "photographer". Get everyone in the picture, one time.
Event videography
Capturing sport games, ballet recitals, and birthdays is easy -- with no extra cost for a professional crew. Our Robot Cameraman is on call.
Vlogging
If you love to capture your day, from inside the house to on-the-go outside, count on this razor-sharp phone holder-and-gimbal in one. Never manually adjust a camera or your phone again.
Outfits of the day
Capture your daily looks without wearing out your hands (or those of your significant other). Get angles with ease with this ultra-smart influencer's must-have.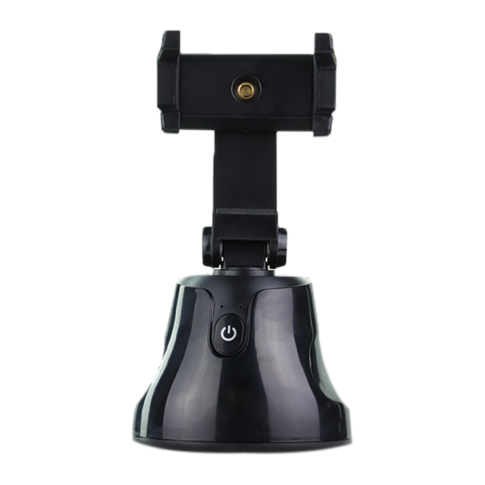 One fit for all
This handy phone holder works for Apple, Google, Samsung, Huawei, and all brand smartphones. Just make sure your device width is within 56-100 mm / 2.2-3.9 in. If you use a phone case, you may have to remove it to fit.
Small but powerful
Afraid of bulk? Don't be. Our Robot Cameraman measures 93 x 93 x 165 mm / 3.7 x 3.7 x 6.5 in, meaning it doesn't take up a ton of space. Plus, its base diameter is just 8 cm / 3.1in -- and it weighs just 192 g for no burden. Carry and bring with ease wherever you go -- and power with just three AA batteries.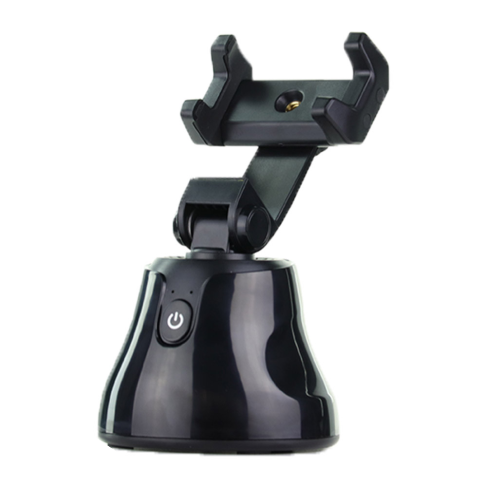 This is a sweet tool for time lapse panning. I also use it with my slider to make hyper lapse. Easy to set up and good battery life. What more could you ask?

This is basically a selfie stick/tripod hybrid phone mount. This device has come in very handy for taking pictures and videos both indoors and outdoors, and has easily replaceable batteries. It holds your phone and allows for steady video to be taken. The device uses object tracking to follow, ensuring uninterrupted video is taken. It's easy to set up and works as expected.

Have used once and it's really great. Heaps of variable settings. Very happy with it and look forward to using a lot more.

Fast delivery, everything that matches the description, works perfectly, took himself for direct transmissions and very satisfied! I do not regret a penny, I recommend the store! Thanks!

I am a youtuber and this is great for me when I am doing my livestream on my channel as I no longer need someone to assist me with the tripod. This was very easy to setup and get working without any training at all. It is very easy to get my iPhone SE in and out since I have the smaller phone it fits perfectly. I am impressed with the weight as it's not that expensive and I think this is a great value and I am happy to use this on my zoom calls as well without having to move the camera for friends when I am meetings.

I was unsure if this would be okay to use while I gave a lecture to my Middle Schoolers, but it worked perfectly. Stayed focused on me as I walked around the whiteboard and went over the notes. Excellent.

I decided to compare with similar offers and soon found out it's the best possible alternative

By far the most flexible of all the products I've seen. Works as advertised, easy to program, and great time-lapse video results. No jumping or jerking noted. Very pleased.

It works well. I wish you auto follower was better but it a good buy. Yes, I would buy it again.

I've really enjoyed using this. Not glitchy and very smooth. I got 8- 2 hour shots with it before replacing batteries. A couple people complained about the battery door being hard to shut. I guess I have vice gripes for hands and it hasn't been a problem for me. I'll do a video review in a couple weeks to show this off in action.

as seen from reviews on , it is a truly great item. can't wait to get it delivered and see myself 🙂

Reasonably priced like this are quite rare to find. I appreciate the store hard work and effort

Using this phone mount can make online teaching easier, and you needn't to worry about getting out of the camera's field of vision to debug the tripod again and again.

It needs to improve some hardware design and software, but despite of everything, it is a great product to filmmakers with no many requirements.

I love the function that it can recognize my face and take the photo/video. Once it recognize your face, it will follow you with a 360 automatic rotation, which is quite helpful if you want to record yourself. Or if you have babies, you can use this to record them life and need not rotating your camera manually. Only click on my phone to the holder, and no matter how fast my little one is running, the camera is always following

The store was very friendly and professional!! The was all exactly as described, the quality was excellent! Shipping was very fast! I highly recommend this shop, I will definitely buy again! Thank you so much!

the first time need to download Apai Genie and open the Bluetooth,then wait for some seconds after mount's light flash . I set this gadget up in less than 10 minutes. The whole operation process has no imagination difficulties.

Received in a well-protected packaging to receive the item without any blow. Ideal because I want it for a gift and the box has arrived in perfect condition.

So surprise, the first magical selfie stick I have ever seen. It is a very good 360° Object Tracking Holder, released my hands.Good in face tracking, simple operation, only need to download APP and then connection by bluetooth.

That can be cosidered a really inexpensive in comparison to other offers. Thanks to the seller!

I set this gadget up in less than 5 minutes. I was afraid this would be a piece of junk but it proved me wrong. Make sure you download the app called Apai Genie. Also, at first I was looking for the device on my Bluetooth and couldn't find it but it actually connects automatically. When you record videos or take pictures through the App it automatically saves to your photos on your phone. I have the IPhone XS Max.

This stabilizer has many different features to choose and use! It has an option to choose a filter, which means you can take a photo or a video recording with a filter. You can also do different features like taking photo smart following or 360 view. The video shared upon purchasing this product helps a lot with how to use the functionality of this device.

Pretty handy 360 holder, it follows you when you move around, nice for unboxing videos or tutorials. Feels a bit plasticky but apart of that is actually pretty solid, holds my iPhone pro max and also android phone without any issues. overall pretty satisfied!

Awesome selfie stick! Not at all what u think of when you think of a selfie stick! More like a phone mount to take pictures and videos! It's amazing! Rotates 360 degrees! Makes selfies sooo much easier!

Really nice phone mount. Currently running it on my desk for when I'm streaming or playing games so I can easily read my messages. Easy setup and looks great on my desk. Love it

This tracking device works with your cellphone (running the Apai Genie app) through Bluetooth to track faces. As long as your phone and the Apai Geni software can recognize your face, it will track you in full 360 around the camera. For my iPhone XR, this was about a 10 ft. radius. If the software loses your face, it may swivel to a neutral position away from you, so it is something to be aware of. Overall, if you have your face to the camera and move within the facial recognition distance, such as with selfies, or lectures, it will work well for you.

Nice product for the price. The motor is a little loud when turning you can hear it while recording. Great for group photos and videos of outdoors.

Got it working. Instructions could be clearer, perhaps a Youtube video? Only works within their app, still not a bad value.

Good stuf but you have to use special app with it, and face recognition follows you so slow so u have you use very slow otherwise it loses your face and stop.

It doesn't move very fast so it couldn't keep up with us. The concept is great though
Payment & Security
Your payment information is processed securely. We do not store credit card details nor have access to your credit card information.