Description
Make your regular outfit look fancier
The right piece of jewelry can add zest to any outfit. A rose gold bracelet with a sun pendant is an elegant accessory that will perfectly highlight your wrist and brighten up your day.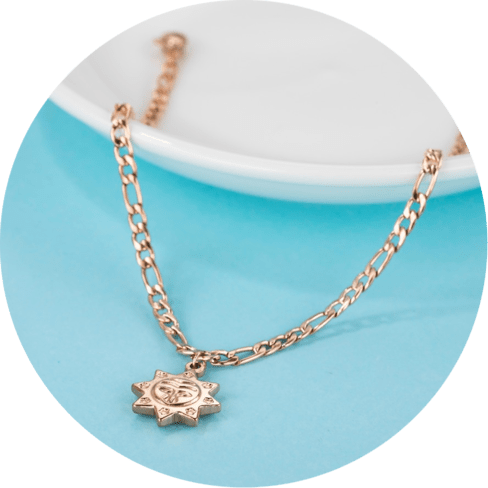 Product details
General characteristics
The bracelet is made of stainless steel. It is 7.3+0.4 in. long and 0.12 in. wide. A chain is connected with the lobster buckle of 0.3 in.
Meaning
A sun charm holds a special meaning. It represents light and warmth, truth and knowledge, strength and abundance. Rose gold color, for its part, is a marker of style, elegance, and romance.
Fashion tips
This thin rose gold bracelet will add elegance to a classy office look. It can enliven a casual look as well. Doesn't matter if you go to the office, on a date, or for dinner, wearing this bracelet is always a good idea.
Care tips
Good news for you: stainless steel jewelry doesn't get corroded or rusted. So, feel free to wear this bracelet every day. Keep the bracelet in a cool, dry place. If stained, wash in a soapy water.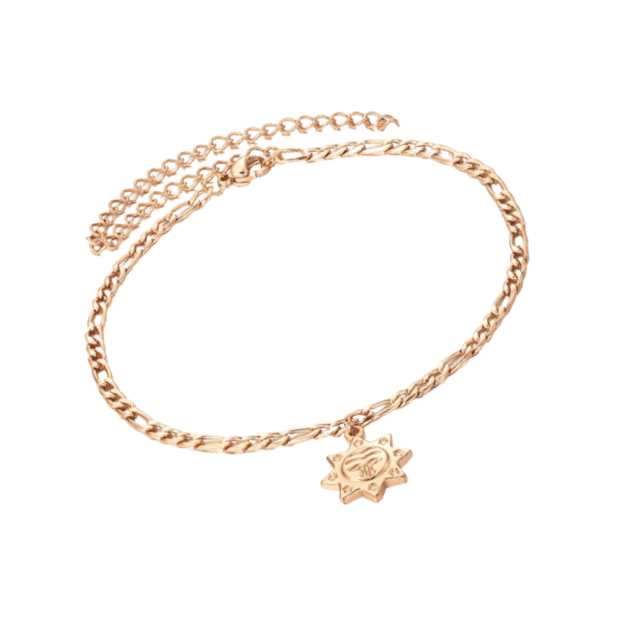 It makes a perfect gift
A rose gold colored bracelet is an ultimate present for women. It is lasting, delightful, and meaningful. Together with warm wishes the bracelet will become a pleasant memory.
Gave it as a gift to a friend and she loved it. Will buy myself one now.

I love it. So delicate, I've received many compliments.

Got this for my wife. She loves it. She wears it on a daily basis. It's been about 3 weeks now and it still remains shiny and bright. No discoloration of any kind. Overall I'm110% happy. And so is my wife!

Purchased for my mom as a birthday gift. She hasn't taken it off since I gave it to her! Would buy again!!

I got this as a birthday gift for myself and I'm really pleasantly surprised. It's way nicer than I thought it would be, it doesn't feel or look cheap. I like the adjustable chain

My wife has worn this bracelet for over three months. She never takes it off and even showers with it on and yet it has not discolored. She has received compliments on her hand because the sterling silver really sets off against her beautiful caramel colored hand. It is very durable and has held up well.

Liked it, but I wish it could be a bit beefier with a stronger and heavier chain
Payment & Security
Your payment information is processed securely. We do not store credit card details nor have access to your credit card information.