Description
Make your regular outfit look classy
The right piece of jewelry is a great addition to any look. The rose gold infinity earrings are an elegant accessory that will perfectly highlight the graceful features of your face.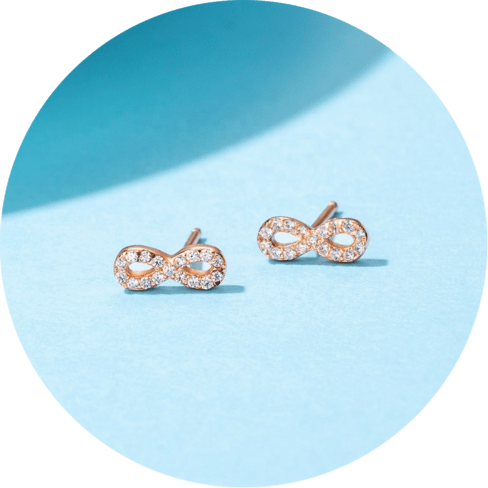 Product details
General characteristics
These infinity earrings are made of 925 sterling silver and inlaid with rhinestones for an added chic. They measure 0.3 x 0.08 in. and weigh 0.01 oz.
Fashion tips
These stud earrings will add elegance to a classic office look; they can brighten a casual look as well. Add them to your jewelry collection to have more opportunities for creating trendy outfits!
Endless love
The most popular reason for choosing infinity shaped earrings is that they are a symbol of lasting love. Celebrate your love and show others how happy you are to have found the one!
Best friends forever
Besides romantic relationships, the infinity earrings can also represent an endless friendship. Show your friends how much they mean to you by wearing those earrings.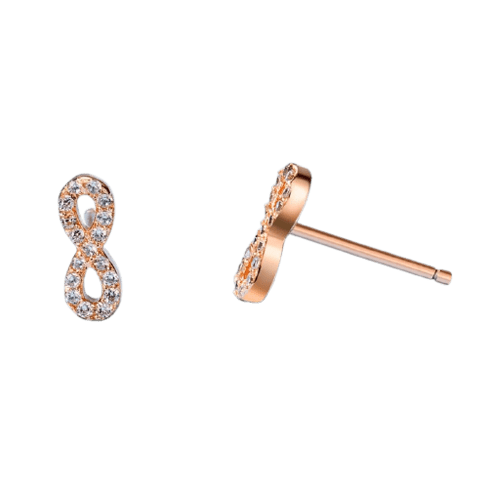 A beautiful accessory for any occasion
Whether it's an engagement, birthday, or other party, infinity symbol stud earrings are suitable for any of the above and many other occasions. They go well with any outfit and add gracefulness to your look.
Perfect! They were exactly what I was looking for. I get so many compliments on them. Definitely could have given them as a gift.

Small but adorable. Perfect for a sports girl. Very cute!

Beautiful earrings, I wear them on a daily basis. It's just a little sparkly and not too dressy.

I like these earrings very much. Well made. Look great too

I love these earrings! They were a gift to myself for being a great mom

Wife loves them. They look great and are the perfect size.

I absolutely love my earrings!! They're just the right touch of sparkle and shine on my ear.

Sparkly , shiny and very pretty. Looks more expensive than what I thought.

These are really cute and high quality. I'm sensitive to poor quality metals and these have given me no issues. They haven't tarnished, they're strong, and comfortable.

I purchased these earrings for my daughter. She has fallen in love with the eternity symbol and wanted these to wear on her wedding day in July. She loved the look and the weight. I would highly recommend these earrings.

I thought they would be a little bit bigger, but they are very pretty. They actually fit very well with the diamond studs I usually wear.

I most definitely love them but I didn't expect them to be so small. But they're still lovely 😍
Payment & Security
Your payment information is processed securely. We do not store credit card details nor have access to your credit card information.