Description
Smell great, all the time
No spills or weight here. Get fresh on the go and retouch your scent with Samson's Solid Cologne. No more carrying around atomizers or your full-size cologne with an easier solution.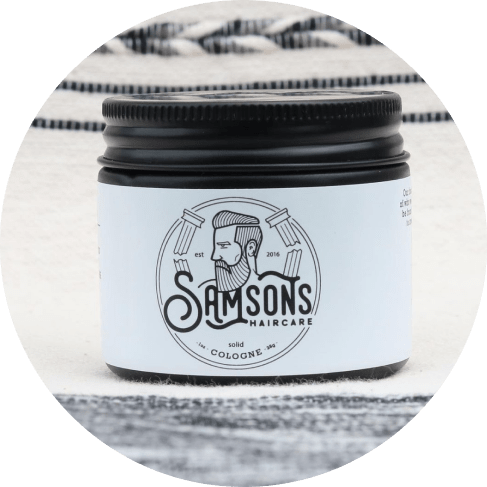 That's the Samson's magic
Be bold, be clean
Oh, so fresh
Dazzle in notes of bergamot, sandalwood, amber, and frankincense. These extracts give a full citrus and woodsy scent for allure and a touch of cool.
Rub + go
All you need is a dime-sized around; just rub the product in between your fingers and apply where you want a touch of "oh, you smell good."
Last for hours
Unlike traditional liquid cologne that can fade quickly, our solid formulation ensures a rub-and-release freshness you just can't beat.
A stellar guy's gift
Let a special someone, brother, cousin, or friend smell good with an easy-to-use, weightless cologne. The smell suits all fellas out there.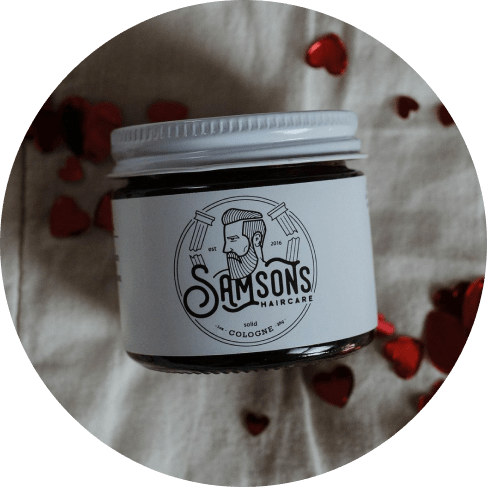 Commitment to quality + performance
The Samson's brand is founded by two guys who love great hair styling and hair care. All products are made local in the company's barbershop and headquarters in Michigan. Everything is priced fairly for high performance at a low price.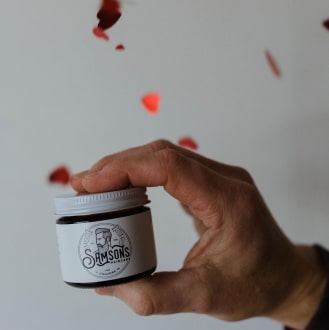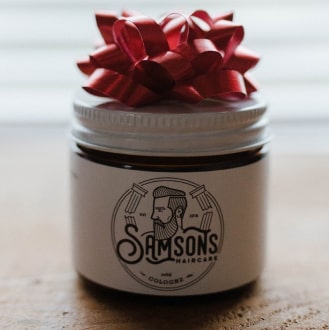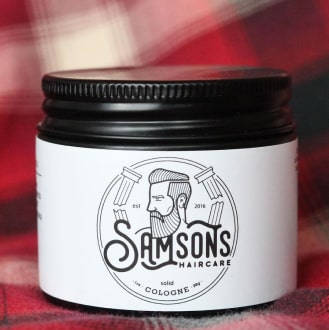 About Samson's Haircare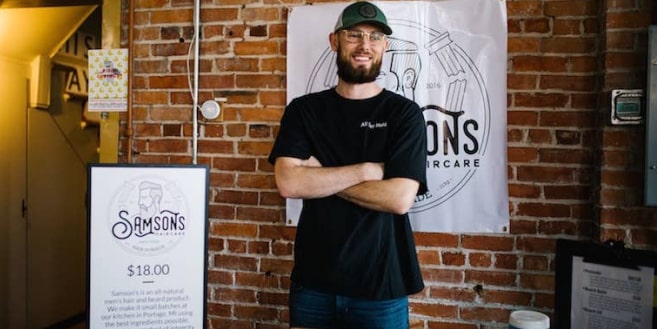 ALL DAY HOLD defines Samson's integrity and spirit. A men's grooming company founded in 2016 by a few friends trying their hand at apothecary. Many late nights around the customized rice cooker led to unique creations we couldn't put down. Over the last 4 years, Samson's has yet to stray from the same quality ingredients and outstanding performance. While many brands make "their version" of something else, Samson's is always innovating to bring something truly unique to the market.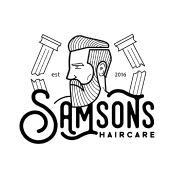 Designed In
Kalamazoo, Michigan
The smell is really good. My only complaint is that the scent is very very faint. For me it needs to be 2 -3 times stronger. I will try some of there other scents

Fantastic! My wife loves it!

Great and more than we expected.

Love the unique scent as do loved one's who ask me what I'm wearing that smells so good!

Love it! You only need to use a small amount to smell great! You will be asked, "You smell great, what are you wearing?"

So excited to receive my new favorite cologne. It smells just like the pomade, a fragrance I can't get out of my head when I use it. I'm so glad to have something like this always. Thank you for all you do!

Man, that original scent is incredible. First ever solid cologne/fragrance purchase. How neat! You can use too much, but the scent will gradually dissipate. No residue left on the skin either, which is cool.

It is actually a gift for a dear friend. I am so very happy by the looks of the product speed in which it was delivered I waited since Christmas to purchases. This is the second product that I bought from the company I am very impressed
Payment & Security
Your payment information is processed securely. We do not store credit card details nor have access to your credit card information.