Description
Your dog will look just great
Do you regularly take your dog for a walk or do you want that quirky style that fits you both? Then, our cheerful collection is perfect for you. It is solidly made and of robust quality. It will add an extra sense of style to walks around the park, hikes in the mountains, or even quick trips to the city. With this collar, your faithful companion will draw attention everywhere.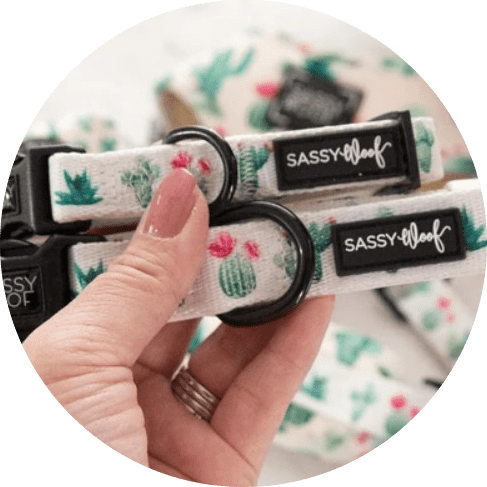 Dog collar can be stylish & trendy
Designed to make you and your pooch happy
A completely adjustable collar
It's a fully adjustable collar, meaning that allows a perfect fit right after purchase and in future, with closures tested to the maximum safety and resistance.
Convenient and comfortable
Compared to other types of collars, neoprene collars are well accepted by puppies and dogs not used to wearing them, thanks to their convenience and comfort.
Made of soft neoprene
The Sass on Point dog collar is made of soft neoprene, a fabric that easily adapts to any breed and size and is also quite easy to clean.
Wash & care instructions
Please, avoid immersing the collar in water completely. For best results, clean stains with soap and water only.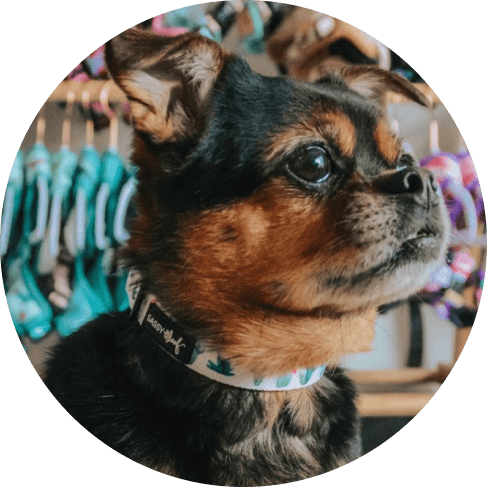 Perfect match for both you and your dog
The 'Sass on Point' dog collar in medium size measures approximately 0.78" x 12.6"-19.7". It is comfortable to wear every day, but capable of withstanding the greatest adventures with your pet, without sacrificing elegance and style! Whether they are chasing their tail or rolling around in front of the couch, this collar allows them to move around freely.
About SASSY WOOF
Modern. Classy. Affordable. Inspired by our two sassy & spunky dachshunds Maya The Dox and Winston The Dox, we created Sassy Woof to deliver a dog apparel experience that makes your fur-baby feel comfortable and fit for daily use. Our designs are the direct result of endless hours of careful thinking and meticulous attention to detail and crafting. We focus in developing new accessories and products every season to keep your pup's wardrobe as fresh as yours without breaking the bank. Our customers are like our family and we love interacting with each and all of you! Sassy Woof is a small business proudly based out of the suburbs of Washington D.C. A portion of our proceeds are donated to animal charities because no pet should suffer in this world.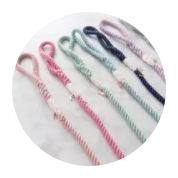 Designed In
Sterling, Virginia
Super cute colors and pattern. Great value and quality

This collar is perfect for the active dog. My Rosie is about a year and a half old and very frisky. The collar fits her comfortably and securely. I love the design which sets it apart from most dog collars. Make sure you measure your pets neck before you order to be safe.

I was pleasantly surprised at how nice these collars were! Very good quality with the interesting designs. Worked at great for my Shibas (medium was perfect). Highly recommend.

I am obsessed with this collar!!! I have been wanting this same print. I highly recommend this dog collar!

This is a great collar for a growing puppy. Has a lot of give for expansion. It is soft and non irritating and seems well made with a good clasp. The ring to clip the leash is quite sturdy and seems bigger than some other collar clips so it is really easy to clip with arthritic hands

For the price I did not expect the quality. This is really heavy duty and talk about pretty. It is much prettier than the pictures. Thanks for a quality product!

Nice collar! It's bright, strong and easily adjustable. Other collars, especially cloth collars, are weak and flimsy, but this one isn't. It's very easy to walk Lilly Belle with it, although I usually use her harness for longer walks. And it looks GREAT on her! Definitely recommend!!
Payment & Security
Your payment information is processed securely. We do not store credit card details nor have access to your credit card information.