Description
Add some zest to your outfits
Add a charming finishing touch to your outfit with this gorgeous Shell Headband. You can wear it to elevate your formal ensemble or to create a lovely casual look.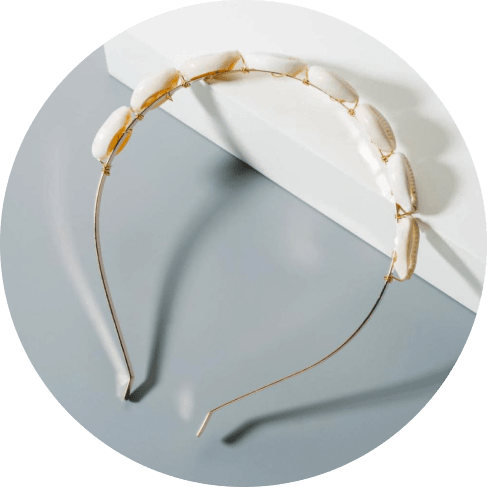 Looking for an elegant accessory?
This headband is a perfect choice
General characteristics
The headband has a lovely golden tone and is decorated with ivory seashells on the top. Size: 5.78 in.*5.31 in. Weight: 0.74 oz.
Care tips
Keep the headband in a cool, dry place. If needed, dry with a soft cloth. Do not submerge in water. Store out of sunlight. Avoid exposing the headband to harsh chemicals and cleaning products.
Bring summer into your life
Nothing complements a summer outfit like a piece of shell jewelry. This glamorous Shell Headband will remind you of seaside vacations, clear blue water, and scenic beaches. Let those summertime memories always stay with you!
Classy & meaningful
A shell symbol holds a deep meaning. It represents birth, good fortune, and resurrection. As protective shields, seashells provide relief from stress and anxiety and offer comfort. Shells also represent positivity, prosperity, and balance.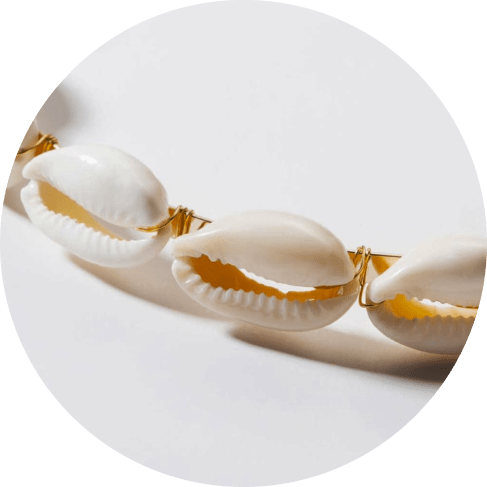 It's a perfect gift
This elegant Shell Headband is an ultimate present for ladies. Its captivating beauty won't leave a woman indifferent! It is fabulous, meaningful, and fun. Suitable for girls and women of any ages, the headband looks great with any outfit: classy, beach, or casual.
The shells are fixed very well, not gonna be lost. The color is nice, and it's quite comfortable to wear. Doesn't press behind the ears, doesn't press anywhere. The quality is excellent, I dropped it and everything is good.

I have short hair, this headband is strong enough to hold it where it should be :) doesn't fall, doesn't scratch the skin when I put it on. And I like the design, it reminds me of the sea when it is so far away.

It doesn't get stuck in the hair, and doesn't weigh anything. I like how shells are attached, very durable.

Shells are very beautiful, but I think it works more like decoration, not to hold hair.

I have quite a small head, but it fits me well, doesn't fall

I liked the headband! Thin and cute, does not press

Perfect, does not press on the head at all.

Everything is fine! No pressure!

The metal color is yellowish
Payment & Security
Your payment information is processed securely. We do not store credit card details nor have access to your credit card information.