Description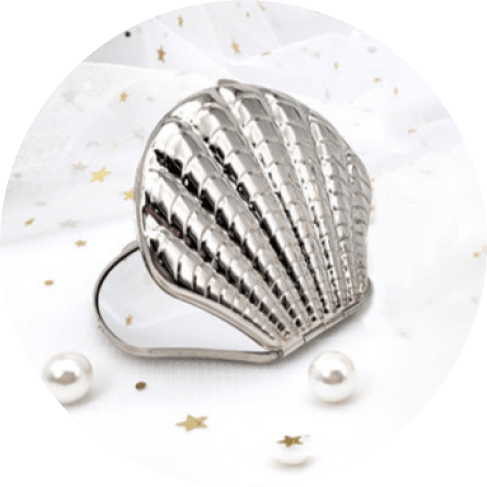 An elegant accessory
Perfect for touching up your makeup
Apply your makeup at home or on the go with this silver Shell Pocket Mirror. This stylish accessory is the essential you definitely need to add to your kit.
Product specifications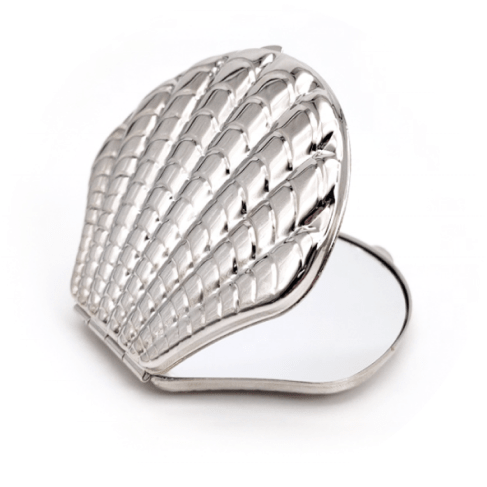 Fits in the palm of your hand
A lightweight and convenient design of the mirror makes it easy for you to put finishing touches on your look.
Easily accessible
Keep looking great even when you're on the move! Apply makeup and skincare products or style your hair with this compact mirror.
Every lady's must-have
Perfect your makeup wherever you are with this exquisitely designed Shell Pocket Mirror! The mirror is super comfortable to hold, which makes it easy to get a closer look at your face. Keep an eye on your makeup or hairstyle when you are out with this stylish tool that will perfectly fit into your handbag.
They are SO pretty and very useful clam shell two mirrored (one regular, one magnified,) compacts. They close magnetically and are small enough and flat enough to not take up any space .. These were the perfect little "Thinking about you", going back to school or stocking stuffer, gifts for even "hard to please" teens or young girls. My granddaughters loved them, said they were the BEST unexpected useful thing they "never knew they needed" EVER! And immediately tucked them into their backpacks.

I like having four of these little mirrors so I can tuck them in different places around the house. One side is regular and one side is magnified, letting me check just a small portion of my face when I want to do so. That's nice for days that I don't want to deal with seeing my whole face at one time. (I'm sure y'all never have days like that!) These are inexpensive too, and they're cute.

I loved these little shell compact mirrors! They are so handy to keep in multiple purses. I like the holographic colors of them, and I think silver is the best choice for a color. I wish they had magnets so they can close securely, but overall, it is not a bad product!

This mirror is exactly what I was looking for, a quality bargain. It seems to be well made with durable material and legitimate mirrors. It is cute and clean and you get more than what you pay for.

Super cute!!! I love them! They look just like the picture and came well packaged without a break in the mirrors!

These are absolutely beautiful little mirrors, very lightweight, just perfect!

This is seriously the cutest thing. Great price. Great value. It doesn't clasp closed, which was unclear, but it doesn't matter. My daughter saw it as I opened it and claimed it as hers. Glad to find it!

I like the item, I would have preferred for the mirror to be on only one side. But other than that it's great. I bought it to use as props for a photo shoot. I'm very happy with my purchase honestly
Payment & Security
Your payment information is processed securely. We do not store credit card details nor have access to your credit card information.