Description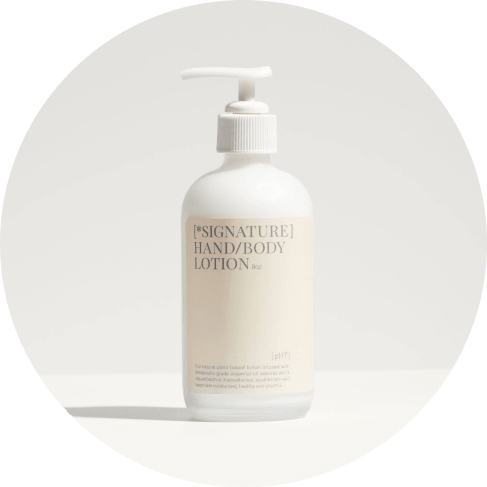 Moisture meets skin therapy
Keep essential moisture locked in and in place with the pH7 Signature Hand/ Body Lotion. Formulated with an energetic blend of essential oils such as sage, lemongrass, and passion fruit oil, this lotion invigorates the senses and heals irritated skin.
Plant-based moisture
Incoming: moisture
With shea butter, glycerin, and jojoba and sunflower oils, let natural elements bind moisture to your hands and body for smooth, supple skin.
Healing wonders
From rice bran oil to sage oil and lemongrass oil, our extracts used in this lotion are all geared towards healing and soothing irritation.
Nothing bad here
That's right. No synthetic fragrances, color, mineral, beeswax, or petrolatum. So there's a lesser chance of irritation.
Natural + eco-friendly goodness
That's the mission of pH7, a small female-owned brand from Williamsburg in Brooklyn, NY. Enjoy the brand's line of all non-toxic, organic body products for a better you (and environment). With on purchase you get 1x Signature Hand/ Body Lotion and 1x dispenser pump.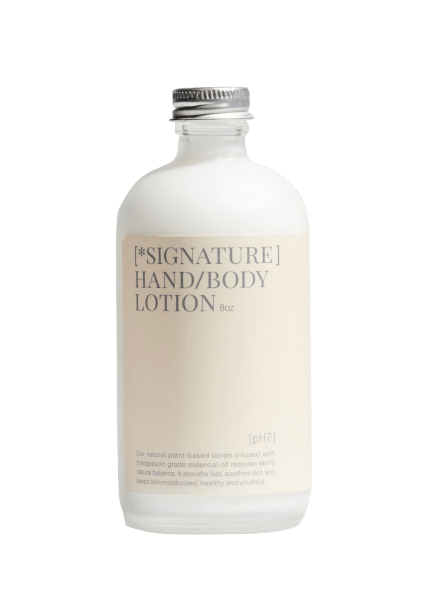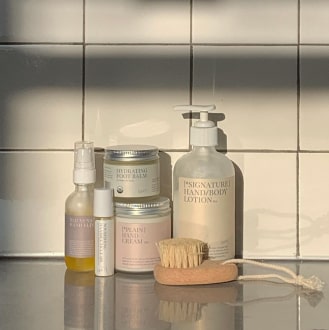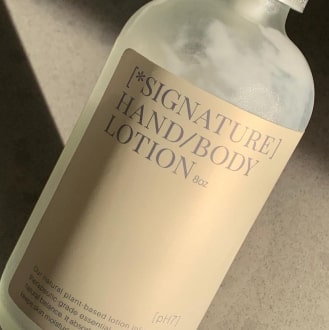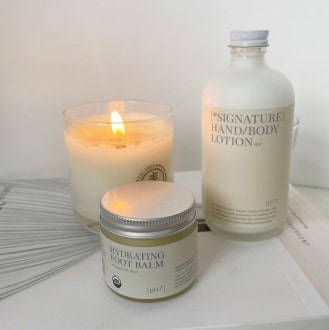 It is very light, feels weightless after applying, but still keeps you moisturised throughout the day.It is a severe winter season here, but there is no sign of dryness at all on the skin. It suits every skin type, good for all family members including children. Also I purchased it at a really cheap price.

Good product I used .I used many products in the market but they weren't good. Smell (fragrance) is so pleasant. Very good

I am from the north and it is extremely cold here. The skin feels so dry these winters. I apply it daily after showering and applying a few more times. Overall I would say that it is good body lotion. The fragrance is mild. Consistency is good and thick. Found this great.

I have tried many other popular brands. This was the best among all. A very mild and pleasant fragrance ( no problem for a sensitive nose) . My skin is normal to dry. This is Highly moisturising yet non- greasy. Does not darken the skin. All of this at a great price.

Smell is really very pleasant and its quick absorbing formula. I love the product coz its totally organic and that to with greater benefits. This product can be use in summer. Though it is non-sticky . Bit dry but i think it's for building up the collagen in skin .

This product is love..I really love this body lotion... It's moisturizing body lotion. It's very soft and smooth and also natural body lotion.. And also nice fragrance.. I use it once a Day... And my whole day went in it...It's so very long lasting body lotion ....uz this valuable product to all..

This is the first time I am using this moisturizer, and I absolutely fell in love with its formulation. it's is a very lightweight moisturizer, and yet it gives ample hydration to the dullest of the skin giving it all the required suppleness. I have been using it for more than a week now, and I undeniably love the visible smoothness and radiance that my skin has now. It quickly absorbs to the skin and has a pleasant smell that everybody would like. My skin hasn't had any reaction to this lotion, but a patch test is recommended. Overall a very good budget-friendly moisturizer especially for dry and dull skin.

I always prefer a moisturiser that's non-sticky and gives maximum moisturization to my dry skin. This does exactly that. Non-greasy and yet keeps my skin moisturized for a day!! I have been using other product for some time now and suddenly it's no longer available in the market. Had to look for a replacement in the budget. This is a perfect replacement and love how it glides on my skin.

I have dry skin. By dry, I mean it's very very dry. More of flaky and white skin particularly in my feet. This lotion surely does its job well for at least 8 hours. One may need to reapply in between if washed. I have used other brands as well but this particular lotion has far better efficiency in moisture lock than others. The fragrance is more mild. Suitable for a sensitive nose like mine. Wouldn't recommend applying to the face though, it seems to clog pores and feels heavier on the face
Payment & Security
Your payment information is processed securely. We do not store credit card details nor have access to your credit card information.