Description
A delicate accessory
Elevate your style with a classic piece of jewelry
A thin silver cuff bracelet is a timeless women's accessory. It makes you look elegant and classy, and wonderfully accentuates the beauty of a lady's hand.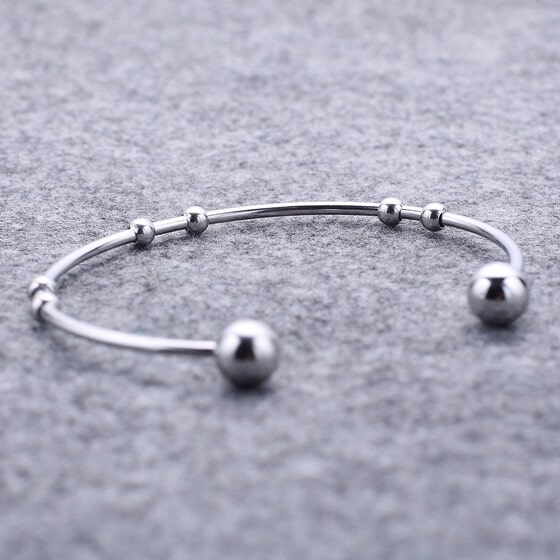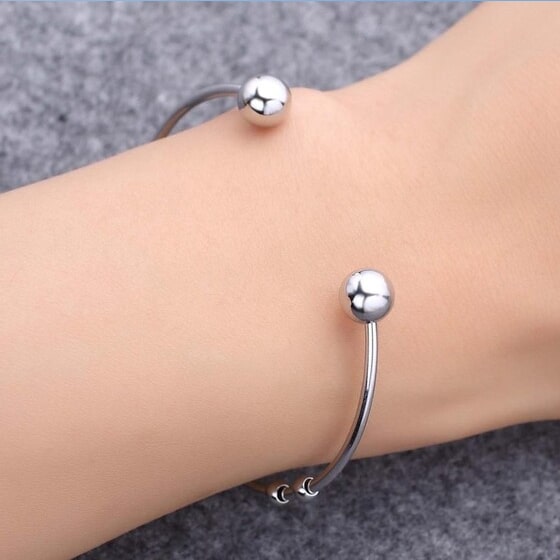 Product details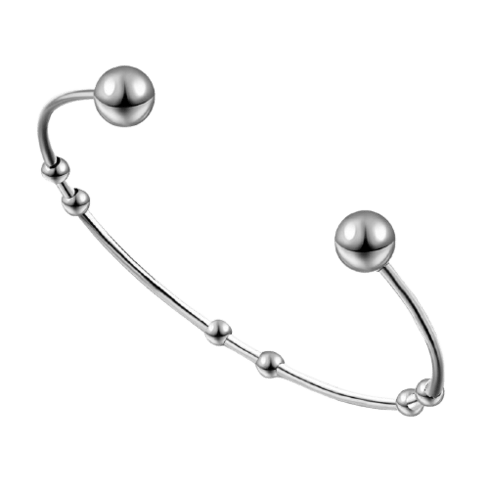 General characteristics
The silver plated bracelet is made of stainless steel. It is an adjustable piece of jewelry with an inner diameter of 2.3 in. and the wire diameter of 0.08 in. The welded steel balls measure 2.3 x 0.08 in. and 0.16 x 0.2 in.
Care tips
Stainless steel accessories don't require any special care. They don't get corroded or rusted. You can wear this bracelet on a daily basis! Keep your bracelet in a cool, dry place. If stained, wash in a soapy water.
It's a perfect gift
A stylish silver cuff bracelet will be a perfect gift for your loved one. Whether it is an anniversary, Valentine's day, birthday, or any other occasion, it is always a good present idea. Wearing this bracelet on her wrist, any woman would feel special and adored.
This product met my expectations. It's lightweight and attractive.

I really love this bracelet, it's flexible, shiny. Just what I was looking for.

It's the perfect size and very comfortable. Love the look and can't beat the price!

I have been looking for bangles like these. I love them.

Simple beauty. I needed something plain to add with my new watch and this was perfect.

Nice quality. Easy to put on and remove. My daughter loved it.

The bracelet is a gift for my boss's birthday in a few weeks. Hopefully, she will like it. I think it's beautiful!

The quality is good and it is also a beautiful bangle bracelet.

The bangle is good for everyday use. Fits well on the wrist. Looks elegant and is quite lightweight.

Pretty bracelet and nice quality. I wear it daily and receive many compliments on it.

This was a gift for myself. I'd been looking for a bracelet just like this, at a price I could afford and I found it. I love it!

I got this a few days ago and have only taken it off once to show to a friend. It has a little weight to it but is not heavy. I have small wrists and had trouble pushing the ends together to close around my wrist with one hand. But after showing it to a friend she was able to push the ends closer together around my wrist pretty easily using both of her hands and it fits me much better now. I am so glad I made this purchase. It feels good on my wrist and it isn't too big that it gets in the way or feels awkward. The round ends are smooth and don't get caught on anything, even when I wear a little chain with it. Would definitely recommend it.

Love this item, came quick! The only downside for me is, that wasnt as heavy as I hoped, but nice!

Love the look, but the bracelet is difficult to pull to expand. But once it's on, it's very nice.
Payment & Security
Your payment information is processed securely. We do not store credit card details nor have access to your credit card information.