Description
Glamour hasn't gone anywhere – it's timeless
Minimalism is a nice idea, but aren't we all a bit tired of tasteless and bland styles? Let's enjoy the bling and FUN accessories again! Life is too short for boring accessories, after all.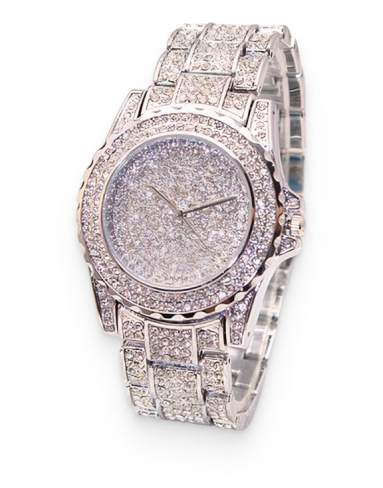 Elegance and comfort
For women who aren't afraid of the attention
Stun your look with this watch
Shiny, outstanding, but subtle and elegant – an accessory that can boost up any look. It goes well with any outfit and makes it look expensive.
Made from durable materials
Don't you worry about the quality! Zinc alloy and shiny stones are trusty, and they resist corrosion like it's a no-brainer. Your enjoyment will last.
Perfect gift for any woman
Whether you want to delight your mom, sister, wife, it's a great choice! Do you want to pamper yourself – sure thing, girl, go for it! You'll love it.
Product specifications
Strap length: 9.44'' Strap width: 0.78'' Dial diameter: 1.18'' Case thickness: 0.39'' Case diameter: 1.49'' Water resistance: NO Certifications: CE & RoHS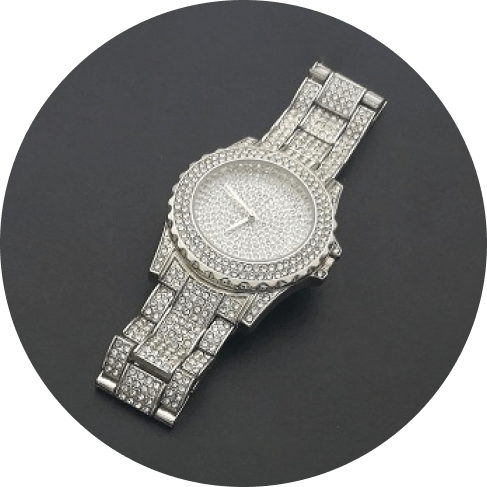 A spectacular piece of accessory
This is a perfect accessory for any woman. With this beautiful watch, you can add a little bit of shine to your looks and everyday life. What could be better than something exciting, vibrant, and gleaming?
This is a beautiful watch, and it's not only pretty, but also high quality. It has some weight to it. I took it to the jeweler to resize it. We took out a number of links (6) - I have a tiny 5 inch wrist but the face does not overpower it like most watches. The jeweler commented how beautiful it was. He liked it. The beauty of this watch catches people's attention. Received many many compliments. It is feminine yet stands out! You won't go wrong with this purchase!

I purchased this to replace a Fossil watch I wear daily. It's a very nice watch. Total attention getter. When the light hits it, sparkle, sparkle, sparkle. Looks like real diamonds. Had to remove two links for it to fit correctly but luckily another watch I ordered came with the tool to do that. Overall, a really nice watch.

My daily watch is my Michael Kors, but I saw this and thought "what a fun watch". I love it! However, I have a tiny wrist and had to have the jeweler remove four of the links. It arrived in a pretty box, with a buffing cloth, very satisfied with my purchase.

Not the watch you wear grocery shopping... Beautiful - Elegant - Sassy... and what a great value Love it! I'm ordering another 😊

The watch looks good but I'm concerned that the silver color and the stones won't last long without peeling or stones falling out

I could not wait until it arrived and I must say it did not disappoint. The ultimate of bling and I love it so thank you very much!

The watch is absolutely beautiful but I am yet to wear it as the band was too big and I am yet to get it shortened.

I really like the watch, all that bling made me feel rich and added the finishing touches on my outfit

This watch is amazing, it is so beautiful in person. Looks just like the picture. Can't wait to wear it!

I bought this for my daughter's birthday. It looks really good. I will have to see how this holds up.

I love this watch! I bought this watch to wear to the club when I go out, it's so cute!

I bought this as a gift for my daughter and she loves it !!! Would buy this again!

This is a good looking watch for the price. I'm going to wear it everywhere.

The watch is lightweight. It looks just like the pictures and it's description.

I love this watch, but haven't worn it yet. It looks soooo pretty.

I love this watch. Sparkles every time the light hits it

Beautiful... Exactly what I expected.

Looks very expensive! Great buy!

It was a gift, the receiver loved it!

Best watch I've ever bought

Good purchase nice quality

Love this watch! But adjusting the band is a bit difficult.
Payment & Security
Your payment information is processed securely. We do not store credit card details nor have access to your credit card information.