Description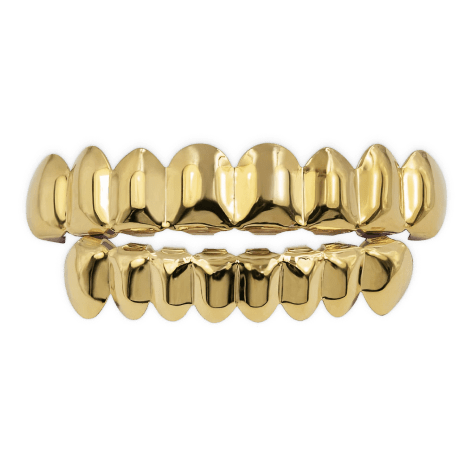 There's no such thing as too much bling
Nowadays grills are more of a trendy accessory that celebrities and public people wear, but they still carry the initial message: my owner is not a simple person. It's absolutely not shocking because some variants can cost up to $100K! Impressive, right? But jewelry is jewelry, that's for sure.
The ageless accessory for anyone
Any person can find a way to wear them sleekly
They're made from well-known materials
Made from golden-toned copper, the grills are very affordable and easy to wear. Before wearing them make sure you don't have an allergy!
Precautions to ensure your safety
Remove the grills before eating to avoid choking or tooth injury. Wash them after each use, and dry them before putting them away.
They're ideal for a variety of events
These grills are pretty universal and not overly flashy and covered with stones, so they may be worn in a wide variety of ways. Parties, regular life, etc. Why not look cool just because?
They will easily fit you
Place the silicone part in the grill, submerge the grill in hot water (NOT boiling) for 15-30 seconds, then bite the grill to shape the silicone to your teeth. Repeat the process if you're not satisfied with the results.
Let everyone see what you've got
Elevate your looks with a shiny and noticeable accessory that'll grab a lot of interest in your persona. Traditional, simple, but sophisticated at the same time. Don't miss it!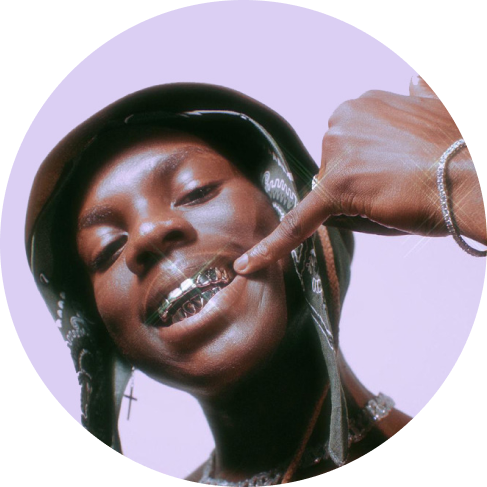 Pros: a) Cheap. Don't have to pay 100k for them. b) Unless expected closely, they look expensive. c) Stay in relatively well, as long as you follow the directions. Cons: a) Lisping. Although you will look awesome, you won't be able to say "S" at all. Of course there are higher quality grillz available, but at 9.99, it's a fair price. 5 stars for being as good as expected and arriving on time.

These are hilarious! The quality was better than expected and easy to use. Purchased them for a 90's party, my husband went as a Rapper. He won best costume. I think it was because of the details like this Grill. He just wore the bottom one. His outfit looked very realistic.

I bought the grill to wear for my birthday celebration and they were a big hit! When you 1st put them in they may not fit your teeth perfectly but what's great is that you can bend/adjust the grillz so they fit exactly as you want for a more comfortable fit & a realistic look!

These grillz are awesome! They are waaay better than a pair I got from another company. I bought these after seeing Moonlight (because the main dude looked awesome with his grillz). I'm super happy with the quality - they are easy to mold, don't fade, and look really cool.

I ordered this honestly thinking this might've been horrible, but not only was it great, but the instructions are so easy to follow and the quality is much much higher than the price suggests. Overall, I'm so happy with buying this :)

I don't use the top grillz, only the bottom ones but I love them. I have received tons of compliments and people believe they are real/custom. If you're looking to get a cheap pair to wear occasionally then this is it.

I love them because they are easy to put together, are great quality and look real. Only reason I didn't give 5 stars is because the top ones are too big for my mouth, other than that this is a great product.

These grillz are very good quality compared to the other ones. It came in a nice case and looked like really good quality. Been wearing it nearly everyday so far and gold hasn't faded at all.

Oh my god, my grillzies are the best. They were very easy to mold, I love them so much. I would recommend them to anybody looking for some pull outs. They are wonderful.

If you're looking for a good grillz for any reason, this is your place to get them. Not only do they have spot on, quality products, but their customer service is unmatched!!

These grills are great for the price! Once in they look very real and if you fit them right, they are very comfortable. I will definitely be ordering more.

I ordered these for my boyfriend for his birthday and he loves them. So far so good it has only been four days though.

Way better quality and easier to use than I thought for the price. I was pleasantly surprised.

Instructions were easy to follow. High quality look and feel. Would buy again!

Great quality for the price ,very happy and would recommend it to anyone!

Thank you! The delivery time was great and everything looked good!

Awesome but the top grill kept falling out. Bottom one was great!

I really only wanted the bottom, but they both fit so perfectly!

Hard to speak with them in your mouth, but they look good!

Happy with product and service. Thank you!

One size fits all approach is not the best

Nice fit, good quality, fast shipping

Perfect size and easy to mold.

Came out great for my shoot.
Payment & Security
Your payment information is processed securely. We do not store credit card details nor have access to your credit card information.