Description
Sleek, modern phone assistance
Experience high design + function
Tired of the bulk and sticky suction options of traditional phone holders that just don't hold up? (Pun intended.) Then you'll love the dynamic magnetic design of this Sleek Magnetic Charge Phone Holder.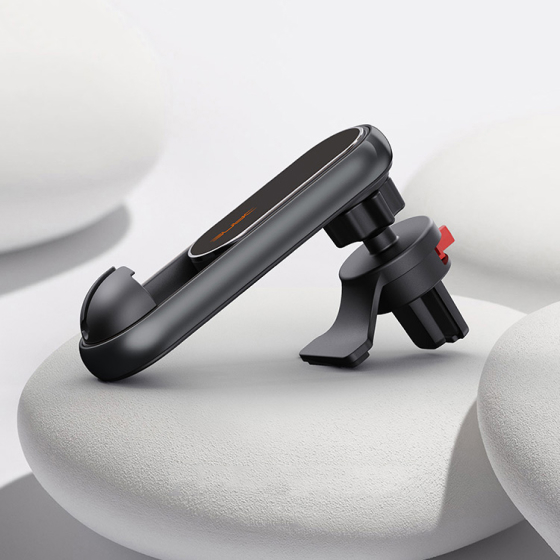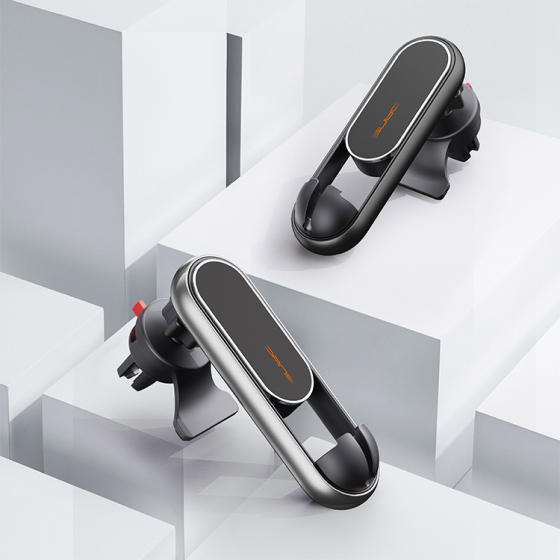 Charge + hold effortlessly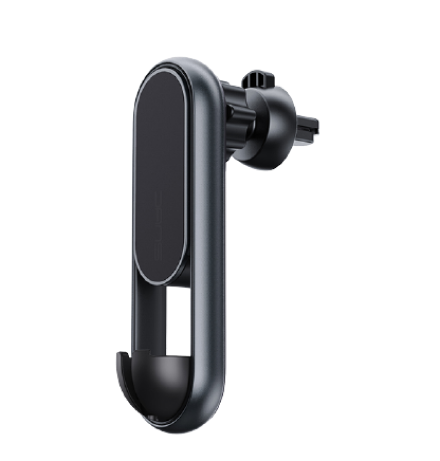 Cable in place
The design of our cord slides through a slot in the holder for sleek, mess-free hold. No more charging cord messily dangling around as you drive.
Hold on strong
The base of our sleek phone holder features two large built-in magnets that attach to an included magnetic sticker you place onto your phone. Hold your phone vertically or horizontally with ease.
Anti-slip, anti-scratch (for a smooth, dependable hold)
Our Sleek Magnetic Charge Phone Holder is made with ABS plastic and silicone cushioning on the air vent claws, for worry-free hold. A friction knob and safety lock also help customize your hold.
I do deliveries so I am constantly using these types of holders and this is by far the best, though the magnet I'd have to say is almost too strong! Crazy as that sounds, but I'd rather have that than it falling off my air vent all the time. It's adjustable and you can tighten it a few different ways so it can stay put. 10/10 would recommend to anyone

I have a Samsung Galaxy S20+... it's large, kinda heavy, and awkwardly long. This holder's magnet is super strong! It even suctions when the two aren't fully lined up. Still, it's easy to pick up my phone too! It's got a strong clip for your car's air vent and stays put! I only wish the clip "lips" were a bit thinner.

I love the ease of a magnet phone holder but some are rather bulky and block too much of my air flow. This magnet is nice and streamlined, with minimal vent blockage. It's easy to clip on and the magnet is strong enough to hold my phone securely even when off roading.

I really enjoy using this phone holder over the suction to the window type. The magnet is very strong and the phone stays on the holder. You can adjust the angle. Which comes in handy, as I am very short and my spouse is tall. We will be buying another for the other car.

This magnetic phone holder is great! I like that you can tighten the clip which holds on to the vent. This keeps it secure and from sliding off. The magnets are extra strong and can hold my phone through the case. I have a soft shell case but it also held with my other hard shell case.

This device is very easy to install! The suction on the magnet that you put on your phone is very strong and will not fall off of the device while driving. I like that it is easy to take in and off of the vent- that way I can choose quickly if I want to use it or not.

I had the VanMass vent mounts for a bit, but they started to get brittle and broke. I've had these vent mounts now for about 3 months, the construction is less pieces and harder molded material. I think these will last much longer.

Wasn't sure if I was going to like them or not. Having used them for a month or so I can say they are worth it. These things are so strong they even hold my iPad when I'm working remotely. Definitely recommend!

The best one I have used so far. I have gone through about five different kinds of magnet vent clips and other kinds of vent clips. This is the best one so far. Very stable on bumpy roads.

Nice and convenient but if you hit the phone just right it falls off but other than that it is nice. Remember, it's just a magnet.

Easy to install. Easy to attach and detach. Strong magnetic hold. However, falls off my vents from time to time which is annoying
Payment & Security
Your payment information is processed securely. We do not store credit card details nor have access to your credit card information.