Description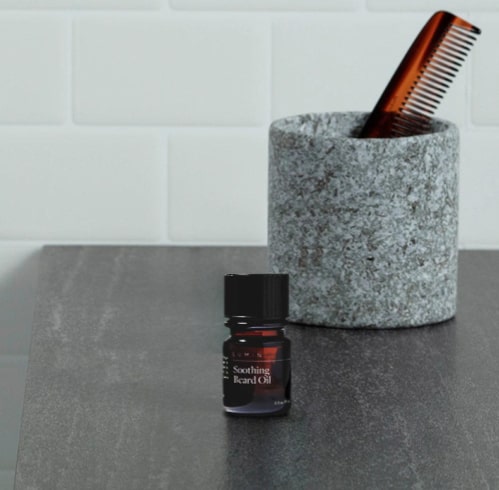 Smooth those hairs
Hey, sometimes, a beard is just part of your look. So take care of your mustache or scruff like you would the rest of your hair, and treat it will with our Lumin Soothing Beard Oil.
Strengthen + promote growth
For your greater length and curls
Your beard, your way
Everyone's hair grows at different rates, but you can promote faster, healthier hair with the all-natural oils and vitamin E in our formula.
Coming soon: volume and resilience
See less breakage and greater fluff with your beard or mustache when you use our oil, daily.
Good-for-you help
Our Soothing Beard Oil is paraben- and cruelty-free, in addition to being dermatologically-tested.
The power of nature's goodness
A blend of 10 great oils such as sunflower seed, grapeseed, tamanu, and avocado nurture and stimulate more hair growth so you can get the look you want, faster.
Premium care, just for men
Lumin prides itself on quality ingredients that really make a difference. Go from ordinary to extraordinary with the Lumin line of skincare and haircare must-haves for a better, more confident you.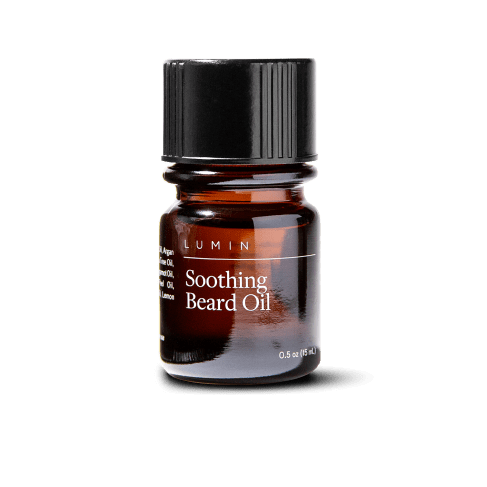 I am NEVER buying a different brand after using this.

Love this beard oil. It smells nice and keeps my beard soft.

Bought for my husband and son in law. They both like it.

It works! I like having a beard! Highly recommended!

This is a good product, and works well. However, the scent is VERY strong to my mind.

I've enjoyed the product so far. It keeps my beard nice and moisturized.

Smells great, I actually use this on my beard/stache and my head as well 🤣.

Good product, but I'll be checking out other "flavors" before buying again, due to the scent. Although this made my beard feel and look great.

This is some really good beard oil. Smells good and helps moisturize the hair and skin to help from being itchy. Will definitely buy it again.

Softens the beard and smells good as well! I have been using this product for over a year now and will continue to do so. Great product!

Feels really nice and definitely softens my beard, but I'd honestly recommend it for the smell alone.

This keeps my boyfriend's beard nice and soft. I heard other people complaining about beard oils smelling really bad but this has a great scent that does not bother either of us.

Wonderful beard oil. In just 3 days of use, my beard is much softer and more colorful. It smells great. My wife loves it. Highly pleased.

There are lots of beard oils, and I've tried many. This has a good scent that isn't overpowering, is quite a good price for the amount of product, and keeps the beard nice and soft.

I'm so glad I introduced this product to my husband. It has a very earthy scent which I love and he raves over how it takes his long beard and gives it shine. He can't go without it now!

This beard oil is amazing. All natural ingredients, smells great. No sooner than the 1st application of the oil my beard feels softer, moisturized, and no greasy after feeling. Totally recommend.

I've tried many oils. This oil by far is the best. It smells great and doesn't make my beard itch. Makes my beard feel and look silky smooth, clean, and confident. The BEST of the BEST

My boyfriend likes this product, I don't feel it has a great scent but he is happy with how it makes his beard feel !!

Not my favorite smell, but I'll still use it.

I've been using this product for years now and I absolutely love it. Never had any issues with skin irritations, break outs, nothing. It smells good and since using this I've never had dry/itchy skin. This is a great product.

This stuff is great. Helps keep facial hair and skin softer and way less itchy. Can immediately tell a difference after use. Would recommend it

I've used several different oils and this is my favorite so far, definitely digging the dropper and the smell is very natural - no artificial chemical smells. Already purchased more of it!

Scent makes me feel good. This makes my beard feel soft and smooth quickly. Great value too. For me it's a great choice and I've tried some premium ones.

Love this stuff! I've used a few other beard oils before and am quite impressed with this stuff! Smells great and definitely improves the look, feel and texture of my beard. I personally really enjoy the scent.

That's a great product! My beard looks great and smoother. The smell is light and is a good smell too. I highly recommend it.

This is the beard oil I have been searching for. Upon first use, my beard was softer and shinier than when I've used any other product. My wife loves the scent and keeps cozying up to me. So, if you don't like your wife, buy a different product.

I've had my beard for about 9 years and I've always struggled with dry itchy skin. I'm on my 2nd bottle, no itching or flakes at all! Highly recommend + I use a small (dime size) amount every day

It smells fantastic and I can genuinely feel the difference in how my beard feels. I used to not grow out my beard cause after a bit it would get all itchy but with this and a brush I literally never get itchy anymore.

This is the 3rd beard oil I've tried and is by far the best. The oil is a slightly thicker consistency which makes it way easier to apply. The scent is so mild that I don't even notice it. Makes my face feel very smooth. Definitely recommend this one.

My husband loves this stuff and we have seen actual real results!!! I love how soft his face is when he puts this on and the smell is amazing! We will for sure be ordering more when he runs out! I was skeptical about it at first. I was worried it would make him break out! But his skin is smooth and no breakouts! The results were fast too!

I am new to beard oil and taking care of my facial hair. I like that this has a neutral scent and the moisturizing properties of the oil is great and I can feel less itch and my skin is absolutely improving! If you are new to beard oil and aren't sure where to start this is a great first product to understand how to take care of your facial hair.

My husband LOVES this oil. After trying a few different brands, he found this one and is sticking with it. It's moisturizing and leaves his hair so soft. He had a wax he used to use as well but due to the quality and happiness with this product he now uses this exclusively. I would recommend

I bought this for my older brother. And recommend using it for 30 days. I was keeping track for about 2 weeks and I already see a difference. His beard has grown longer and there are some spots that are starting to grow. Although this is also a tribute to his genes. But the oil did make a faster growth than he usually does.

This is the best beard oil I have ever tried. And I have spent well two years trying to find the best beard oil. This product smells great, it works great and the most important part is it is not too expensive. If you're looking for a great beard oil this is definitely a good place to get it.

I didn't actually use this. I bought it for my husband and I'm not entirely sure what his thoughts are on the item. He does use it. However, as the wife, OH MY!!!!! This made his beard so it was soft, sensuous,with an added heavenly scent. Highly recommend this to any man who wants to take their beard into the 'touch me' zone!

Almost a year later and I'm reviewing this product! I'm still using this beard oil along with a quality beard brush and I've been using it almost every other day! Definitely helped me get rid of my pesty "beard flakes". Definitely on my list to buy, whenever it's empty!

Great product and I recommend it. Used this daily for a long time before trimming my beard down to mostly stubble. Has a great scent that is very pleasant without being overpowering at all. It moisturizes the skin well underneath all that beard, and keeps my beard healthy looking.

Love the smell, when I first started growing a beard I bought all the fancy oils and then a friend recommended this one and well I have not thought twice. This oil keeps my beard nice and soft, which keeps my wife nice and happy and it smells great. Wish they had other scents.

Full disclosure, this is the first beard oil I've ever purchased. When I used it for the first time, I wasn't sure what to expect. Spreads in easily and really gets rid of the scruff and dryness in the beard. It lasted all day sweating out in the sun, the beard held its shape and softness. There is a scent. This stuff works great, though.

This is my favorite beard oil. I strategically massage it into parts of my beard, then rub my hands together and apply it to the entire beard. I even hit the eyebrows and hair sometimes. It does not provide much in the style department, but that's not why I buy it. All in all, this is a super beard oil for anyone trying to freshen up their beard game. I consistently have it on my bathroom counter.

This product is great. I'm a beginner at growing out my facial hair. This oil is great. Its ingredients are natural. Though it has a nice herbal, earthy smell, it is very mild (and soothing when I get a whiff!) I like that it is a simple, traditional recipe and it alleviates itchiness and moisturizes the skin. One small point - many guys use TOO MUCH. The bottle says to use only a few drops, and this is correct. It will not feel like much, but a few drops will do you good. Make sure you also have a good comb/brush to help distribute the oil around.

Second time buying this oil! Love the smell and feel of it! I generally apply this oil right after getting out of the shower, so that my skin also gets the benefit of the oil moisturizing due to my pores being more open. The oil does have a nice fragrance to it, but it is not flowery or feminine in any way. Putting the oil on at night and letting it have the ability to soak overnight is the best way I have found to use it. The way it conditions also gives my beard a soft and supple feeling. Definitely recommend this if you are looking for an inexpensive but highly effective beard oil!

After hours of researching and watching reviews to see which beard oil would suit me best I came across this amazing product and never looked back. I recently started to grow my beard out and honestly was lost as ever and didn't know where to begin. My skin is kind of sensitive to some oils so I was a little worried how I'd react to it, also my facial hair was always very coarse and flaky so I'd always trim my beard up and never let it grow because of that reason but after using this it's as smooth as ever and my skin underneath my hair feels even healthier. I usually apply 5-6 drops after I've showered and have let the steam open up my pores and pick out my facial hair. It's not too oily and leaves a very nice finished look to my beard once applied. I noticed a change in my facial hair the same day I used it so that was surprising to me. It does have a very strange scent to it which isn't bad but its a strong licorice smell kinda earthy. Definitely sticking to this oil once I run out
Payment & Security
Your payment information is processed securely. We do not store credit card details nor have access to your credit card information.