Description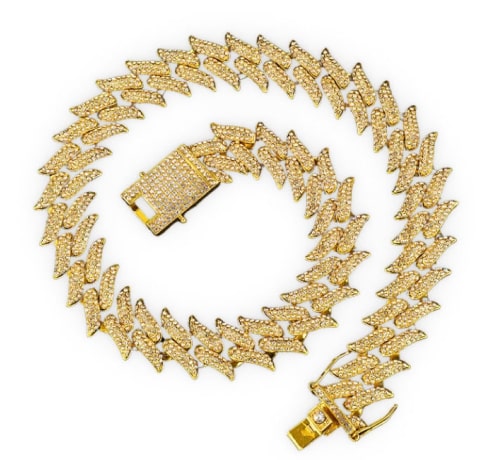 An edgy piece of jewelry
Create an ultra-modern look
The bizarre shape of the Spiked Cuban Chain together with its edgy details will add the ultimate modern touch to your regular look. Don't miss the chance to show everyone your confidence and sassiness. Have fun and create futuristic looks with this fashionable chain. Make a bold move!
An exquisite accessory
Making you a style sensation
This 24 in. long chain is made of brass and garnished with rhinestones. It has an alluring golden tone and fastens with a box clasp. Weight: 5.3 oz.
Easy to take care of
Keep the chain in a cool, dry place. If needed, wipe with a slightly wet soft cloth.
Little details for irresistible glam
Inspired by classic jewelry, this stunning chain can add an original touch to your daily looks. Wear it with both classic and casual outfits.
High quality
Brass jewelry possesses high corrosion resistance. It's a strong, durable, and long-lasting metal. So, feel free to wear this chain every day!
Stand out of the crowd!
This gorgeous Spiked Cuban Chain will perfectly highlight your collarbone and skin tone. It's a great option for creating fancy outfits. Your extravagant look won't be left unnoticed. Be glamorous!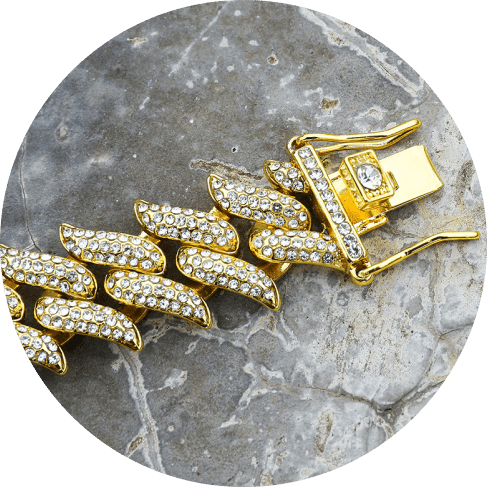 I like that it's made of metal, not plastic. Looks very cool and outstanding, bright and sharp. The quality is OK, I'm satisfied with it. The color is more yellow than I expected, but it doesn't spoil anything, maybe it's even better. It's not heavy, but it feels, which is also quite cool.

The chain is light, does not cause allergies to the skin, does not oxidize. Looks really cool. The clasp is large, comfortable. I highly recommend

It is a very nice and bright chain, has a suitable weight, meets the same characteristics as described, happy with this purchase.

I like it sooo much, it's exactly as it was described, even better. So shiny, my favourite accessory now.

this necklace is very nice and the golden colour looks good, it isn't very yellow

It's beautiful, I love it. The choker is very light, you will hardly feel it.

beautiful necklace and the stones are very light reflective.

It looks a little bit massive but doesn't weigh a lot. Like it!

Damn, it's beautiful, but I thought it would be bigger

Excellent product, received in perfect condition

Very cool And the quality is good

I didn't really like the color...
Payment & Security
Your payment information is processed securely. We do not store credit card details nor have access to your credit card information.