Description
Classic frame rethought
If you feel like a classical watch is it for you, but you're not into circular ones – check this one out! Old-school design, timeless and versatile, with a square-shaped clock face and the case.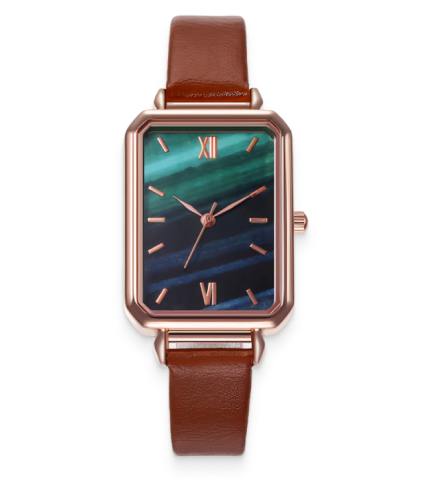 A bit of a tough kick
Add a bit of roughness with the square shape
Astonishing look and image
Brown strap tastefully completes the golden case, creating a beautiful tandem. The dial that looks like Northern Lights glues your gaze.
Thorough safety approach
Being responsible is important. Our products are CE and RoHS certified, signifying that they are safe for customers and the environment.
Made from durable materials
Faux leather doesn't crack easily, resists stains and UV. The zinc alloy case is corrosion-resistant. The pleasure of using it will last!
Product specifications
Strap length: 10.62'' Strap width: 0.70'' Dial diameter: 1.57'' Case thickness: 0.31'' Water resistance: NO Finding a perfect adjustment isn't a problem!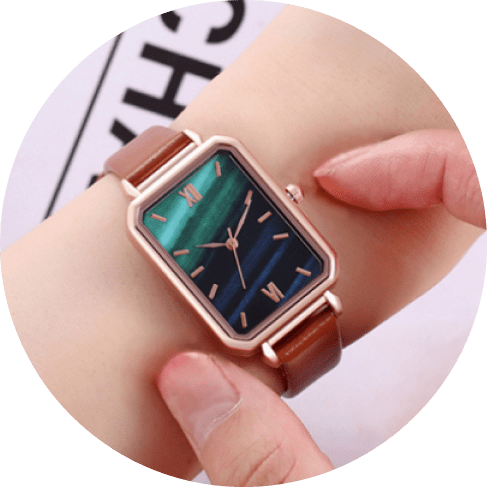 Classic isn't dying, it's being reborn
They say fashion, just like history, repeats itself. But fashion is more about reinvention, and a timeless piece like this one is the proof. Traditional motifs are getting trendy, but the truth is – they're immortal.
This watch is much nicer in person than in pictures. It has a solid feel to it and looks and feels much more expensive than it is. The classic shape works for both dress and casual looks and the design on the watch face is subtle but adds an elegant touch compared to plain watch faces. Despite being billed as a man's watch, this was purchased for a woman and looks great, even on a smaller wrist. This watch is classic and elegant and definitely exceeded my expectations.

I bought this watch as a second "spare" watch.The one thing I don't particularly like is the size. It's bigger than I would have liked (as is the strap), but I knew what I was ordering so I can't really complain about that. It looks good and the strap seems to be reasonably good quality. I have no idea how long it will last. I've only had mine for a short time.

The watch is sleek and looks much more expensive than its reasonable price would suggest. The design is an updated classic, yet maintains simplicity with a dial that's easy to read. Overall, it's practical and great looking. The watch band, made of nice leather, offers sufficient length to fit most wrists comfortably.

The watch was exactly what I wanted and the description is spot on. The only thing I was disappointed in was the watch band. If I were to take off and put on the watch daily - I don't think the band would last more than a few months.

While not being showy, this is a fine-looking watch. It runs great and is not too big. So, if you're looking for an adult men's watch with a touch of class, not brassy or over-the-top, and affordably priced, look no further.

I liked the product... It's very elegant and light. Would recommend it to all vintage-style watch lovers... It goes on a classic outfit and I love it. Wearing it daily at work.

A nice classic elegant designed watch. Good material quality for the price which makes it look and feel good on my wrist. Perfect size for a regular guy like me.

The vintage styling of this dressy watch makes a unique addition to my collection. Although not a masculine style, it is sufficient size and weight for a man's watch.

Bought this for myself but ended up gifting it on my son-in-law's birthday and he was very happy with the watch.

I would have given the product a 5 star rating except that the band (strap) is too stiff. I will need to replace it locally.

I wanted this watch for casual dress, and I find a faux leather strap to be more comfortable than metal. This is beautiful and fits my needs.

Nice looking watch with great appearance and versatility. Looks very dressy but can be worn easily with business casual. Great watch for the price.

Looks good in the photo but the watch is too big for my wrist and I do not look good wearing the watch.

The face is a bit large and I have a small wrist. Perhaps it would be better for a bigger wrist

Good price, quality and durability. A classic look with solid value. I would recommend it for purchase.

Quality is great. Keeps time perfectly. Have received quite a few compliments. Love this watch!

The watch has nice clean lines and looks great on the wrist. Easy to read face.

It is a good value I think for a nice look.

Wish it had a light, can't read after dark, otherwise it's pretty nice

Great design but the band doesn't look like it will last.

Very nice watch! Looks good and feels good on my wrist.

Good watch for the money. Rectangular face is unique.

I like everything about this watch. Very elegant 👌

Very nice looking watch, not too big of a face.

This watch looks even better in person.

Excellent watch for the price!!

Great product. Very beautiful.

very happy with the product
Payment & Security
Your payment information is processed securely. We do not store credit card details nor have access to your credit card information.