Description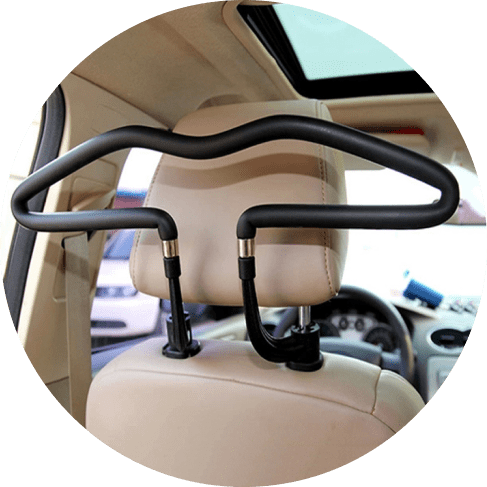 Convenient. Non-obstructive.
Let your jacket hang with ease
Get sturdy support that holds right onto the back of your carseat with the Stainless-Steel Backseat Coat Hanger.
No wrinkles or folds (thanks to this holder)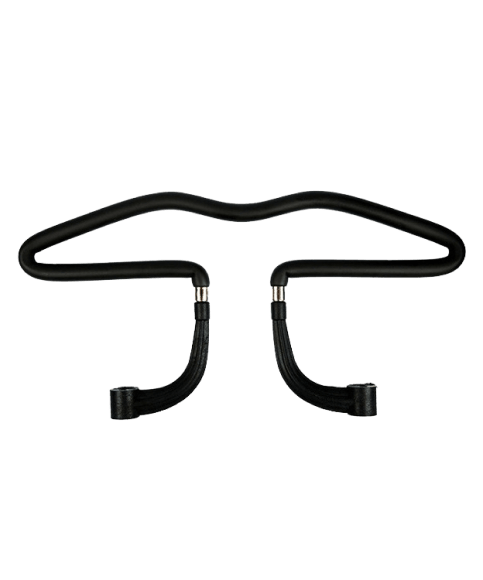 Easy to install
All you gotta do is clip the plastic grips to the poles of your headrest, then screw in the jacket frame.
Measure up
At 17.3" wide, the frame of this holder holds any trench coat, jacket, or blazer for non-obstructive and shape-keeping hold on the go.
Make sure it fits
The distance between the headrest poles is 2.8", so please measure your headrest before purchase to ensure a proper fit.
I recently purchased a new SUV and decided I was tired of laying my coat and scarf over my briefcase in the passenger seat because I'm too lazy to open one of the rear doors and lay my coat over the backseat. I wanted something affordable, streamlined, and not too cheap looking. This arrived quickly, was super easy to install (you snap one part into the other then attach it to the headrest - so simple and sturdy), and is a decent price point. While I considered buying something a bit more high end, I don't think this hanger makes my luxury vehicle look cheapened. I'm happy with my purchase and am pleased with it's design and performance for such a cheap product.

Bought these to use when traveling. The item is very well made and the installation is very easy. Unfortunately I forgot to measure the distance between the posts of the headrest in our car. These would have worked great, but the headrest poles are just too far apart to use. Fortunately, I have other vehicles that I can use the coat hangers in.

I purchased this for my brother who has to wear a suit on a daily basis for work. This works very well and he loves it! Now he doesn't have to put his jacket on the back seat where it gets wrinkled.

Looks elegant and fits my Nissan Rogue perfectly. When not using it I can remove the hangar from the clip and store it in the seat pocket. Classy.

I like that it has a lower profile and isn't seen when looking through the rear view mirror. I wish the hanger was wider for man size coats.

This is very nice, easy to install and does not affect sight lines at all. Keeps jackets off the floor or the back seat. I may get one for the other seat too.

Great coat hanger. Installed just before Covid and working from home. Coat from the office is still hanging and hasn't fallen off!

This thing is a bomb. It looks so classy in my 05 Toyota Corolla. Lol. Useful, too. It's not an eyesore, at all.

Came quickly, easy to install, would purchase again

Great product at a great price. Highly recommend!

Easy to install and takes up little space
Payment & Security
Your payment information is processed securely. We do not store credit card details nor have access to your credit card information.