Description
Trendy stylish lightning necklace
Make your outfit look even more smashing than it already is with an eye-catching lightning necklace. This piece of jewelry will definitely enlighten your day and make it even brighter!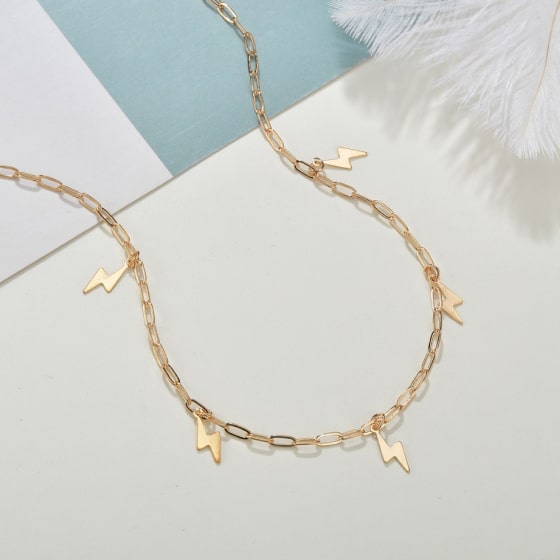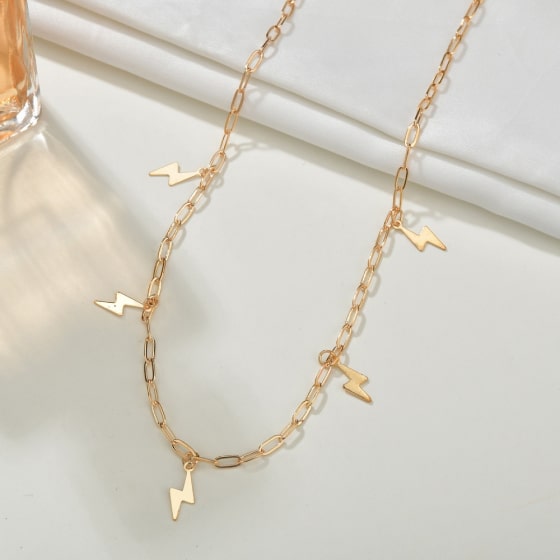 Lightning necklace specifications
A very stylish necklace for women
Suitable for any occasion
The ideal jewelry accessory for anniversaries, engagements, parties, and weddings.
Item details
The necklace comes at a size of 15.3+2.56 inches. The size of the lightning emblem: 0.55 inches. The weight: 0.22 oz.
Main jewelry materials
The charming necklace's main materials feature gold plated alloy with gold plated lightning pendants.
A great gift idea
Whether you want to surprise yourself, your friends, or even your significant other, it will be a perfect surprise gift.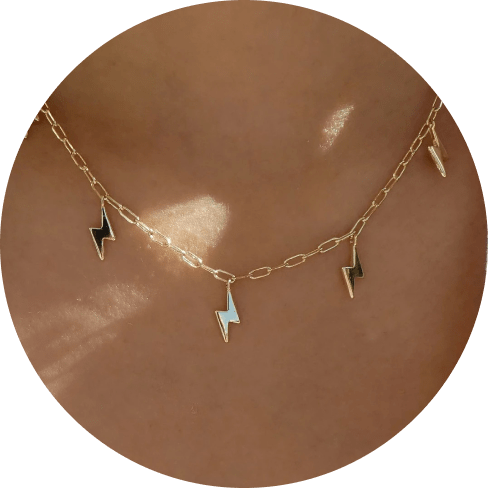 The perfect accessory to highlight your look
You probably think that your outfit is already perfect and it can't get any better? This lighting necklace will be the ideal accessory that will not only demonstrate your sense of style but showcase your electric personality as well.
It's stunning!!! I love it!❤️

I wear it every day! Doesnt turn green on skin, seems to really be genuine silver. Very cute, tiny charm. Love it!

Love that I got to choose the length of the necklace. I wanted a choker so I chose the smallest length and it looks exactly the way I expected it to! Love it!!

Super cute necklace and great packaging! My sister loved it. It took a long time to receive, but the seller had great contact and responded in a timely manner to my concerns.

This necklace was exactly what I was looking for. The edges are a little sharp but that's to be expected from the shape. I added a little bit more length and it's perfect. I get so many compliments on this necklace! I love it!

I bought this as a gift for my best friend and it was exactly as I hoped it would be! The charm was the perfect size. I bought the 16 inch chain and it was the right size for her neck. I had a special meaning to enclose it, so with that and the fact she is a Harry Potter fan it doubled the present meaning for me! Thank you for a beautiful necklace!

Could be a little longer. I pictured the lightning bolt bigger, but it is very cute at any rate, for whatever occasion.
Payment & Security
Your payment information is processed securely. We do not store credit card details nor have access to your credit card information.