Description
Let's roll!
This beautifully detailed sushi set toy is just great for teaching your kid table manners, all while having fun and developing hand-eye coordination. Complete with eight pieces of wooden sushi, this toy is great for a cooking role-play. Watch your little one become a master sushi-chef with this adorable sushi set toy!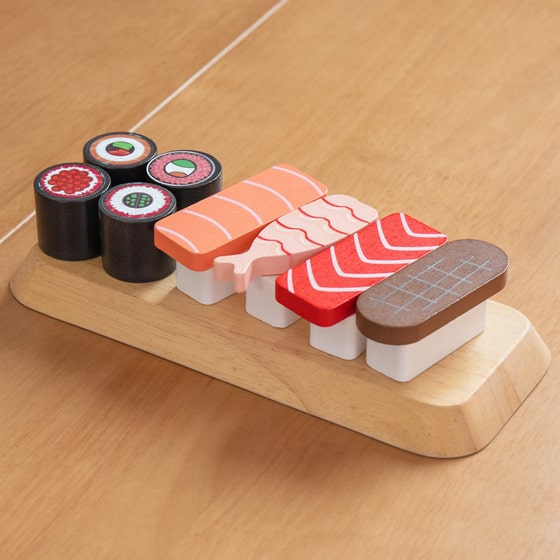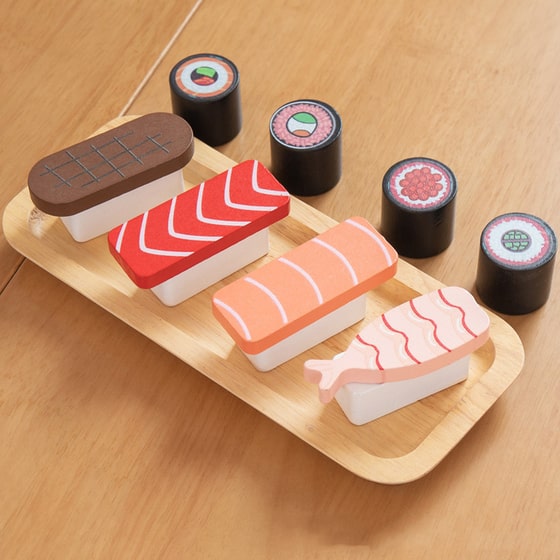 Sushi toy specifications
100% safe
Made out of wood, this toy contains no toxic ingredients. The wood is polished for splinter-free use. No edges or sharp corners. Painted with non-toxic paint.
Made to last
Children can be very active and test our toys' durability often. Our Sushi toy is incredibly sturdy and will still do its job even if it takes a bit of a beating from your tod.
Quality and attention to detail
Making sure our customers are happy is really important for us. We use only the best quality materials. Perfect for: 3 year old+.
Materials and construction
Material: wood. Shape: sushi set. Size: 8.7 in x 4 in x 1.8 in.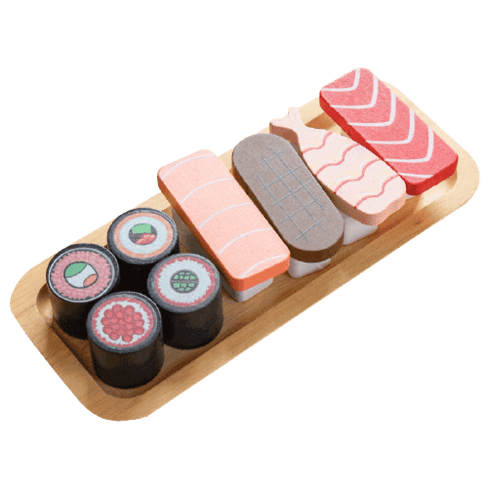 Love sushi? Your kid will love it, too
Kids grow up so fast these days. Get a toy that will bring more treasured memories of your time together! A colourful set that turns sushi into a fun playing object, all the while developing imagination through role-play and fun interactions. Crafted from quality wood to make sure you and your kid have an experience of a lifetime!
Great little creative play sushi platter. My grandsons just love pretending to be sushi chefs.

Lovely set! The reason I didn't give it 5 stars is because our it didn't come with chopsticks

Truly adorable set for sushi lovers. Our son adores this set. Worth the cost. Hape never disappoints.

This is amazing! The size of the pieces seem right. It's very detailed, even the box is nice. I love this set!

I like how it arrived on time. I got this for my niece and she absolutely loves it. She's 3 years old, I definitely recommend it for children ages 3 and older.

My family loves sushi so my older children bought this for my 4 yr old. She has several wooden food sets in her kitchen and this is her new favorite.❤️

The wood and paint is good quality. This toy is really made well. My son also likes to stack them together. Apart from a pretend toy it builds his coordination as well.
Payment & Security
Your payment information is processed securely. We do not store credit card details nor have access to your credit card information.