Description
An escape to the tropics
Love to treat yourself? Then get away with the smell of mango and pineapple (but no suitcase or two-piece required) -- our The Tropics Facial Mask takes you away on a one-way trip to bright, smooth skin.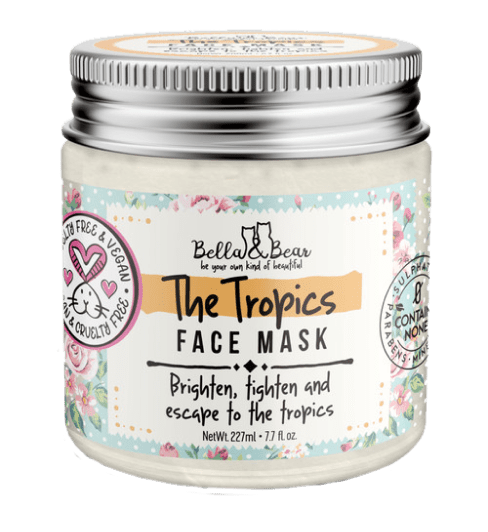 Smooth + brighten
Face looking dull or rough? Smooth it out with this refreshing, spa-like face mask. Use once a week for a great pick-me-up.
It's all good (for everyone)
Our The Tropics Facial Mask is made cruelty-free and 100% vegan with no SLS or parabens, and works for all skin types (even sensitive).
Warm + fuzzy love
Created in 2004, Bella & Bear creates lotions, scrubs, bath, and hair care products that are socially responsible for vegan- and cruelty-free beauty. All formulas feature natural ingredients and are packaged in 100% recycled plastic for a smaller eco footprint.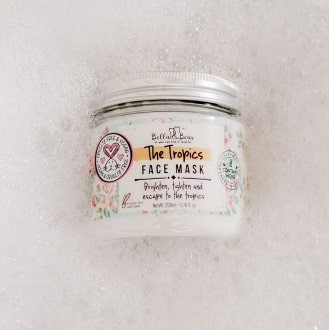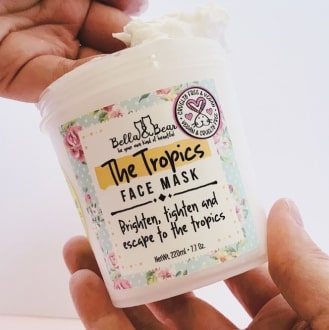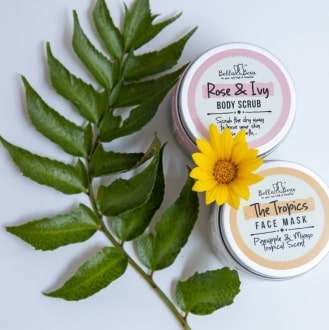 This is one of the best face masks out there! I have used a lot of them but this one smells amazing and really relaxes you!!

Smells great. It's a nice way to relax and unwind. I didn't notice a big difference in my skin after use. It does feel like it's moisturizing.

This mask is great! I keep it in the fridge for a nice cool mask. It does a wonderful job brightening my skin and my face feels firmer after application

I was a little skeptical to start using it but within a day I noticed that my redness started to go down and that it was working a lot better than my cerave moisturizer 100% going to buy again.

I just discovered the Bella and Bear line and I absolutely love what I have tried so far! This mask is a not only a treat for your skin, but also a treat for your nose! It smells divine. Glides on smooth and leaves your face baby soft and tightened. I can't wait to try more products!

Very light weight, almost feels like I'm putting lotion on. It's very different from other masks, but in a good way! The scent is really nice too! I don't have problematic skin issues, I just like to have a good facial mask every week to keep my skin looking healthy. This does the job!

This face mask is absolutely amazing!! The scent is out of this world good and the smoothness of how it just glides on your face is to die for. My face not only looked great but was soft as heck after! The reviews that are on here made me want to buy it and iam so glad i did! The cruelty free is the icing on the cake!!

I absolutely love this face mask! It feels good, smells good, works good, and there's a lot of it! It even slowly dissolves on your face as the time goes, so by the time you're ready to wash your face, most of it is already gone! But, for anybody reading this , make sure to wash or wipe down your face before using. I realized that if you don't your face might start burning. Other than that, I love it! Definitely buying again when I run out.

Overall I like this mask. The consistency threw me off at first because it looks and feels like a thick cream, not a mask at all. I thought it was mistakenly packaged even when I put it on my face it felt like cream. After some time on my skin it dried gently so it's definitely a mask ;). The smell is a little cloying/fake tropical coconutty sort of scent but isn't strong which I liked. It did slightly burn the first minute or 2 but I do have sensitive skin right now due to my skin carer routine so I don't necessarily blame this product. I would purchase again.

The smell is non-existent, so using that as a selling point seems pointless. It moisturizes and is a good price.
Payment & Security
Your payment information is processed securely. We do not store credit card details nor have access to your credit card information.