Description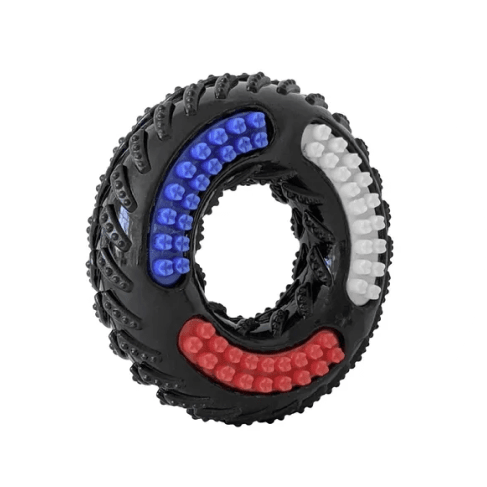 A fun toy for your fluffy friends
Made from TPR, this multi-textured tire toy is fun and great for non-aggressive chewers. The tire has a softer side - making it perfect for dogs with a delicate bite.
Dog chew toy details and specifications
This perfect chew toy is best for puppies and smaller dogs
For delicate chewers
The tire of fun chew toy is made for non-aggressive chewers and dogs that have a delicate bite.
Relieves from anxiety
It also helps relax and relieve any anxiety they may have by massaging the gums.
Takes care of your dog's health
The nubs and grooves not only massage your dog's gums, but boost dental health with its unique 3D granular texture to scrape away tartar.
Hours of fun!
Let your dog in on hours and hours of nonstop fun! With its unique design, you won't be able to separate your dog from this toy!
The perfect toy for a game of fetch!
Share some quality time with your fluffy little buddy and play a little game of fetch. Not only will you have some fun playing with your dog but also create an everlasting bond.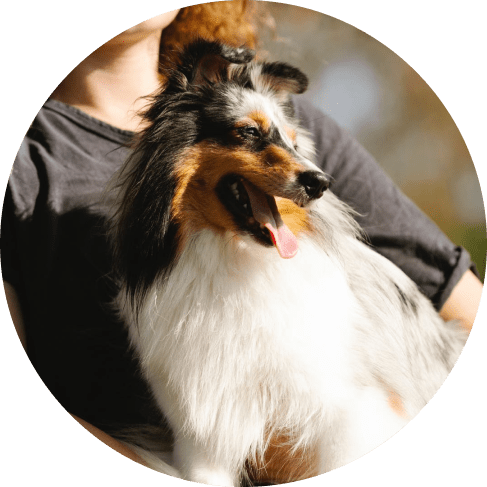 About Jojo Modern Pets
Jojo Modern Pets started with the idea that people want beautifully designed pet products that match their home. JoJo Modern Pets has great offerings for small boutiques and regional pet chains. We provide the basics with a unique twist and something people can't find other places. We can pre-ticket some items with your brand or help you source products you know your customers will love. JMP is stocked with domestic inventory at our warehouse in Illinois. We work with customers to do it "their way." Case packs, moqs and pricing that makes sense for independent stores. At JoJo Modern Pets we pride ourselves on making our customers more money.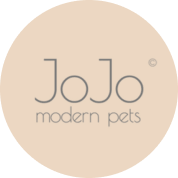 Designed In
Oswego, Illinois
Great toy, we have 2 60+ lb great pyrenees puppies that shred almost every toy they've had. These keep them busy and it's a great way to give them treats as well (peanut butter and what not inside the tire) l. I'm sure over time they'll break down but we're planning on buying more for when that happens.

Great for dogs that are " super chewers"! My dogs love to tag team toys and tear them apart, but thankfully they make toys for dogs that love to chew up their toys! My dogs have tried and tried but cannot tear this up, barely even made any tooth marks on it either! Very durable!

Our 7-month-old German Shorthair had us wondering if there was a Chew Toy that would last more than a couple of days. Well, we are here to tell you that this tire and wheel chew and teething toy has met all of our expectations.

Longest lasting chew toy so far. Plus I can add some treats inside to keep the dog busy. So far the best chew toy I have bought. My dog can destroy some toys in minutes. This is almost a year old now.

This is the only chew toy our border terrier puppy wasn't able to destroy within 1 or 2 days. In fact it's now many weeks and still intact. She loves to carry it around in her mouth. Great design.

My German Shepherd puppy loves this. Put some small treats in it or a yak cheese stick. Keep him busy for a while. No sign of wear and tear either! He usually destroys all toys, not this!

Great choice for a tough chewer! My dog loves to rip apart toys and let me tell you, he is GREAT at it! This one has proved to be a tough one to break for him so far and he loves it!

I have a golden retriever who loves to chew anything and everything! So far this wheel has been super durable and worth the price! Perfect size too! Plus he loves his wheel!

This is a great toy to keep my puppy busy for a little while. I put peanut butter in the grooves and crevices and it entertains him for a bit. It is holding up great so far!!

Love everything about this product. I bought two different toys for my pointers and one didn't last and this one surprisingly did. I recommend this for high chewers!

My dog is an aggressive chewer. She had it for a little over a month and there's no sign of wear on it .

The dog who chews up everything loves this toy. He throws it, we add toothpaste for tooth cleaning, a great toy highly recommended.

I have bought my dog so many toys, tiers, and he is such an aggressive chewer and this toy has held up big time.

Love this toy. It took my dog two weeks just to get one little hole in it, I got pitbulls with any other toy. i will buy it again

My dog destroys every toy possible she is yet to destroy this one

A little smaller than I thought but it would be however very durable and thick

Max is obsessed with this toy. He loves it! Really a great purchase!!!

Great for a puppy. It doesn't shred and keeps him entertained

The dog loves it. It rolls around the floor. A toy that lasts.

This is the longest a toy has lasted in our house! .... and we have TWO super chewers!

He plays with it all the time

My puppy chews everything. This has withstood time for him!

Wish there was a bigger size for my dog. His favorite toy

Great for an aggressive chewer and keeps them occupied

The durability is good. Just smaller than I was expecting.

we have 2 pitbulls and they have not destroyed this yet.

The durability is fantastic for my teething puppy.

High quality product, my dog likes this chew toy and can put snacks in the middle.

My only complaint was that it is smaller than I had pictured and I'd bought the largest one
Payment & Security
Your payment information is processed securely. We do not store credit card details nor have access to your credit card information.