Description
Trap Cats Dance Party Car Magnet
Are you fond of decorating your refrigerator, car's exterior, etc.? If so, pay attention to magnets by Kolorspun Pins. These are unique and stylish pieces you can put on any metal surface to enlighten your mood!
A universal car & refrigerator magnet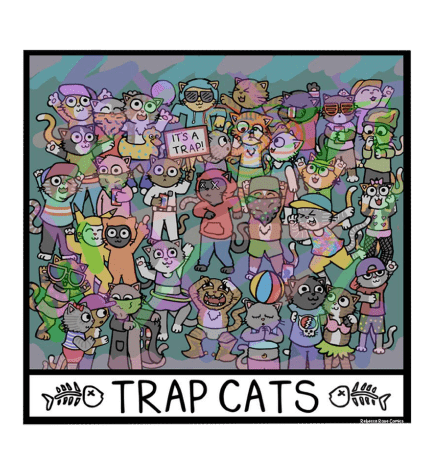 High-quality USA-made product
The manufacturer states that all the magnets by Kolorspun Pins are made of top-quality materials only in the US-based production units. That's why they are incredibly colorful, meantime, durable enough.
Really versatile magnets
Due to extensive durability, magnets by Kolorspun Pins suit both indoor & outdoor use perfectly. So just put them on your fridge, busy board, or even a car bumper and let your eyes feast!
Really cool magnets for both indoor & outdoor use
Would you like to decorate your fridge, car bumper, etc.? Or are you eager to hide a defect on any metal surface? Anyway, the Cats Trap Dance Party magnet is an absolute must-have for you. It's designed not only to solve some of your issues, but also to enlighten your mood each time your eyes catch it. BTW, it doesn't require a lot of vacant space (it's only 3.25" x 3.25"), so it will be challenging to find a surface it won't look great on!
Well made magnet great for my car.

I thought it's was a good quality decal for me worth it

Great magnet. Looks great and stays on well.

Love it!! I had bought the same previously, and lost it going through the car wash. Glad to have found it online.

The product stuck to my car just as they said it would.. Much easier to find my car in a parking lot

My mom is not a cat person.... therefore I buy her a plethora of cat stuff. Magnet sticks well. Pretty happy with purchase.

Excellent quality magnet for cat lovers. I had one previously that finally wore out, so I searched the web until found a replacement. I highly recommend
Payment & Security
Your payment information is processed securely. We do not store credit card details nor have access to your credit card information.